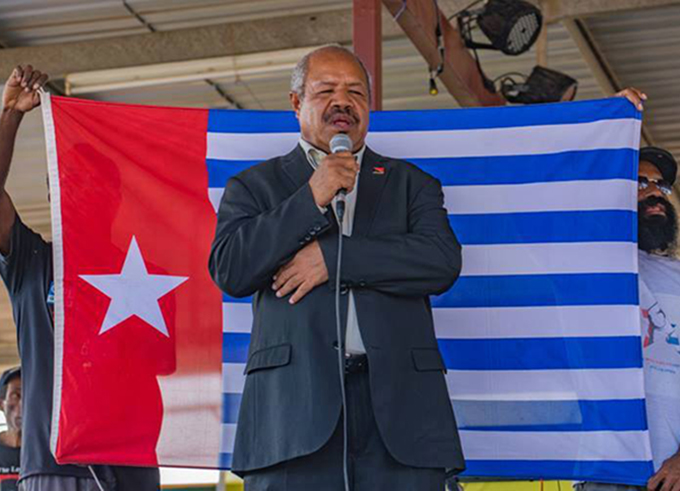 Port Moresby's Governor Powes Parkop with the West Papuan Morning Star flag … strong backing for Bougainville and West Papuan self-determination and independence. Image: Filbert Simeon
By Clifford Faiparik in Port Moresby
National Capital District Governor Powes Parkop is pushing for Bougainville and West Papua to gain independence from Papua New Guinea and Indonesia respectively.
Parkop said this in no uncertain terms during a West Papua forum in Port Moresby yesterday.
Northern Governor Gary Juffa, who was also present, expressed similar sentiments.
READ MORE: Campaign for West Papuan independence
"The government must give political independence to Bougainville," Parkop said. "Likewise, the Indonesian government should also give political independence to the West Papua provinces.
"Both of these people have struggled bitterly for independence for a long time, resulting in widespread deaths. The governments of both countries should not deny these respective people's rights."
Parkop said Bougainvilleans would be given the opportunity to determine whether they wanted to remain as part of PNG, or go separate.
"We are not afraid and I'm not afraid," he said. "If Bougainville chooses independence, they will not move the island of Bougainville to Europe or another place in the world.
'Still be there'
"They will still be there. We are all inter-married now. There are family and tribal relationships been bonded already.
"We might have a better future because if you look at the history of PNG, because of Bougainville, we were political and economically shaped."
Parkop said the same message must be told to Indonesia.
"Indonesia must know that if West Papua becomes independent, they will not move the land to the United States," he said.
"They will still stay there. The people speak Bahasa. Intermarriages have already been forged and established with people from other parts of Indonesia.
"Economically, they can be integrated. Socially, they can still move around in Indonesia. I don't think the West Papua freedom movement will remove Indonesian investments.
The Indonesians must overcome their fear."
Clifford Faiparik is a journalist with The National daily newspaper.

Article by AsiaPacificReport.nz