Bombs minutes apart tore through a Roman Catholic cathedral in Jolo, Sulu, in the southern Philippines region of Mindanao at the weekend. Video: Philippine Daily Inquirer
By Rambo Talabong and Mara Cepeda in Jolo, Philippines
At least 20 people were killed as two explosions rocked the Cathedral of Our Lady of Mount Carmel in Jolo, Sulu, yesterday, just days after the historic Bangsamoro Organic Law (BOL) was ratified paving the way for self-rule by the Muslim majority region.
This revised death toll, sent to reporters last night, comes hours after Autonomous Region in Muslim Mindanao (ARMM) police Chief Superintendent Graciano Mijares earlier reported a death toll of 27.
In his latest update, Mijares said the following died in yesterday's Jolo Cathedral bombing:
14 civilians
5 from the Armed Forces of the Philippines (AFP)
1 from the Philippine Coast Guard (PCG)
READ MORE: Military will 'crush' Jolo attackers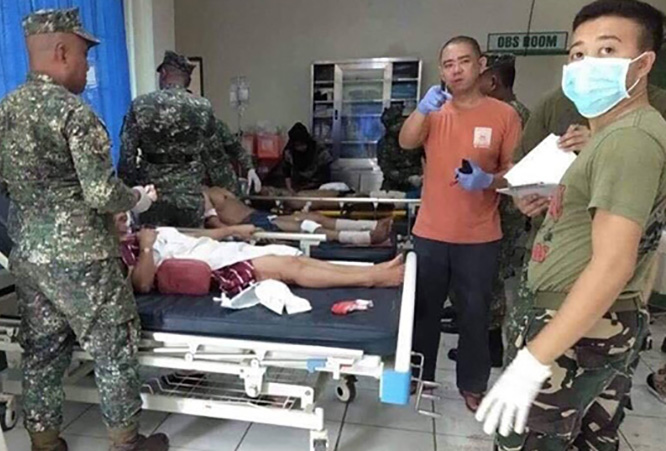 Soldiers and civilians are among the dead and wounded in twin explosions that rocked the cathedral in Jolo, Sulu, on Sunday. Image: PTV Twitter
Mijares also said at least 111 individuals were wounded:
90 civilians
17 from the AFP
2 from the PCG
2 from the Philippine National Police (PNP)
Casualties evacuated
The ARMM regional police said casualties "were immediately evacuated" as the AFP and the PNP secured the area.
The PNP Criminal Investigation and Detection Group (CIDG) earlier said two improvised explosive devices (IEDs) were used to bomb the cathedral.
According to the ARMM regional police, one IED exploded inside the cathedral, and another at the entrance.
PNP spokesperson Senior Superintendent Bernard Banac said that the second explosion happened as AFP personnel responded to the first explosion.
The people of Sulu province, which includes the city of Jolo, narrowly voted against the Bamsamoro law, although it was supported by 85 percent of the vote overall in the provinces and districts taking part in the referendum.
Malacañang and top government officials condemned the twin bombings.
Presidential Spokesperson Salvador Panelo vowed that the military would "crush" the perpetrators of the bombing and several politicians also extended their condolences to the victims' families and called for justice to be served.
The Armed Forces of the Philippines and the Philippine National Police are already on heightened alert and have vowed to "thoroughly investigate" the bloody incident.
Rambo Talabong and Mara Cepeda report for Rappler news portal.

Article by AsiaPacificReport.nz