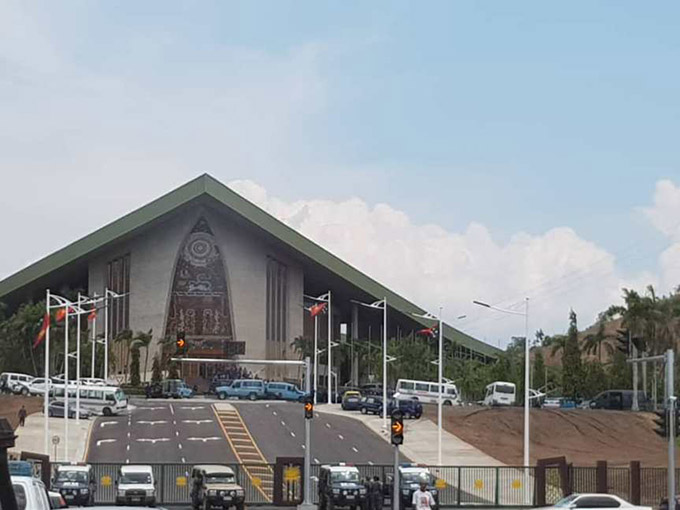 Parliament Haus in Waigani … scene of the reported assault against PNGFM journalists. Image Scott Waide's blog
Scott Waide's blog highlights an open letter by Genesis Ketan, director of news, PNGFM:
As director of News for PNGFM, I am very disappointed at the manner at which two of my reporters – one male and one female – were assaulted by disciplinary officers while covering the storming of Parliament on Tuesday,  20 November 2018.
They were simply there to do their jobs and cover the proceedings of what was happening at National Parliament when they were accosted by a group of inflamed disciplinary officers, both police and correctional service officers.
Upon seeing the journalists – one officer called out "Em ol Reporter ya, ol laik kisim wanem kain story, paitim ol". ("They are reporters, what kind of story are they here for, beat them up.")
READ MORE: RSF condemns exclusion of PNG journalists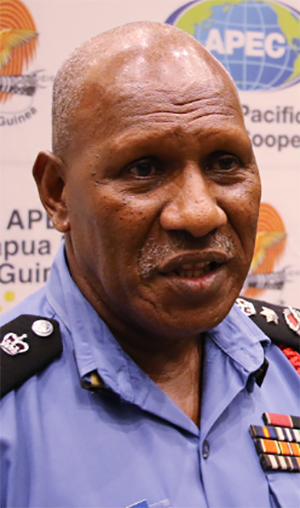 Police Commissioner Gary Baki … received PNGFM's assault complaint. Image: Loop PNG
The female journalist was manhandled by a group of police officers who pulled at her shirt attempting to rip it:
"One of the police officers pulled out my camera from my bag and smashed it right in front of me. While I was trying to take in what was happening, another officer pulled my bag causing the leather handle of my bag to break. He then threw my bag on the ground, kicked it towards the other officers, they in turn kicked the bag back to him, emptying out all my belongings in my bag. Another officer picked up my phone and smashed it while others were shouting and yelling abusive languages."
She was pushed back and forth during the commotion with just one elderly officer attempting to assist her and help her out to safety.
At the same time, the male reporter was separated from his colleague, then told to put his camera away and not film or take shots.
"During the struggle, I was attacked by a Correctional Service officer at first, which then led to police officers surrounding me and attacking me. During the incident, I was trying to see what was happening to my colleague, but kept getting punched until one Police Mobile Squad officer pulled me away to safety. I had my vest broken, my note book gone and the company camera destroyed by the officers."
PNGFM has written a letter of complaint to Correctional Service Commissioner Stephen Pokanis and Police Commissioner Gary Baki calling for those involved to be penalized.
Such an attack is an attack on our media freedom when journalists should be protected and not be subjected to such attacks for merely doing their jobs.
Meanwhile, at separate media conferences on Thursday, November 22, both Commissioner Pokanis and Commissioner Baki were informed of the assault against our journalists and have given assurance they will investigate this matter thoroughly.
– Genesis Ketan, director of news, PNGFM
Scott Waide's blog columns are frequently published by Asia Pacific Report with permission. He is also EMTV deputy news editor based in Lae.

Article by AsiaPacificReport.nz