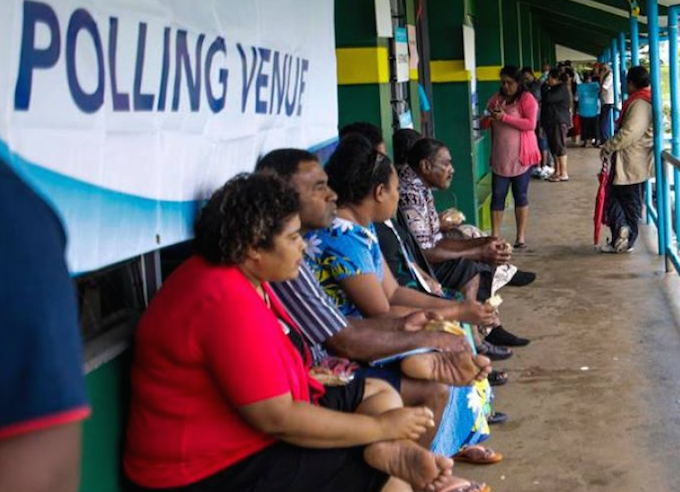 The Supervisor of Elections tells four parties "not to play around with elections" and "be honest". Image: Wansolwara
By Wansolwara Staff
Fiji's Supervisor of Elections has hit out at four political parties for making claims that the tabulation process for the provisional results of the 2018 General Election was "not transparent".
Without mincing his words at a press briefing tonight, Mohammed Saneem urged leaders of the political parties – Social Democratic Liberal Party (SODELPA), National Federation Party (NFP), Unity Fiji and Fiji Labour Party (FLP) – "not to play around with elections" and "be honest".
Claims of a breach in the Protocol of Results process surfaced after a joint statement was sent to the Electoral Commission on Thursday alleging that political party agents and candidates were not shown documents from which the provisional results were posted on the national results tally during the tabulation process.
There were further claims from political parties that incorrect data was also recorded on the FEO App, particularly for votes recorded at the Namosi Village community hall for some of their party candidates.
Responding to these issues, Saneem presented original copies of votes recorded at that particular voting venue and openly compared those with the election records presented by party agents at that polling venue.
There were notable differences in the data collected.
"The parties claim that No. 571 on their record is zero; the Protocol of Results says 571 has one vote, the pink slip for 571 has one and the FEO App has one. For 591 (Biman Prasad), according to the parties, he has five votes.
According to the original, he has four votes, the pink slip has four votes and the FEO App has four votes.
For 688 (Bainimarama), their records say 36, the original pink slip says 96 and the FEO App has 96," he explained to the media and representatives from the international multinational observer group.
"The Namosi Village community hall is a pre-poll station and that means counting for this station was actually done at the count centre (in Suva). We have evidence, properly justified and signed by agents and staff, nothing is being hidden.
Party records 'incorrect'
"The records of those parties are extremely incorrect. They were highly inaccurate results projected here for the sake of publicity and this is why the FEO is urging all members of the public to rely on the FEO information as the most accurate for this general election.
"We will pause and provide the political parties that have got agents present here with the records from the results management system as well as the protocols of results and we will reconcile to make sure that everybody in the results centre has the same amount of data including the data on the app.
"I hope this settles the entire question about attempts to create doubt about the results."
Saneem further clarified that the Fijian Elections Office had three verification processes before data is accepted into results software or results management system.
This article is republished under the content sharing arrangement between USP's Wansolwara student journalism newspaper and AUT's Pacific Media Centre.

Article by AsiaPacificReport.nz