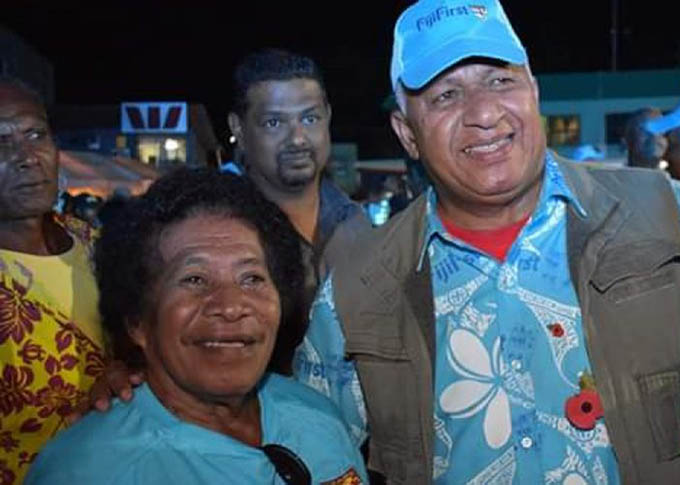 FijiFirst leader Voreqe Bainimarama with supporters during a FijiFirst family fun day in Savusavu before the 2018 general election. Image: FijiFirst FB page
By Wansolwara Staff
It's official. FijiFirst has won the 2018 general election in Fiji, raking in 227,241 votes (50.02 percent) from 2173 stations counted and securing a second four-year term in office.
FijiFirst dominated the polls in the later counting ahead of the Social Democratic Liberal Party (SODELPA) in an earlier tight contest. SODELPA finished in second place with 181,072 votes (39.85 percent).
The National Federation Party (NFP) finished in third place with 33,515 (7.38 percent) followed by Unity Fiji with 6,896, Humanity Opportunity Prosperity Equality with 2,811 votes and Fiji Labour Party (FLP) with 2,800 votes.
EARLIER REPORT: FijiFirst wins second four-year term
Caretaker Prime Minister Voreqe Bainimarama, FijiFirst leader, finished off on a strong footing, raking in 167,732 votes in the results by candidate tally.
SODELPA's Sitiveni Rabuka came in second with 77,040 votes followed by Aiyaz Sayed-Khaiyum with 17,271 votes.
National Federation Party leader Biman Prasad finished off with 12,137 votes, followed by the leading woman candidate Lynda Tabuya with 8,795 votes.
Supervisor of Elections Mohammed Saneem announced the results at the National Results Centre this afternoon after the final results were released on the FEO elections app.
Official results handover
The official elections results were then handed over to Electoral Commission Chairman Suresh Chandra.
"After receiving the results of the 2018 general election, the Electoral Commission will now retire and calculate the seat allocation for the 51 seats for the next term of Parliament," Chandra said.
Thereafter the announcement of the allocation of Parliament seats will be made followed by the return of the Writ of Election to President Jioji Konrote this afternoon.
It is understood that FijiFirst will probably take 27 seats in Parliament while SODELPA could settle for 21 seats and NFP with 3 seats. This, however, will be confirmed by the Electoral Commission after its deliberations.
This article is republished under the content sharing arrangement between USP's Wansolwara student journalism newspaper and AUT's Pacific Media Centre.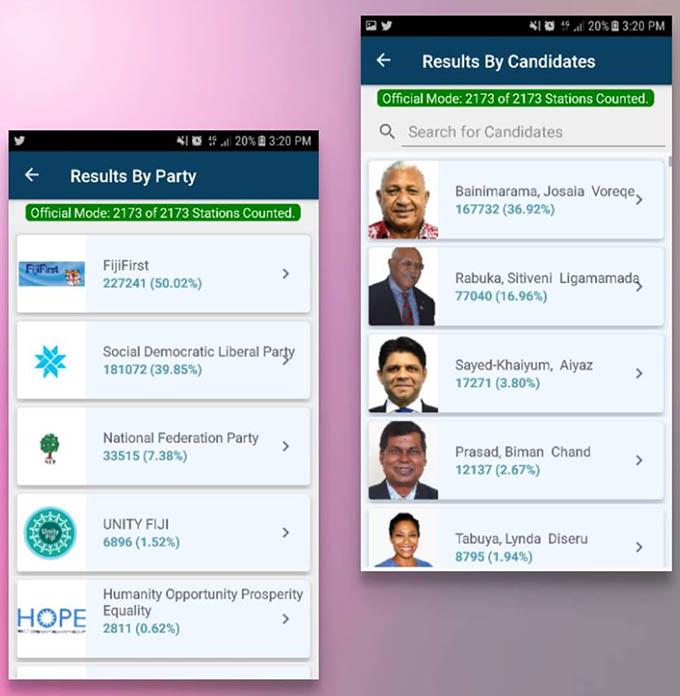 The final results in the Fiji general election announced by the Fiji Elections Office (FEO) in Suva today. Source: FEO

Article by AsiaPacificReport.nz