<![CDATA[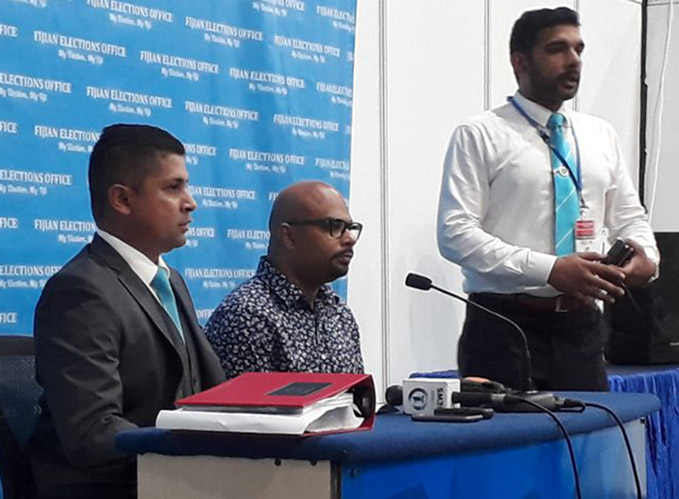 Fiji's Supervisor of Elections Mohammed Saneem (left) and Media Industry Development Authority chairman Ashwin Raj (middle) during a press conference at the FMF Gymnasium in Suva yesterday. Image: Mereoni Mili/Wansolwara
By Mereoni Mili and Laiseana Nasiga in Suva

Get your umbrellas out on polling day for the Fiji general election as a heavy rain warning remains in force for the southern and eastern parts of Viti Levu. And according to the weather office, localised heavy falls may lead to flash flooding in low-lying areas.
During a press conference yesterday, Supervisor of Elections Mohammed Saneem also encouraged voters to prepare for the bad weather predicted on polling day.
To facilitate the travelling of voters to their polling stations, Saneem said public buses would operate during the special public holiday today.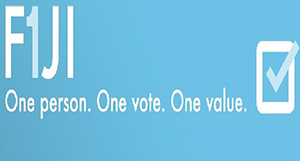 He said arrangements had been made with the Fiji Bus Operators Association to allow public buses to operate today, following the public holiday timetable as well as providing extra trips tomorrow morning for the convenience of voters.
"Although standard public holiday conditions will apply, we are urging organisations to ensure that all staff (members) are given the opportunity to go and vote on election day," he said.
Weather forecast
Meanwhile, the National Weather Forecasting Centre in Nadi says a trough of low pressure lies west of Fiji.
"Associated cloud and rain affects the group. Tropical Disturbance 02F lies to the east of Solomon Islands embedded within the trough and is expected to gradually move southeast and pass close to Fiji," the weatherman said in a statement issued last night.
"Meanwhile, a moist easterly wind flow prevails over the group. Occasional rain, heavy at times with few thunderstorms over the southern and eastern parts of Viti Levu. Rain is expected to become heavy and frequent from tonight.
"Elsewhere, cloudy with occasional showers. Thunderstorms and heavy falls are expected especially in the afternoon or evening. Showers increasing to rain, becoming frequent and heavy from tonight."
More than 600,000 Fijians have registered to vote in this year's general election. As many as 67,829 people have voted via pre-poll while 568,943 are expected to vote today.
Mereoni Mili and Laiseana Nasiga are final-year journalism students at the University of the South Pacific. They are part of a 13-member team covering the 2018 general election in Fiji for the USP journalism student training newspaper and online publication Wansolwara in partnership with the AUT Pacific Media Centre's Asia Pacific Report.

Article by AsiaPacificReport.nz
]]>