<![CDATA[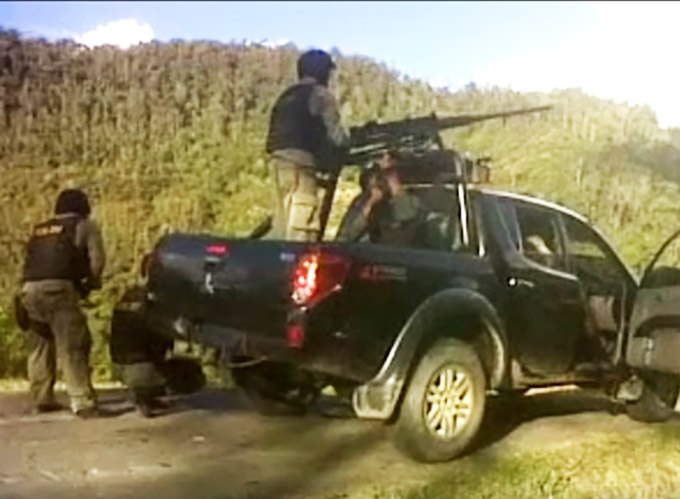 Indonesian military and West Papuan pro-independence militants in fresh clashes … new intensity in the Highlands fighting. Image: Victor Yeimo FB page
Pacific Media Centre Newsdesk
At least three people have been killed in a week of shooting clashes between the Indonesian military and police and  militants from the West Papua National Liberation Army (TPN-PB), say reports from the Jakarta-ruled Pacific territory.
The Victor Yeimo pro-independence social media page says the military are trying to capture Purom Wenda, a TPN-PB commander.
Victor Yeimo is chairman of the West Papua National Committee (KNPB).
News agency sources said two Papuan independence fighters and a third person had been killed during the clashes in the remote interior highlands of West Papua.
Wenda has eluded Indonesian security forces for 15 years.
Villagers have fled into the jungle because of the gunbattles, which have been intense since November 2.
Wenda said in a statement two of his fighters had been killed in a shootout with police and soldiers in the rugged Lanny Jaya district after his group shot dead a motorbike taxi driver they believed was spying for Indonesian forces.
"Indonesia said that they have given us special autonomy, infrastructure, and other excuses. We do not want all that. We only want freedom."
Raising awareness
Meanwhile, RNZ Pacific reports that a group of around 200 people called the West Papua Interest Association had crossed over the border into PNG's Western Province last week.
It wrote to local police notifying of plans to raise awareness about rights issues.
In response PNG's police border commander, Samson Kua, advised them not to proceed with their plans.
He said he did not want people disturbing the peace around the time PNG is hosting next week's APEC (Asia Pacific Economic Cooperation) leaders summit in Port Moresby.
"They will have to wait until APEC is over, and they can do their awareness on whatever they want to do. So actually they're very peaceful," Kua said.
"They're not getting involved with any awareness at the moment, they're very peaceful. They're just laying low and staying in their own camps."
The West Papuans are within their rights to be in PNG, as they hold Traditional Border Crossing cards which allow them to travel over the border into PNG.
This article is republished under the Pacific Media Centre's content partnership with Radio New Zealand.

Article by AsiaPacificReport.nz
]]>