<![CDATA[
By Sri Krishnamurthi in Suva
It's wrong to think that the youth in Fiji are unaware of the forthcoming election. They are engaging through social media but want a bit more education on the electoral system in Fiji.
"A whole lot of young people are on social media and you can see a lot of campaigning going on via social media, especially by future women parliamentarians," says Epeli Lalagavesi, a second-year student at the University of the South Pacific in Suva.
"It is creating awareness about them at the same time.

FIJI PRE-ELECTION SPECIAL REPORTS
"Digital is definitely the trend and that is happening right now. You see the likes of Lenora Qereqeretabua and Lynda Tabuya making use of the social media platforms to share their message. They are campaigning on these platforms."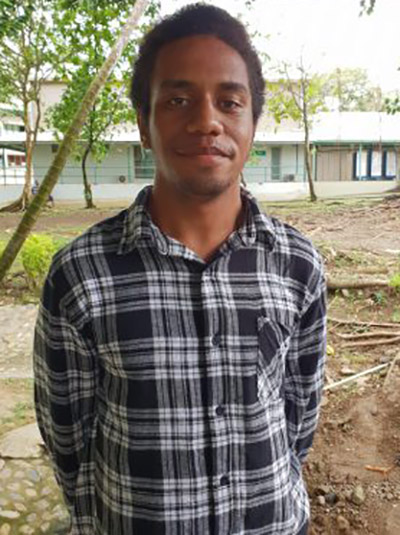 USP second-year student Epeli Lalagavesi discusses the forthcoming Fiji election. Image: Sri Krishnamurthi/PMC/Wansolwara
According to Lalagavesi, social media platforms allow the youth to interact and share their views on the election compared with traditional modes of getting the news.
"You don't see a lot of discussion by young people because they feel in a physical environment they don't have a say, but online is where they feel safe. That is their space to share and learn. That is where you have active participation," Lalagavesi says.
Social media is a safe distance away from politicians, they feel they can engage with them instead of reading it in the third person (newspapers) hampered by media decrees.
Hushed tones
The conversations aren't spoken in public but behind this wall is where their voices may be heard.
"The conversations are underground essentially," says Lalagavesi in hushed tones.
"I feel as a young person, youth voices are not heard and this has been echoed since the previous election in 2014.
"I feel there needs to be more awareness of young peoples' voices, not just during the election but after the election. I feel that after the election, youth are sometimes ignored and not thought of as part of the constituency."
Lalagavesi says universities have a role to play in the political process instead of being subdued.
"To an extent, I feel the need for universities to also open up the discussion about the election, but it is sort of a no-go zone. We can't discuss this because the university is not political. If you say something political, it be might be seen as an anti-government institution," he said.
As a first-time voter, he thinks there isn't enough education around the electoral system.
Not confident
"I don't feel confident in voting. The way the whole system works – it's like you are voting for a party and not the person," he says, voicing his frustration.
"If I am voting for a certain person, and that person does not have a seat in Parliament then it is of no use. My vote becomes invalid unless I vote for the party.
"We definitely need a bit of education on the electoral system because it will allow us to see how the whole system works. I just know bits and pieces of how the system works. So, voter education awareness will help young voters like myself."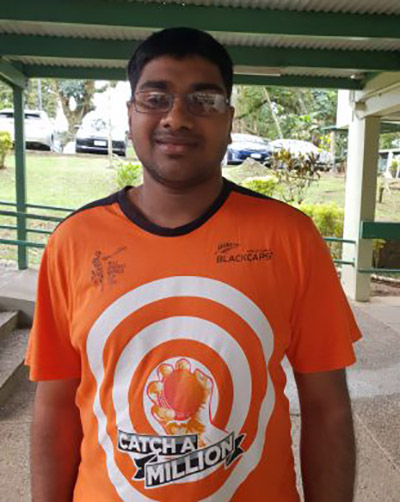 First-time voter Dhruvkaran Nand hopes there will be more focus on people living with disabilities when a new government is elected. Image: Sri Krishnamurthi/PMC/Wansolwara
Another youth, Dhruvkaran Nand, thinks the great unknown about the elections is intriguing.
"It's going to be a very interesting election and we are looking forward to that," says Nand without elaborating.
"I'll be voting for the first time. My expectation is for a government that comes into power to be accountable and transparent – this will help move the nation forward.
"I am also very interested in people with disabilities. I am looking forward to what the government has in place for people living with disabilities. Creating a disability-friendly environment is very important," says the young man who is living with a disability.
Words of warning
He has words of warning for those relying on social media alone.
"Social media is a great tool if it is used wisely. If you look at it from a global perspective, countries like India and the US are using those platforms to run their campaigns so that is probably a good thing," he says.
"But you cannot believe what is on social media unless you have verified the information from reliable sources."
Other young people show just how much they need to be educated about the elections.
Naomi Saurara of Suva is not interested in the elections because of the uncertain date.
"Right now I have no idea about the election because the election date hasn't been set," the Fiji National University student says.
However, her friend Kirisitiana Kula is aware and has read several policies.
Better future
"I have read the policies and some of them are good. It is up to us which government we vote in but I'm not sure what is going to happen after the election," she says pondering the future.
"It depends on what government the people vote for because if you want a better future then you will pick the right government to take over.
"The young should care about the election because they need to focus on their future and think of others too."
For Krishneel Krishna, it's a matter of looking at the best benefit.
"We have to vote for the party which gives us benefits for our education," he said.
"I will stay in Fiji if the wages are good, but if the wages aren't up to our expectation then that's a different story."
There are many choices to be made when it comes to engaging and participating in a country's national election. But for these Fijian youths, weighing in on the election is a whole new experience, one they know will have an impact on their future.
Sri Krishnamurthi is a journalist and Postgraduate Diploma in Communication Studies student at Auckland University of Technology. He is attached to The University of the South Pacific's Journalism Programme, filing for USP's Wansolwara News and the AUT Pacific Media Centre's Asia Pacific Report.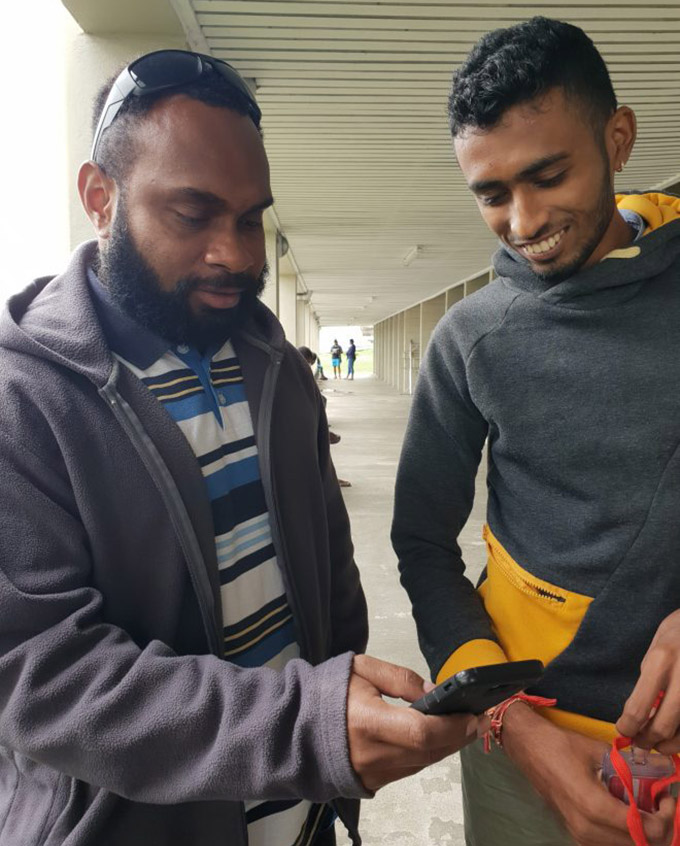 Eliki Drugunalevu and Krishneel Krishna exchange views about the impending election and what it means for youths in Fiji. Image: Sri Krishnamurthi/PMC/Wansolwara
Article by AsiaPacificReport.nz
]]>