<![CDATA[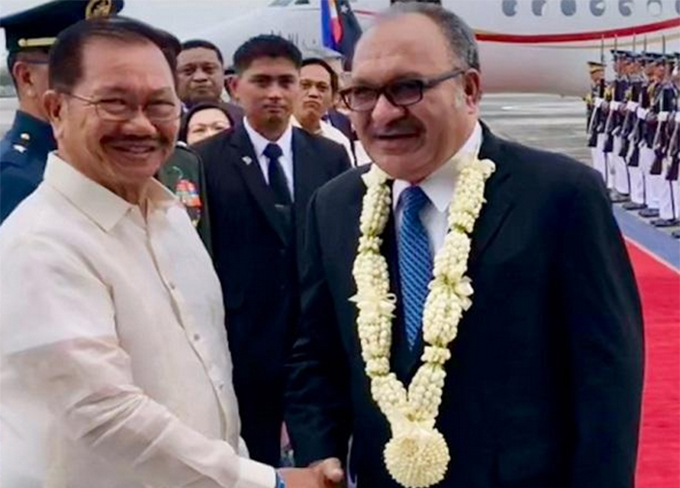 Papua New Guinean Prime Minister Peter O'Neill being welcomed on a state visit to the Philippines in Manila yesterday. Image: Loop PNG
By Rosalie Coz in Manila
President Rodrigo Duterte of the Philippines was due to hold bilateral talks later today with Papua New Guinean Prime Minister Peter O'Neill who arrived in Manila yesterday on a three-day state visit to the republic.
President Duterte is expected to host a state banquet for O'Neill after their scheduled talks, reports UNTV News.
Presidential Spokesperson Harry Roque said the visit was an important opportunity for the Philippines "to reaffirm and further strengthen the friendly and cooperative ties with Papua New Guinea".
"With other similar histories and shared aspirations for greater peace, progress and prosperity for our peoples and region, the Philippines stands ready to work with Papua New Guinea for the mutual benefit and sustainable and inclusive growth of our nations," he said.
Rice production expansion
Freddy Mou reports for Loop PNG that Prime Minister O'Neill said the Philippines was a world leader in rice cultivation, and the republic was interested in working with Papua New Guinea on expanding its local production.
O'Neill added that the engagement between Papua New Guinea and the Philippines went back to the 1800s when Filipino missionaries accompanied European Catholic priests to "live with our people".
Papua New Guinea and the Philippines had had diplomatic relations for 43 years as nation states, and it was important that the two countries continued to strengthen their engagement.
There were now more than 35,000 Filipinos living in Papua New Guinea, making them the largest group of expatriates in the country.
Prime Minister O'Neill said many Filipinos provided services in sectors that included healthcare and education, as well as working in many businesses.
Papua New Guinea is this year's host and chair of the Asia Pacific Economic Cooperation (APEC).

Article by AsiaPacificReport.nz
]]>