<![CDATA[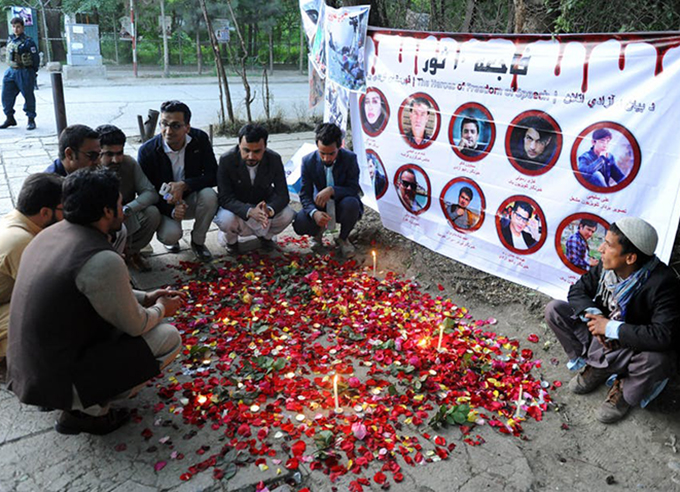 Afghan journalists light candles to remember the local reporters killed in last week's Kabul bomb blast. Image: Hedayatullah Amid/EPA/The Conversation
By Colleen Murrell in Melbourne
For journalists who cover Afghanistan, the bombing that killed nine local reporters last week in Kabul was a sober reminder of the dangers the media continue to face in the country's seemingly endless conflict.
The victims were not well-known foreign correspondents, but a group of courageous Afghan photographers, reporters and cameramen who had gone to report on another bomb blast that had exploded about 40 minutes earlier.
They included a photographer from the French news agency Agence France-Presse (AFP), as well as contributors to Radio Free Europe/Radio Liberty and several local media companies.
READ MORE: Free media week killings underscore crimes of impunity against journalists
Elsewhere on the same day, a 10th journalist was shot dead – a reporter for the BBC's Pashto service, Ahmad Shah.
According to Reporters Without Borders, it was the deadliest single day for journalists in the country since the overthrow of the Taliban in 2001.
The principal way we receive news from conflict zones like Afghanistan, Syria and Iraq is via eyewitnesses on social media and the global news agencies – AFP, Associated Press and Reuters. Agency reporters are often the first "media responders" to deadly incidents like suicide bombings and terror attacks. They also negotiate with local reporters on the ground to secure the best pictures, which then get relayed to the thousands of media companies around the world who subscribe to their services.
To feed this beast of global 24/7 news coverage, there is still an expectation that agency journalists will dare to tread where others will not.
Journalists as targets
Increasingly, this has become even more dangerous, as extremist groups like the Islamic State have shifted tactics to specifically target journalists.
The Afghan Journalists Safety Committee warned of "an unprecedented increase in threats and violence against journalists" in a 2017 report:
Increased threats from DAESH to media and journalists have created a new wave of concerns about the security of journalists and media. What is seriously worrying is the group's direct attacks against media, which in 2017 is responsible for the vast majority of journalists' deaths.
Reporters Without Borders says 34 journalists and media workers have died in attacks by the Islamic State and Taliban in Afghanistan since the start of 2016. The situation has become so dire that the group has called on the United Nations to appoint a special representative dedicated to protecting the lives of journalists. The proposal has been backed by French President Emmanuel Macron and the German Parliament.
Without adequate security provisions, journalists have also been abandoning countries that have become too dangerous, Reporters Without Borders notes in its 2017 annual report on reporters killed in the line of duty.
AFP continues to operate with a team of two or three foreign journalists in Kabul, backed up by seven full-time Afghan journalists and various stringers working across the country. Reuters employs just one foreign correspondent and one local journalist in Kabul, and AP has two local reporters and two local photographers.
Former BBC journalist Bilal Sarwary, who now works as a freelancer, tells me there are very few Western journalists left in Afghanistan because "Iraq and then Syria have commanded their attention" in recent years. He said The New York Times, The Wall Street Journal and The Washington Post still have reporters based in the country, but now rely almost entirely on freelance photographers.
Responding to the new reality
Under global news director Michèle Léridon, AFP has been highly innovative at adapting to news gathering challenges, but also strict in its policy of not being made stooges by terrorists. According to Phil Chetwynd, AFP's global editor-in-chief, the company is constantly evaluating its security procedures.
We have always been cautious about rushing to the scene of attacks. We have moved our office several times in Kabul to find a better location as the threat level has changed. We have sent security experts to review our procedures and to recommend physical reinforcements and measures to our buildings.
We have also sent reporters on hostile environment courses and sent trainers to Kabul to train all staff including non-journalists. The message to all our reporters remains that security comes first.
Chetwynd notes the suicide bomber who killed the nine Afghan journalists in Kabul last week – a group that included AFP photographer Shah Marai – had apparently been posing as a fellow reporter, a new tactic by terror groups.
"We are already changing and reacting to this appalling new reality," he says.
It's clear that all media organisations need to constantly rethink their strategies when it comes to reporting in conflict zones.
Media scholars, too, are tackling the issue. At the upcoming International Communications Association conference in Prague later this month, I will be joining other academics on a panel titled "Voices in journalism: Local news staff producing international news" to discuss the latest research examining the working conditions of stringers, fixers and local journalists.
Researched challenges
One of the panellists, Saumava Mitra, has researched the work of photojournalists in Afghanistan and co-authored an essay last week on the challenges they face:
We have seen that local journalists usually have much poorer access to hostile-environment training, work-hazard insurance or even medical benefits from their employers. They face different threats and risks than those who parachute into the conflict and have nowhere to go if the situation escalates.
They are also much more prone to reprisals. The first step to help prevent their deaths is to acknowledge that the news we consume is often produced by journalists working under precarious conditions in hostile places.
Marai, for one, always knew the dangers of working in Kabul, as his blog on the AFP website so devastatingly shows. In it, he recounts how life changed for the worse when the Taliban returned to stage attacks in Kabul in the mid-2000s:
"I don't dare to take my children for a walk. I have five and they spend their time cooped up inside the house. Every morning as I go to the office and every evening when I return home, all I think of are cars that can be booby-trapped, or of suicide bombers coming out of a crowd. I can't take the risk. So we don't go out.

"I have never felt life to have so little prospects and I don't see a way out. It's a time of anxiety."
Dr Colleen Murrell is undergraduate coordinator for journalism at Monash University, Melbourne, and the author of Foreign Correspondents and International Newsgathering: The role of fixers.This article was first published by The Conversation and is republished on Asia Pacific Report under a Creative Commons licence.


Article by AsiaPacificReport.nz
]]>