<![CDATA[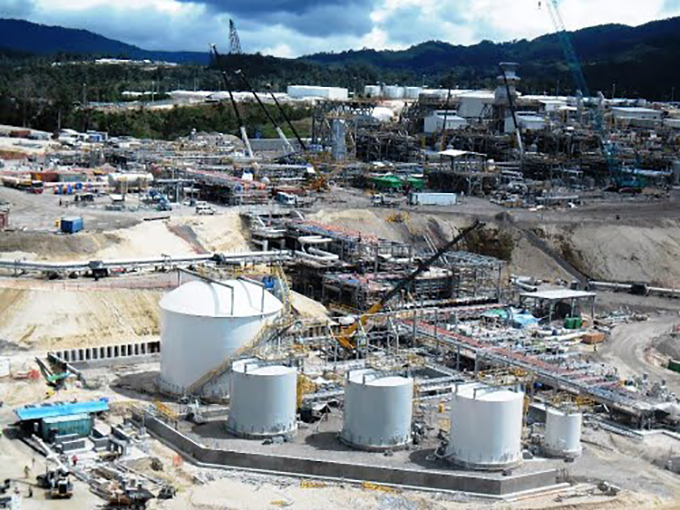 The huge PNG Hides gas conditioning plant in Hela province, Papua New Guinea. Image: PNG-Geo
By Stefan Armbruster of SBS News in Brisbane

Papua New Guinea's prime minister has dismissed as "fake news" a report that claims a partially-Australian funded liquefied natural gas project is failing to deliver a promised economic boom to his people.
Prime Minister Peter O'Neill, in Brisbane for the Australian-PNG business forum, hit out at a damning report by social justice non-government organisation Jubilee Australia which questioned whether projected economic benefits were flowing from the ExxonMobil-led project.
"It's quite disappointing to note that some of our experts who align themselves with political opponents are continuing to talk down our economy and continuing to release fake news," O'Neill said in his address to the forum.
READ MORE: Failed predictions and the PNG resource curse
The project supplies eight million tonnes of gas a year to Japan, South Korea and China, with the flow starting in 2014.
Australia's export credit agency Efic made its largest-ever loan of $500 million to ExxonMobil, OilSearch, Santos and the PNG government in 2009.
Questions are now being asked why the project was backed by the Australian government.
"The people of PNG would have been better off had the project not happened at all," report co-author Paul Flanagan, a former Australian Treasury official, said.
Report defended
Flanagan also defended the report: "I feel at this stage very, very confident in the numbers we had in that report. The report indicated that welfare in PNG has decreased because of the PNG LNG project."
But O'Neill characterised the report as "utter nonsense" in his keynote address.
"It's quite disappointing to note that some experts, who align themselves with political groupings, continue to talk down the (PNG) economy and continue to release fake news," O'Neill said.
"It's quite unrealistic to suggest the LNG project is not contributing to the economy of the country."
ExxonMobil has defended the project saying it had contributed $5.69 billion to local businesses and the government through employment tax and royalties.
"Good governance, accountability and revenue transparency are critical to ensuring that the value unlocked from gas resources in PNG results in economic growth, increased opportunities and a better standard of living for Papua New Guineans," a spokeswoman said.
A failure to identify landowners who would get hundreds of millions of dollars in royalties has triggered violence in PNG'S Highlands, raising fears of a resources civil war like the 1990s Bougainville crisis.
Australian backing questioned
Australian Australia's backing of the project before the landowners' issue was resolved is now being questioned. The report's co-author, Paul Flanagan, says stakeholders need to be careful.
"It would seem sensible to ensure that local laws are followed before those funds are released," he said.
Australia's overseas-finance agency Efic backed the project with a $500 million loan. Australia's Assistant Trade Minister, Mark Coulston, says there will be an investigation, but he says he cannot comment further at this stage.
"Obviously, there will be an investigation into the mechanism of how that works," he said.
Coulton focused on the "game changer" upcoming Asia Pacific Economic Cooperation leaders summit in Port Moresby.
"It is an opportunity to showcase the business potential of PNG to the world – a stable, reliable democracy and an attractive commercial environment," Coulton said.
"It is incumbent on us, during tough times, to keep making the case about the growth and competitiveness that comes from opening markets to trade and investment."
Free trade stand
He praised PNG's decision to reconsider joining up to the Pacific Pacer Plus free trade agreement.
Australian companies have $18 billion invested in PNG and more than 4600 Australian businesses are exporting goods into PNG.
A Exxon natural gas project site in Papua New Guinea.
Santos says liquefied natural gas production in PNG will return to full capacity next month.
Stefan Armbruster is Pacific correspondent of SBS News. Additional reporting by AAP, Amanda Copp. This article is republished with permission.

Article by AsiaPacificReport.nz
]]>