<![CDATA[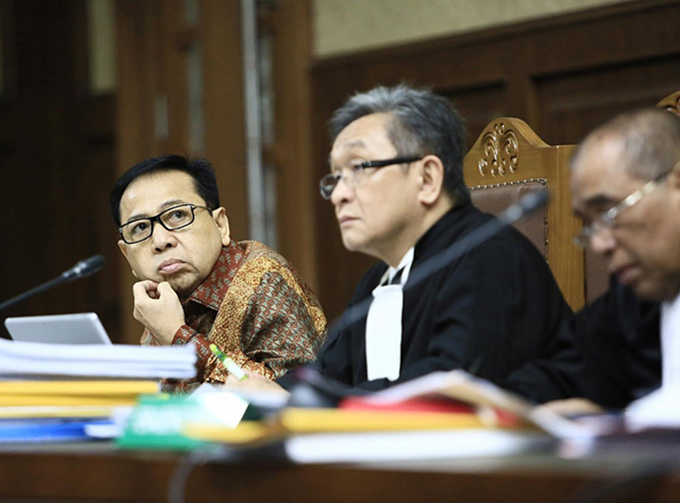 Former Speaker Setya Novanto (left) attending a hearing at the Jakarta Corruption Court. Image: Dhoni Setiawan/Jakarta Post
By Kharishar Kahfi in Jakarta
The Jakarta Corruption Court judges today sentenced former House of Representatives Speaker Setya Novanto to 15 years in prison after being found guilty of graft.
Reading out the court's verdict, presiding judge Yanto said the former Golkar Party chairman had been declared guilty of rigging the Rp 5.9 trillion (US$424 million) e-ID project, which reportedly caused Rp 2.3 trillion in state losses.
The court also ordered him to pay Rp 500 million in fines and restitution amounting to the US$7.3 million he obtained in the case.
READ MORE: Is the e-ID mega-scandal the end for slick House Speaker Setya?
Both Setya and prosecutors said they would wait a week before announcing whether they would file an appeal.
Prosecutors had previously demanded a 16-year prison sentence and a Rp 1 billion fine for the defendant for his role in the case, which reportedly caused Rp 2.3 trillion in state losses.
The antigraft body also rejected Setya's request for justice collaborator status, as the commission argued that Setya had not provided significant information related to the case.
Prosecutors indicted Setya in the case when he was still Golkar's faction leader at the House.
Setya becomes the fourth defendant to be found guilty in the case after former Home Ministry senior officials Irman and Sugiharto as well as businessman Andi Agustinus or Andi Narogong.
Kharishar Kahfi is a Jakarta Post journalist.


Article by AsiaPacificReport.nz
]]>