<![CDATA[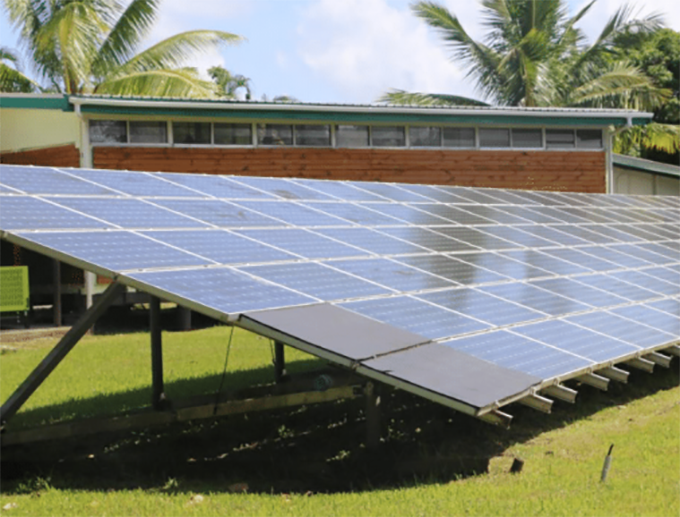 The University of the South Pacific's lower campus 45kw solar pv power system. Image: Hele Ikimotu/Bearing Witness
By Hele Ikimotu in Suva
Affordable energy enhances the livelihood of Pacific communities, says an associate professor in physics at the Fiji-based University of the South Pacific.
Dr Atul Raturi presented a seminar as part of the Pacific Centre for Environment and Sustainable Development (PaCE-SD) seminar series about the use of solar energy in supporting sustainable development in the Pacific.
The deputy director of the centre, Dr Morgan Wairiu, said these seminars were a great opportunity for students to interact with.
"We encourage our students and staff to attend these to exchange their ideas and knowledge.
"At the same time are bringing the visibility of the programme to outside communities about what we are doing here at the centre."
Dr Raturi's seminar focused on global sustainable development goal SDG7 (access to affordable and clean energy). He said SDG7 was a main driver for many of the other development goals.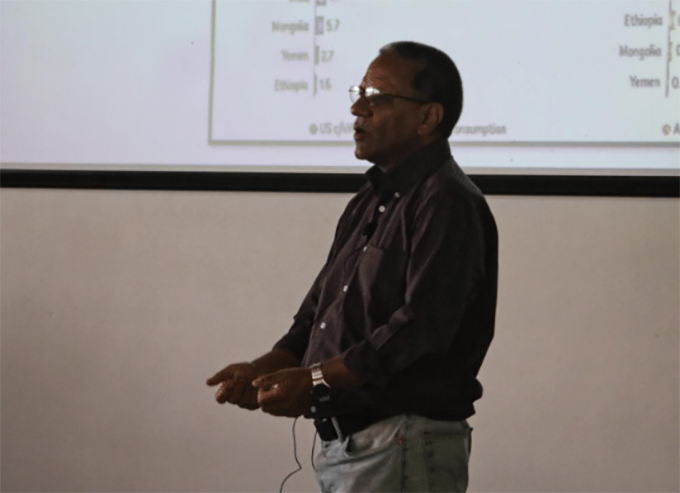 Dr Atul Raturi presenting his seminar at the USP campus in Suva, Fiji … multiple challenges. Image: Hele Ikimotu/Bearing Witness
'Trilemma' challenge
He said Pacific Island countries face a"trilemma" – energy poverty, climate change impacts and extreme fossil fuel dependence.
As a result, communities are suffering from the effects such as having a lack of access to clean water.
Dr Raturi said renewable energy development can help tackle these three challenges.
He spoke of how solar PV was on the rise and some of the USP community solar projects as examples of sustainable development.
He said it was important to be having discussions with small communities to understand where their struggles were.
"The challenge of these projects is that we have a good heart and good intentions and we know what we want to do, but the community doesn't want it because they have other priorities," he said.
Creating an opportunity
Dr Raturi said listening to helps create an opportunity to collaborate with them on aiding their needs.
"We need to have a discussion with them and then together form a project. This is why a talanoa is very important."
The USP community solar projects has seen success in several Fijian communities – one significant project regarding solar energy and water in Yanuca Island.
The community had no access to fresh water and through the project, a solar thermal desalination system was installed in March last year.
This system was described by Dr Raturi as "simple" as villagers just bring sea water and fill up a tank which is pumped using the solar energy, then producing fresh water.
"On a good sunny day, the system produces about 200 litres of drinking water," he said.
The solar water pumping systems have also been installed for some Fijian schools – Batiri Lagi, Namau, Korotolutolu and Kubulau.
Shared message
Dr Raturi shared what one of the head mistresses at Namau School had said about the project:
"The supply of clean and safe water without any fuel costs is recognised by the community and the benefits will be felt by the future generations of children attending this school."
He said it was important to recognise how solar energy could play a vital role in tackling climate stresses in the Pacific, achieving some of the sustainable development goals and also leading towards aspirations regarding the Paris agreement.
Hele Ikimotu and Blessen Tom are in Fiji as part of the Pacific Media Centre's Bearing Witness 2018 climate change project. They are collaborating with the University of the South Pacific.

Article by AsiaPacificReport.nz
]]>