<![CDATA[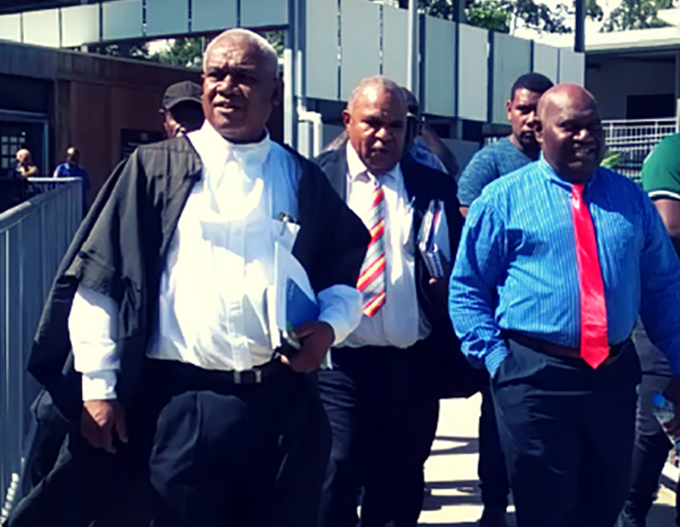 A delighted Sam Akoitai (in red tie) outside the National Court yesterday after winning back his Central Bougainville seat in the National Parliament. Photo: Sally Pokiton/Loop PNG
Pacific Media Centre Newsdesk
Bougainville Affairs Minister Fr Simon Dumarinu has been ousted by four votes as the first casualty of the Peter O'Neill government in Papua New Guinea after last year's general  election, reports Loop PNG.
The National Court in Waigani has declared Sam Akoitai, a former mining minister, reelected as the Central Bougainville member of Parliament after hearing an election petition.
Justice Lawrence Kangwia yesterday afternoon declared Akoitai elected under section 212 of the Organic Law on National and Local Level Government.
He formally ratified election results from the recount, filed in court on March 20, as correct and valid, reports Loop PNG.
Akoitai won 7257 votes in the recount while Dr Dumarinu had 7253 votes.
Akoitai was declared the winner after the court refused a motion by Fr Dumarinu for a further recount.
'Peace must be winner'
"We'd like to continue to maintain peace in Bougainville and peace must be the winner," Akoitai said outside the court.
"It's now down to work, both in Bougainville and Papua New Guinea."
He is regarded as a cheerleader for Rio Tinto and Bougainville Copper Limited, having worked for the company for eight years. He also fought against the Bougainville Revolutionary Army (BRA) during the region's 10-year civil war.
Fr Dumarinu is a Marist Catholic priest from Deomori in the Panguna mine area and had been elected to Parliament as a member of the Social Democratic Party led by National Capital District Governor Powes Parkop.
Bougainville faces a referendum on independence on June 19 next year.

Article by AsiaPacificReport.nz
]]>