<![CDATA[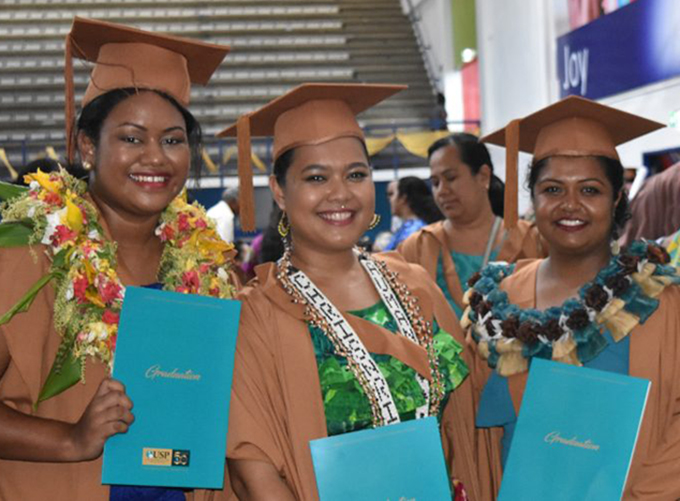 Three of the USP journalism graduates, Vilimaina Naqelevuki (from left), Chrisnrita Aumanu and Anishma Prasad, with their scrolls at the National Gymnasium in Suva. Image: Koroi Tadulala/Wansolwara
By Mereoni Mili in Suva
It was a proud moment for six journalism students who graduated from the University of the South Pacific in Suva this week.
For Chrisnrita Aumanu, a journalism student from the Solomon Islands, being away from home was challenging but worth the sacrifice after receiving her Bachelor of Arts degree from Fiji President Jioji Konrote at the National Gymnasium.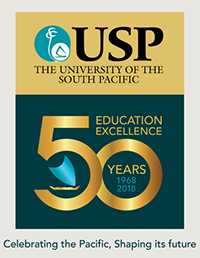 "I feel so over the moon and extremely thankful that I've managed to come this far and finally get my degree," she said.
Aumanu, double majoring in journalism and information systems, thanked her parents and husband for their support on her big day, adding they were her "biggest supporters from day one".
"I've seen how far my parents had gone to support me. This has also challenged me to keep on going with my studies, not only at this level but beyond," said Aumanu.
Aumanu, former editor of USP's journalism award-winning student training newspaper Wansolwara, thanked Dr Shailendra Singh, coordinator of the journalism programme and the head of information systems for helping her with her studies.
"I would like to thank the head of schools and teaching assistants who helped me with the problems I faced," she said.
Sacrificed six years
Another journalism student, Anishma Prasad, said she sacrificed six years to get her degree and the end result was overwhelming.
"At times I felt I would never see a degree in my hand but today I feel happy and content that I have achieved one of the biggest things in my life and I was able to fight my battles," Prasad said.
Being the eldest of three, Prasad put her studies on hold to look after her sick mother and family.
The Bachelor of Arts double major in journalism and politics also worked part-time to pay for her studies.
Despite the challenges she faced, Prasad was determined to complete her studies.
The Nausori student said her biggest inspiration were her parents who fought all the challenges that came their way.
Her advice to students was to stay determined and focused on the path ahead.
"It is not easy but if I can do it, anyone can. If you're determined to finish what you've started, you will never lose hope," she said.
For Linda Filiai from Tonga, studying in Fiji was not easy at first because of "culture shock", but with the help of her friend, she overcame this.
Filiai said receiving a degree was what every USP student looked forward to because great education would improve the standard of living.
"The reason behind my success today is the fact that I wanted a better life for my family," said Filiai.
Other journalism students who graduated with their BA degree were Vilimaina Naqelevuki, Ruci Vakamino and Travis Ronnie.
The USP journalism programme has produced more than 200 graduates working in various media roles throughout the Pacific and globally.
Mereoni Mili is a student journalist with Wansolwara newspaper of the University of the South Pacific regional journalism programme.


Article by AsiaPacificReport.nz
]]>