<![CDATA[
Drone views of the village of Timbulsloko showing the scale of coastal erosion and sinking flatlands in an area that once used to to be rice fields on the edge of the Central Java city of Semarang. Mangroves are being rapidly re-established. Drone footage source: CoREM. Video: David Robie's Café Pacific
By David Robie in Semarang, Indonesia
A vast coastal area of the Indonesian city of Semarang, billed nine months ago by a national newspaper as "on the brink of ecological disaster", is fighting back with a valiant survival strategy.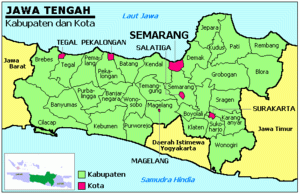 Thanks to a Dutch mangrove restoration programme and flexible bamboo-and-timber "eco" seawalls, some 70,000 people at risk in the city of nearly two million have some slim hope for the future.
An area that was mostly rice fields and villages on the edge of the old city barely two decades ago has now become "aquatic" zones as flooding high tides encroach on homes.
Onetime farmers have been forced to become fishermen.
Villagers living in Bedono, Sriwulan, Surodadi and Timbulsloko in Demak regency and urban communities in low-lying parts of the city are most at risk.
Residents have been forced to raise their houses or build protective seawalls or be forced to abandon their homes when their floors become awash.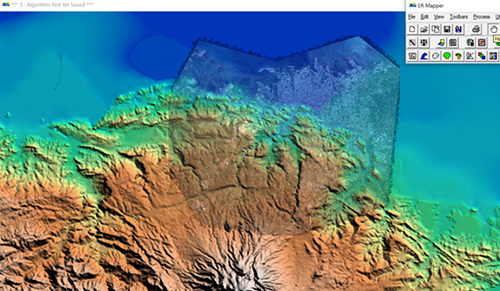 The lowland subsidence area in north Semarang leading to the volcanic Mt Urganan and Mt Muria/Medak.  Source: CoRem (UNDIP), 2017.
Environmental changes in Semarang have been blamed by scientists on anthropogenic and "natural" factors such as tidal and river flooding – known locally as rob, mangroves destruction since the 1990s, fast urban growth and extensive groundwater extraction.
Climate change
This has been compounded by climate change with frequent and extreme storms.
It has been a pattern familiar in many other low-lying coastal areas in Indonesia, such as the capital Jakarta and second-largest city Surabaya.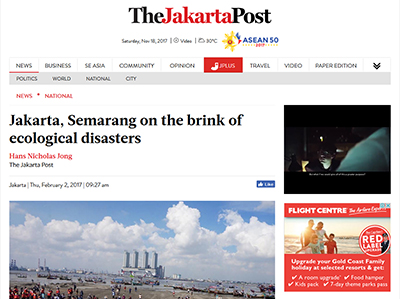 The Jakarta Post headline on 2 February 2017. Image: PMC
In February, The Jakarta Post reported that both Jakarta and Semarang faced environmental crises.
Citing Indonesian Institute of Science (LIPI) researcher Henny Warsilah, a graduate of Paris I-Sorbonne University in France, who measured the resilience of three coastal cities – Jakarta, Semarang and Surabaya – the Post noted only Surabaya had built sufficient environmental and social resilience to face natural disasters.
Jakarta and Semarang, Warsilah said, "were not doing very well". Although Surabaya was faring much better with its urban policies.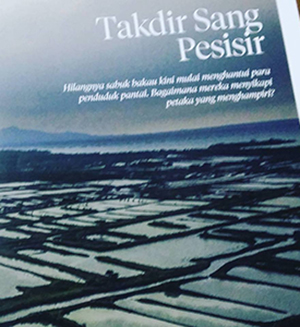 The National Geographic Indonesia banner headline in October 2017. Image: PMC
The fate of some five million people living in Indonesia's at risk coastal areas – including Semarang — was also profiled in the Indonesian edition of National Geographic magazine last month under the banner headline "Takdir Sang Pesisis" – "The destiny of the coast".
The introduction asked: ""The disappearance of the mangrove belt now haunts seaside residents. How can they respond to a disaster that is imminent?"
Ongoing reclamation
According to The Jakarta Post, Semarang "has ongoing reclamation projects in the northern part of the city, which threaten to submerge entire neighbourhoods in the next 20 years".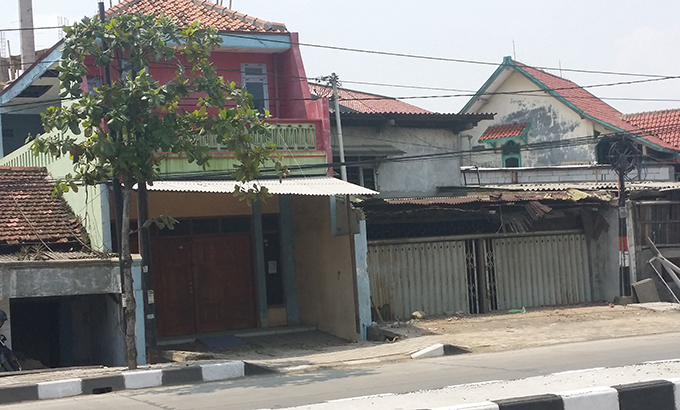 Urban erosion and land subsidence in Semarang city. Note the raised house second from left, the other sinking dwellings on either side have been abandoned to the tidal waters. Image: David Robie/PMC
"The more [the city] is expanded, the more land will subside because the region is a former volcanic eruption zone, and it is a swamp area," says Warsilah.
"With the progression of the reclamation projects, the land is not strong enough to withstand the pressure."
With a team of international geologists and researchers attached to Semarang's Center for Disaster Mitigation and Coastal Rehabilitation Studies (CoREM) at Diponegoro University, I had the opportunity to visit Timbulsloko village earlier this month to see the growing "crisis" first hand.
City planners might see the only option as the residents being forced to leave for higher ground, but there appear to be no plans in place for this. In any case, local people defiantly say they want to stay and will adapt to the sinking conditions.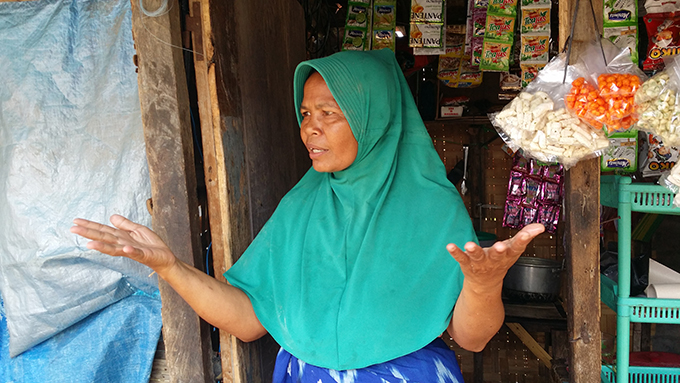 An unnamed local shopkeeper who has three generations of her family living in her Timbulsloko home and she doesn't want to leave in spite of the sea encroaching in her house. Image: David Robie/PMC
One woman, a local shopkeeper, who has a three-generations household in the village with water encroaching into her home at most high tides, says she won't leave with a broad smile.
I talked to her through an interpreter as she sat with her mother and youngest daughter on a roadside bamboo shelter.
"I have lived here for a long time, and I am very happy with the situation. My husband has his work here as a fisherman," she said.

A local storekeeper with her mother and youngest daughter – three generations live in her Timbulsloko village home. Video: David Robie's Café Pacific.
'We don't want to leave'
"We live with the flooding and we don't want to leave."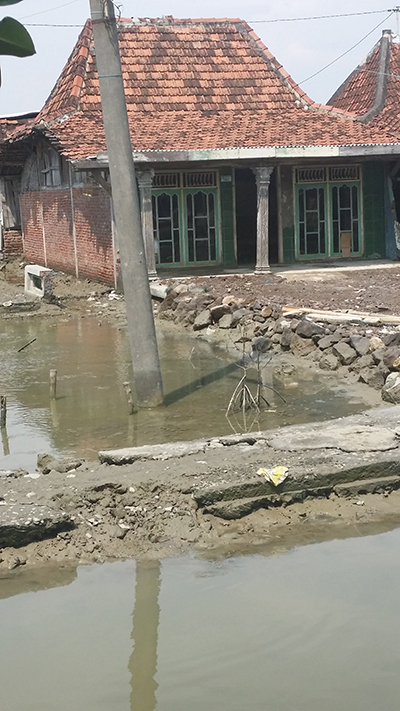 A raised house at low tide in Timbulsloko. Image: David Robie/PMC
She also said there was no clear viable alternative for the people of the village – there was no plan by the local authorities for relocation.
Later, she showed me inside her house and how far the water flooded across the floors. Electrical items, such as a television, had to be placed on raised furniture. The children slept on high beds, and the adults clambered onto cupboards to get some rest.
The village has a school, community centre, a mosque and a church – most of these with a sufficiently high foundation to be above the seawater.
However, the salination means that crops and vegetables cannot grow.
The community cemetery is also awash at high tide and there have been reports of eroded graves and sometimes floating bodies to the distress of families.

Timbulsloko's village cemetery. Video: David Robie's Café Pacific
We were warned "don't touch anything with your hands" as the flooding also causes a health hazard.
Research projects
The situation has attracted a number of research projects in an effort to find solutions to some of the problems, the latest being part of the 2017 World Class Professor (WCP) programme funded by the Indonesian government.
Two of the six professors on the University of Gadjah Mada's WCP programme, in partnership with Diponegoro University, are working with local researchers at CoREM.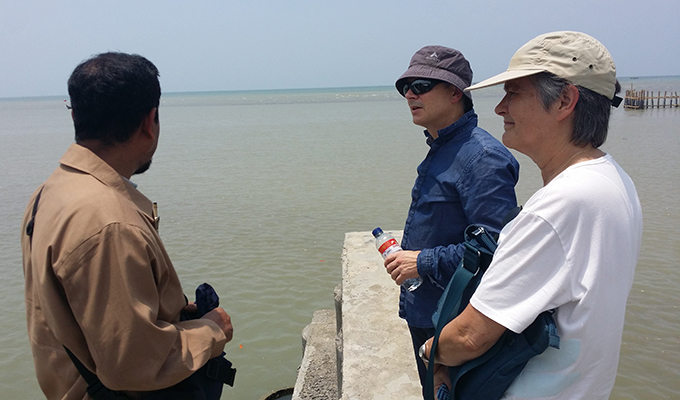 WCP programme professors Dr David Menier (centre) and Dr Magaly Koch (right) talk to CoREM director Dr Muhammad Helmi on the Timbulsloko village wharf, near Semarang. Image: David Robie/PMC
They are geologists Dr Magaly Koch, from the Centre for Remote Sensing at Boston University, US, and Dr David Menier, associate professor HDR at Université de Bretage-Sud, France, who are partnered with Dr Muhammad Helmi, also a geologist and director of CoREM, and Dr Manoj Mathew. Both Dr Mathew and Dr Menier are of LGO Laboratoire Géosciences Océan.

The stages of flooding in the Semarang study area. Source:
Ramkumar & Menier
(2017)
"At the regional scale, the rate of subsidence is related to the geological and geomorphological context. North Java is a coastal plain that is very flat, silty to muddy, influenced by offshore controlling factors (e.g., wave, longshore drifts, tidal currents, etc.) and monsoons, and surrounded by volcanoes," explains Dr Menier.

Controlling factors along the Semarang coastline. Source: CoRem, (UNDIP)
"Locally, anthropogenic factors can play a serious role as well."
He says that coastal plains are dynamic. However, human activities are fixed – "the first contradiction".
"Humans want to control and continue their livelihood, and are reluctant to accept changes related to their own activities or natural factors."
Dr Menier says the subsidence is due to many factors, but some key issues have never been studied.
On a long term scale, the active faults of the area need to be examined in a geodynamic context and also volcanic activity with Mt Urganan and Mt Muria/Medak.
"We need to have a better understanding of the age of the coastal plain in order to reconstruct the past, explain the present-day and predict the future," he says.
"Colonisation in the 17th century-Dutch period probably led to destruction of ecosystems (mangrove) and fine sediment usually trapped by plants has been stopped."
Dr Koch adds: "Subsidence rates and their spatial distribution along the coastal plain need to be studied in detail using InSAR techniques. Groundwater abstraction (using deep wells) is probably happening in the city of Semarang but not necessarily in Demak."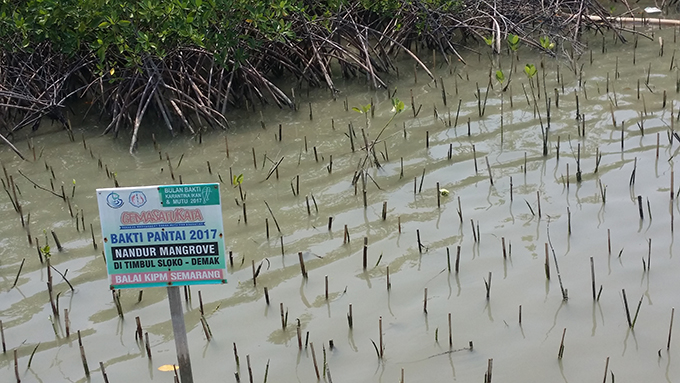 Expanding mangroves protection at Timbulsloko, Demak regency. Image: David Robie/PMC
Mangrove restoration
Mangrove restoration and mitigation has been used successfully to restore coastal resilience and ecosystems in Timbulsloko.
While noting that "high failure rates are typical" due to wrong special being planted and other factors, Dr Dolfi Debrot, of a Dutch project consortium, argues "given the right conditions, mangrove recovery actually works best without planting at all."
The consortium involves Witteveen+Bos, Deltares, EcoShape, Wetlands International, Wageningen University and IMARES.
However, community planting is also a strategy deployed in the lowland villages.
Mangroves revitalise aquaculture ponds for crab and shrimp farming.
A "growing land" technique borrowed from the muddy Wadden Sea in the Netherlands has also been used successfully at Timbulsloko and other villages.
Semi-permeable dams are built from bamboo or wooden poles packed with branches to "dampen wave action". In time, a build up of sediment settles and allows mangroves to grow naturally.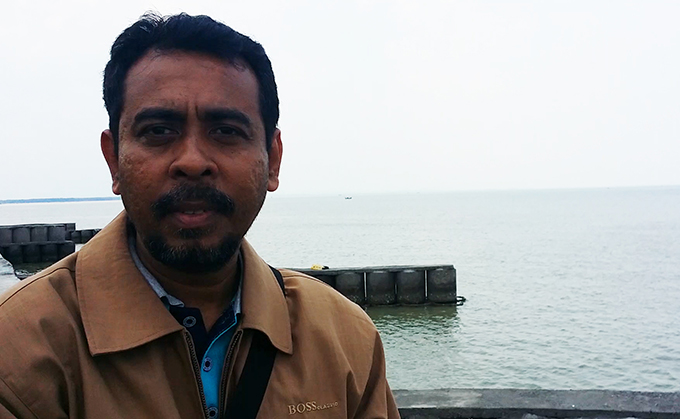 CoREM director Dr Muhammad Helmi … praises the contribution of flexible "eco" seawalls. Image: David Robie/PMC
"These eco-engineering seawalls are better than the concrete fixed barriers," says Dr Helmi. "The permanent seawalls in turn become eroded at their base and eventually fall over."
Dr David Robie is on the WCP programme with Universitas Gadjah Mada, Yogyakarta.


Article by AsiaPacificReport.nz
]]>