<![CDATA[Analysis syndicated by 36th Parallel Assessments – Headline: Brazil enters the military airlift market, with New Zealand as a target.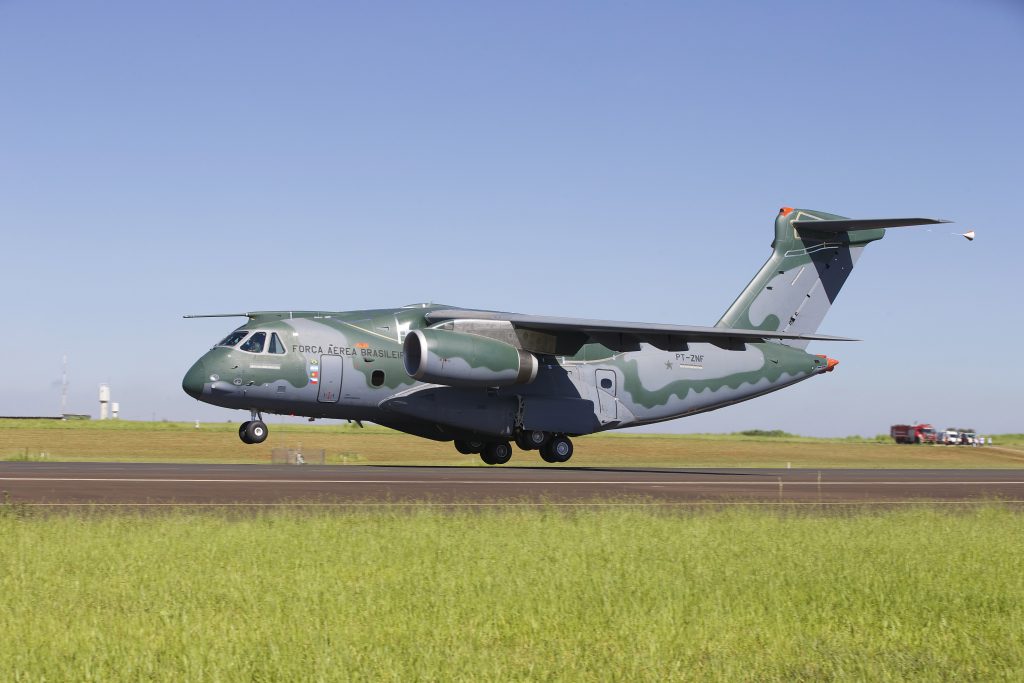 Photo: Embraer.com
Military aviation has become a global business that transcends strike forces and combat-only platforms. Flexibility in non-military missions such as search and rescue, firefighting and medical evacuation are now added to traditional military airlift missions like troop and weapons transport, airdrop and long-range patrol, surveillance and intelligence gathering. In this analytic brief 36th Parallel Assessments examines the KC390, a new entry from Embraer in the medium airlift market, which is being considered by the Royal New Zealand Air Force as a future generation Air Mobility lift option.
In partnership with the Brazilian Air Force, the Brazilian aerospace giant Embraer has begun development of the KC390, a turbofan (jet) powered, extended range multirole medium airlift platform that expands on Embraer's Defense and Security range of surveillance, ground attack and training aircraft. The move into military aviation (now 14 percent of Embraer's global sales) was a natural course for a company that has strong history in civilian aviation, including commercial, corporate and agricultural aircraft. Founded in 1969 and headquartered in Sao Paulo, Embraer has over 19,000 employees and construction, maintenance, parts and service facilities in ten countries, including China and Singapore in the Western Pacific Rim. With over 8000 planes flown by 100 airlines and public and private entities in 90 countries, Embraer is the third largest aircraft manufacturer in the world.
Development of the KC390 is coincident with a critical moment for the Royal New Zealand Air Force. As part of a NZ$20 billion Defense upgrade over the next 15 years, the RNZAF is scheduled to replace its aging airlift capability in the early 2020s under its Future Air Mobility Capability project. The RNZAF capability is a medium lift component that consists of 5 Lockheed Martin C-130 Hercules utility platforms and 2 Boeing 757 transports. Some of the airframes on the C-130s are 50 years old, and both they and the 757s are unable to provide the payload or range requirements for a future independent airlift capability in New Zealand's primary theater of operations (the South Pacific and Antarctica). Documents attached to the 2016 Defense White Paper speak of a "like-for-like" purchase of newer aircraft, but the RNZAF is particularly interested in procuring planes that carry heavier payloads over longer distances but can still land and takeoff on short unprepared airfields and which are flexible enough to perform a variety of roles including search and rescue, intelligence gathering and surveillance, air drop (paratroopers and pallets) as well as troop, helicopter, armour and general cargo transport. The key values are flexibility, durability, range, payload and cost.
Although the RNZAF as not expressed a preference for a particular platform, frontrunners for the airlift replacement have been widely discussed. These included an upgraded version of the Hercules, the C-130J "Super Hercules," the Boeing C-17 and the Airbus A400M. Although the C-130J is a "like-for-like" replacement option, both the C-17 and A400M are heavy lift platforms that, while satisfying several of the RNZAF requirements cannot operate from short rough runways and are very expensive (over NZ$250 million each). Boeing has discontinued production of the C-17 so it will have to be purchased second hand, whereas the A400M has just entered service with the Royal Air Force and five other countries after years of delays, cost overruns and a fatal crash during testing. Other options, such as converting well-proven commercial aircraft like the Boeing 777 or Airbus 320 have also been mooted in New Zealand policy circles, but none of these have the multirole flexibility or durability of dedicated military aircraft.
The entrance of the KC390 into the military airlift market fills the gap between the US and European alternatives and RNZAF requirements. Designed as a direct competitor to the C-130J, the
KC390
can undertake short takeoff and landings on rough airstrips and flies faster with a greater payload and range than its rival. In addition to the roles outlined by the RNZAF, the KC390 can perform aerial refueling for fixed wing and rotary aircraft, medical evacuation (up to 74 litters and 8 medical personnel), aerial firefighting and, due to its enhanced survivability systems and robust landing gear, tactical combat operations. Because of the greater width, length and height of its cargo bay, the KC390 can carry the New Zealand Defense Forces largest armoured personnel carrier or a helicopter, something that a C-130 cannot do.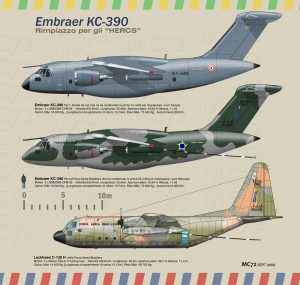 Source: https://www.aereo.jor.br/2011/05/07/a-repercussao-do-kc-390/
One essential difference between the KC390 and the RNZAF's current airlift options is that, because of its wing and fuselage fuel tanks, it has the ability to safely pass the current Point of No Return (PNR) on Antarctic flights and still be able to turn around and return to the New Zealand mainland on a load of fuel while carrying a 14 ton payload (with a maximum payload of 26 tons, five more than the Hercules). This requirement was made very clear in a 2013 near-disaster involving a RNZAF 757 low on fuel flying in bad weather on an Antarctic mission, and has become part of the RNZAF airlift tender specifications. Because it has a rough short field landing and takeoff capability, the KC390 has better options in the event it must make emergency landing on small landmasses (the C130J does not have the range to make a flight to Antarctica without aerial re-fueling). As part of its airworthiness certification the KC 390 has undertaken cold weather crosswind trial flights in Southern Chile as well as refrigerated hanger tests in the US, so the manufacturer has specifically focused on that aspect of the RNNZAF requirements.
Beyond its performance specifications, the KC390 offers good value for money. The export version of the C-130J costs approximately US$120 million. The KC390, which is scheduled to enter service in 2018, costs around US$85 million per unit. The C130J entered into production in the mid 1990 using baseline technologies from the 1960s, whereas the KC390 is a new airframe using state of the art components.
Six countries have ordered 60 copies of the KC390. Argentine, Chilean, Colombian, Portuguese, other European and US suppliers, including Boeing, BAE Systems and Rockwell Collins, contribute to the manufacture of the aircraft. Boeing has a major service contract for the KC390 that extends to on-site servicing in the field. Among other countries, trials are being conducted by Canada and Sweden to ascertain the utility of the KC390 in a variety of roles. In November 2016 Embraer answered a RNZAF Request for Information (RIA) to replace the 5 C-130s with a similar number of KC390s, with a decision on the potential purchase expected in mid to late 2017.
Embraer is committed to extended post-delivery material, fleet, flight, information technology and field services, which means that ongoing employment benefits will be shared throughout the supply, service and maintenance chain. As its first foothold in the Western Pacific military aviation lift market, an RNZAF contract for the KC390 also makes New Zealand a potential hub for Embraer expansion in Australasia.
New Zealand has a history of looking to the US and Europe for its defense needs, but the entrance of Embraer in the military aviation lift market provides it with a wider range of options than in previous procurement cycles, both in terms of platform design and unit costs. Given the Future Air Mobility Capability upgrades outlined as essential for the future performance of the RNZAF in the 2016 Defense White Paper and its addenda, expanding the NZ defense procurement horizon to South America may prove opportune and propitious. If nothing else, the supply chain ripple effect of procuring the KC390 opens a range of high technology value added opportunities previously unknown to potential stakeholders on both sides of the Pacific.
Although all of the platforms under consideration have significant merits and the C-130J is a well-proven platform that is seen as a natural replacement option, the KC390 represents a new type of airlift capability. And whereas banking on tradition is what military ceremony is made of, when it comes to defense procurement, the opportunity costs of contracting non-traditional partners could well be worth reconsidering traditional RNZAF practice. The KC390 offers that possibility.
]]>