<![CDATA[Article by AsiaPacificReport.nz
The front row accounts for 26 percent of total injuries with the hooker the worst affected, says French rugby union research. Worst injuries and knockouts video: Theinward
So now it's official, at least in France. The most dangerous position on a rugby union field is hooker, according to research cited by Rugby World.
The results were released recently of a three-year medical study commissioned by France's LNR (Ligue Nationale de Rugby) and FFR (Fédération Française de Rugby), cataloguing all of the rugby injuries that have forced a player out of a Top 14 game in that period.
Between the start of the 2012-13 season and the end of the 2014-15 season, there were 2208 injuries to players in the Top 14 (the survey defined an injury as one that ended the player's participation in that particular match).
The front row accounted for 26 percent of that total injuries with the hooker the worst affected; in all, the player wearing the No 2 shirt suffered more blood, face, neck and knee injuries than any other position, and was second in the list of concussion and shoulder injuries.
The props suffered their fair share of knocks with the loosehead incurring more shoulder injuries than any other position and the tight-heads topping the ankle injury charts.
Interestingly, while the loosehead props were second only to the hooker in suffering neck and shoulder injuries, the tightheads suffered less in those categories but more with lower leg injuries.
The study also revealed that outside the front row, the half-backs were next in injury propensity with fly-halves being concussed more than any other position and scrum-halves suffering more shoulder and knee injuries save for the front-row.
In total, the front-row and half-backs made up 43 percent of all permanent injury substitutions in the three-season study.
Good plus bad news
The findings of the study contained good and bad news overall; on the plus side, the number of players being forced of the field with concussion had remained stable in the three seasons, between 36 and 38 per season, with an average of two cases each weekend. Blood injuries had dropped by 22 percent, and face injuries had fallen by 27 percent.
On the other hand, elbow injuries had shot up by 133 percent in the three seasons and hand injuries by an astonishing 250 percent.
In total, the number of players injured during Top 14 matches rose by 40 percent between August 2012 and June 2015, prompting Dr Bernard Dusfour, a member of the FFR medical committee, to make two recommendations: "Respect the letter of the law at the rucks" and "Don't play players who are injured".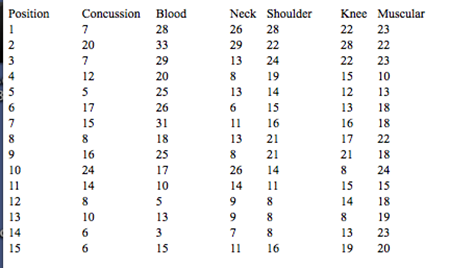 The second sounds obvious but there have been incidences in recent seasons where players have gamely taken the field carrying knocks. According to Midi Oympique, Provale, the professional players union in France, is demanding the establishment of an independent medical security committee to implement the report's recommendations.
Rugby : les inquiétants chiffres des blessures en Top 14
–]]>