By Iliesa Tora, RNZ Pacific sports journalist in Saint-Étienne, France
Argentinian winger Emiliano Boffelli scored all his team's points as they defeated Manu Samoa 19-10 at the Stade Geoffroy-Guichard in Saint-Étienne, France, yesterday in a Rugby World Cup pool D match.
That gave the Pumas their first win at the tournament and keeps their hopes alive of claiming a quarterfinal berth, with two matches against Chile and Japan on the line.
Manu Samoa head coach Vaovasamanaia Seilala Mapusua said he regretted the way they lost the match, after having had their own fair share of opportunities and not executing their chances well.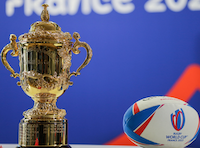 Rain fell as the game started and the slippery ball became a challenge to control.
Missed opportunities gave Manu Samoa away in the first half as Argentina led 13-3 at halftime.
Christian Leali'ifano, trusted for his goal-kicking accuracy, missed two kickable penalties which could have secured the Samoans six extra points in the half.
Then after having put the Pumas scrum under pressure, halfback Jonathan Tumataene knocked on metres from the Pumas' tryline in what could have turned the momentum their way, close to halftime.
Pumas feed off Samoan mistakes
Argentina fed off the Samoans' mistakes and Boffelli had scored all his team's 13 points in the first half — a try, conversion and a penalty.
Vaovasamanaia said they missed their chance of getting the win, but the Pumas adapted well to the atmosphere.
"We made too many mistakes and we didn't adapt to the conditions, particularly at the start of the game," he said.
"I thought Argentina executed their gameplan really well and we weren't able to adapt. We knew that with [Emiliano] Boffelli in their team that they could slot them from anywhere and getting that yellow card early on didn't help us."
Vaovasamanaia said the momentum towards the end of the game was exciting but they ran out of time.
"There's always a possibility when there's time on the clock, unfortunately for us we ran out of time. We weren't able to get our game going, but I'm really proud of the boys' efforts."
A few opportunities
He added the team created a few opportunities but did not finish that off.
"If we had finished off some of those moves, it would have become a very different game."
Captain for the day, Chris Vui, said it was a tough clash, but they also had their chances which they did not use to their advantage.
"In this sort of game, you need to execute and take the opportunities, and for us, we probably did not take it," he said.
"Extremely proud of the boys today. That was an awesome game. I thought both teams played that flair rugby that rugby's missing at the moment.
"There was huge collisions. Personally, I really enjoyed it."
He said they missed the opportunity to swing the game their way towards the first half.
A huge opportunity
"That opportunity was huge for us. That could have changed the momentum of the game," he said.
"We probably needed to change that momentum back to us and we didn't execute. Games like these, you only ever get one or two chances, and that was one of them.
"Next week, we're going to look at it, and we're going to be better for it."
Samoa will focus on Japan, who they play next weekend.
One of the key areas they will have to work on is keeping the ball in hand, which Vaovasamanaia said is something they have been working on, even after their win over Chile two weekends ago.
"It is something we addressed last week and we will need to address that again, nailing those core roles in crucial moments. The more time we spend being put under those types of pressure will help us improve," he added.
Samoa pressured early
Samoa was under pressure early in the game after fullback Duncan Paia'aua was yellow-carded for what referee Nic Berry of Australia was a dangerous tackle after the Pumas fullback Juan Martin Gonzales had jumped high to take the ball and landed with his head towards the ground.
Berry claimed that Paia'aua had interfered with Gonzales, thus the penalty.
The Pumas made use of the opportunity as Samoa was one man down and Boffelli stepped back in to score a try. He kicked the conversion for his team to lead 7-0.
Manu Samoa won a penalty inside the Pumas half minutes later but Leali'ifano swung the ball wide.
Boffelli extended his team's lead to 10-0 with another successful attempt before Leali'ifano raised the flags with his attempt that went off the crossbar, reducing the scoreline to 10-3.
Then Boffelli added another penalty as the Pumas led 13-3 at the breather.
Showing good cohesion in the lineouts, the Pumas started dominating with their driving mauls as the second spell resumed.
Boffelli added another penalty before the Samoans turned the fire on.
With time ticking away and a possible bonus points on offer the Samoans went on attack again.
Flanker Fritz Lee knocked on as they countered and a possible try went begging.
Replacement Sama Malolo then dived over in a forward rush after a tap penalty five metres from the Aregentinian tryline.
Alai D'Angelo Leuila converted and the Samoans were back in the game at 16-10.
Boffelli then stepped up to have the last say of the game when he fielded another successful penalty to give the Pumas the 19-10 victory.
Game statistics
Argentina enjoyed the possession and territory more on attack.
They had 62 percent of possession in the game and 59 percent of the territory.
The Pumas also carried the ball more, covering 602 metres compared to Samoa's 239.
In the set-pieces, Argentina dominated too winning 94 rucks and mauls against Manu Samoa's tally of 49.
In defence, Samoa managed to make 141 tackles, which meant they were under pressure more while the Pumas were only required to make 77 tackles.
Samoa lost three lineout throws but managed to match the Pumas in the scrums.
Both teams had high penalty counts, with Samoa giving away 13 and Argentina 11.
This article is republished under a community partnership agreement with RNZ.
Article by AsiaPacificReport.nz