By Meri Radinibaravi in Suva
The Fiji government has warned the public "don't panic" as news of an alleged firebombing incident at Totogo Police Station in the heart of Suva sent shockwaves around the community.
The incident yesterday also spurred questions about the safety of citizens in the country as such activities were reportedly occurring brazenly, out in the open and during daylight.
Home Affairs Minister Pio Tikoduadua also acknowledged that this was an alleged attempt to attack a key security facility and represented a direct threat to Fiji's security forces and the peace and security of the nation.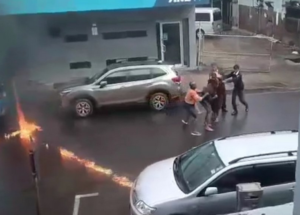 "The public should remain calm and confident in our commitment to maintaining peace and security," he said at a media conference.
He also confirmed that the 33-year-old suspect was admitted at Colonial War Memorial Hospital after suffering burns, where he remained under police guard.
The man is expected to be taken back into custody once he has recovered.
Fijivillage News reports that Tikoduadua said the man threw a lit bottle filled with flammable liquid into the charge room, and in his attempt to throw another bottle he was apprehended.
Meri Radinibaravi is a Fiji Times reporter. Republished with permission.
Article by AsiaPacificReport.nz