TE WIKI O TE RĒO MĀORI: By Aroha Awarau
Last year Joelle Holland invested all of the money she had saved for a home deposit and put it into a baby product business called Hawaiiki Pēpi.
The sole focus of Hawaiiki Pēpi is to teach Māori children to be proud of their culture and language.
Hawaiiki Pēpi has already reached more than $100,000 in sales, but most importantly for its owner, it has delivered on its promise to encourage and normalise all things Māori.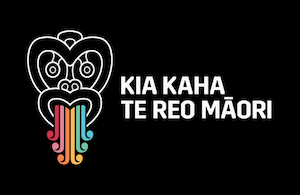 "I don't have any experience in business at all. But what I do have is a passion for my culture and the revitalisation of our language," she says.
"This venture was a way for me to express that and show people how beautiful Māori can be."
Holland (Tainui, Tūhoe, Ngāti Whātua) came up with the idea after giving birth to her children Ivy-āio, three, and Ryda Hawaiiki, one.
The online business that Holland manages and runs from her home, creates Māori-designed products such as blankets for babies.
Proud to be Māori
"When my eldest child was in my puku, I was trying to find baby products that showed that we were proud to be Māori. There weren't any at the time. That's how the idea of Hawaiiki Pēpi came about," she says.
With the support of her partner Tayllis, Holland decided to take a risk and enter the competitive baby industry.
To prepare for her very first start up, Holland took business courses, conducted her own research and did 18 months of development before launching Hawaiiki Pēpi at the end of last year.
"The aim is to enhance identity, te reo Māori and whakapapa. We are hoping to wrap our pēpi in their culture from birth so they can gain a sense of who they are, creating strong, confident and unapologetically proud Māori."
Holland grew up in Auckland and went to kohanga reo and kura kaupapa before spending her high school years boarding at St Joseph's Māori Girls College in Napier.
She says that language is the key connection to one's culture. It was through learning te reo Māori from birth that instilled in her a strong sense of cultural identity. It has motivated her in all of the important life decisions that she has made.
'Struggled through teenage years'
"I struggled throughout my teenage years. I was trying to find my purpose. I was searching for who I was, where I came from and where I belonged.
"I realised that the strong connection I had to my tupuna and my people was through the language. Everything has reverted back to te reo Māori and it has always been an anchor in my life."
Holland went to Masey University to qualify to teach Māori in schools, juggling study, with taking care of two children under three, and starting a new business.
This year, she completed her degree in the Bachelor of Teaching and Learning Kura Kaupapa Māori programme. The qualification has allowed Holland to add another powerful tool in her life that nurtures Māoritanga in the younger generation and contributes to the revitalisation of te reo Māori.
"I loved my studies. Every aspect of the degree was immersed in te reo Māori, from our essays, presentations to our speeches. Although I grew up speaking Māori, I realised there is still so much more to learn," she says.
For now, Holland will be focusing on growing her business and raising her children before embarking on a career as a teacher.
"My end goal is to encourage all tamariki to be proud of their Māoritanga, encourage them to speak their language and stand tall."
This article is republished under a community partnership agreement with RNZ.
Article by AsiaPacificReport.nz