Papua New Guinea Prime Minister James Marape has backtracked on his comments that PNG had "no right to comment" on human rights abuses in West Papua and has offered a clarification to "clear misconceptions and apprehension".
Last week, Marape met Indonesian President Joko Widodo at the sidelines of the 43rd ASEAN summit in Jakarta.
According to a statement released by Marape's office, he revealed that he "abstained" from supporting the West Papuan bid to join the Melanesian Spearhead Group Leaders' Summit held in Port Vila, Vanuatu, last month because the United Liberation Movement for West Papua (ULMWP) "does not meet the requirements of a fully-fledged sovereign nation".
However, on Saturday, his office again released a statement, saying that the statement released two days earlier had been "released without consent" and that it "wrongfully" said that he had abstained on the West Papua issue.
"Papua New Guinea never abstained from West Papua matters at the MSG meeting," he said.
He said PNG "offered solutions that affirmed Indonesian sovereignty over her territories", adding that "at the same time [PNG] supported the collective MSG position to back the Pacific Islands Forum Resolution of 2019 on United Nations to assess if there are human right abuses in West Papua and Papua provinces of Indonesia."
Marape said PNG stressed to President Widodo its respect for Indonesian sovereignty and their territorial rights.
Collective Melanesian, Pacific resolutions
"But on matters of human rights, I pointed out the collective Melanesian and Pacific resolutions for the United Nations to be allowed to ascertain [human rights] allegations."
According to Marape the four MSG leaders have agreed to visit the Indonesian President "at his convenience to discuss this matter".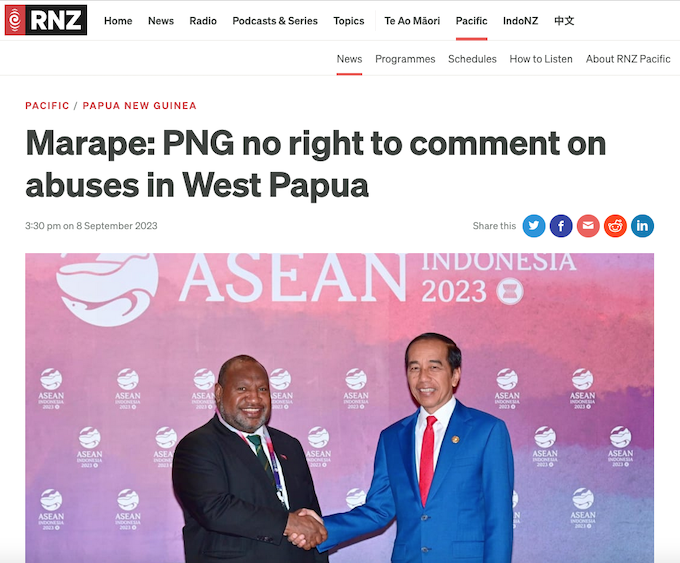 "President Widodo responded that the MSG leaders are welcome to meet him and invited them to an October meeting subject on the availability of all leaders. He assured me that all is okay in the two Papuan provinces and invited other PNG leaders to visit these provinces."
Pacific Media Watch reports that there are actually currently six provinces in the West Papua region, not two, under Indonesia's divide-and-rule policies.
Since 30 June 2022, the region has been split into the following provinces – Papua (including the capital city of Jayapura), Central Papua, Highland Papua, South Papua, Southwest Papua and West Papua.
Marape has also said that his deputy John Rosso was also expected to lead a delegation to West Papua to "look into matters in respect to human rights".
Meanwhile, he believes the presence of Indonesia on MSG as an associate member and ULMWP as observer at the MSG "is sufficient for the moment".
This article is republished under a community partnership agreement with RNZ.
Article by AsiaPacificReport.nz