By Venkat Raman, editor of Indian Newslink
Fiji is on the road to economic recovery and the government looks forward to the support and assistance of the Fijian diaspora in its progress, says Deputy Prime Minister and Finance Minister Professor Biman Prasad.
Inaugurating the Fiji Centre, an entity established at the premises of the Whānau Community Centre and Hub in Mount Roskill last night, Dr Prasad said that while the challenges faced by his administration were many, he and his colleagues were confident of bringing the economy back on track.
He said tourism was the first industry to recover after the adverse effects of the covid-19 pandemic, but foreign remittances by Fijians living overseas had been a major source of strength.
Dr Prasad was elected to the Fiji Parliament and is the leader of the National Federation Party, which won five seats in the current Parliament.
His NFP formed a Coalition government with Sitiveni Rabuka's People's Alliance Party and the Social Democratic Liberal Party (SODELPA).
The general election held on 14 December 2023 ousted former prime minister Josaia Voreqe Bainimarama and his FijiFirst Party.
Bainimarama took over the leadership after a military coup on 5 December 2006, but the first post-coup general election was not held until 17 September 2014.
Individual foreign remittances
"Tourism was quick to bounce back to pre-pandemic levels and personal remittances have been extremely helpful. The diaspora remitted about F$1 billion last year and I hope that the trend will continue," Dr Prasad said.
He appealed to New Zealand-resident Fijians to also invest in Fiji.
"Fiji was under siege for 16 years and many suffered silently for fear of being suppressed and punished but that has changed with the election of the new Coalition government . . . The first law change was to amend the Media Industry Development Act which assures freedom of expression," he said.
"Freedom of the media is essential in a democracy."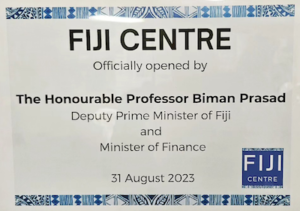 Dr Prasad said that the pandemic was not the only reason for the state of the Fijian economy.
"Our economy was in dire straits. We inherited a huge debt of F$10 billion after 16 years of neglect, wasteful expenditure on non-priority items and total disregard for public sentiment," he said.
"We believe in consultation and understanding the needs of the people. The National Business Summit that we organised in Suva soon after forming the government provided us with the impetus to plan for the future."
Dr Prasad admitted that governments were elected to serve the people but could not do everything.
"We are always guided by what the community tells us. People voted for freedom at the . . . general election after an era of unnecessary and sometimes brutal control and suppression of their opinions," he said.
"They wanted their voices to be heard, be involved in the running of their country and have a say in what their government should do for them.
"They wanted their government to be more accountable and their leaders to treat them with respect."

Professor Biman Prasad's speech at Auckland's Fiji Centre. Video: Indian Newslink
Formidable challenges
Later, speaking to Indian Newslink, Dr Prasad said that the first Budget that he had presented to Parliament on 30 June 2023 was prepared in consultation with the people of Fiji, after extensive travel across the islands.
His Budget had set total government expenditure at F$4.3 billion, with a projected revenue of F$3.7 billion, leaving a deficit of F$639 million.
The debt to GDP ratio is 8.8 percent.
He said that education had the largest share in his budget with an allocation of F$845 million.
"This includes the write-off of F$650 million [in the] Tertiary Scholarship and Loan Service Debt of $650 million owed by more than 50,000 students.
"But this comes with the caveat that these students will have to save a bond. The bond savings will be years of study multiplied by 1.5, and those who choose not to save the bond will have to pay the equivalent cost amount," he said.
Dr Prasad allocated F$453.8 million for health, stating that there would be a significant increase in funding to this sector in the ensuing budgets.
He said that the Fijian economy was expected to grow between 8 percent to 9 percent, revised from the earlier estimate of 6 percent since there is greater resilience and business confidence.
According to him, the average economic growth for the past 16 years has been just 3 percent, despite various claims made by the previous regime.
"We have promised to do better. We will stand by our commitment to integrity, honesty, accountability and transparency.
"The consultative process that we have begun with our people will continue and that would our community in countries like Australia and New Zealand," he said.
He said that the Fiji diaspora, which accounted for about 70,000 Indo-Fijians in New Zealand and larger numbers in Australia, the United Kingdom, the United States of America and Canada, had the potential to support the rebuilding efforts of his government.
Engagement with trading partners
"Whenever I visit New Zealand, I like to spend more time with our community and listen to their views and aspirations.
"I invite you to return to Fiji and help in rebuilding our economy. We are in the process of easing the procedures for obtaining Fijian citizenship and passport, including a reduction in the fees.
"The future of Fiji depends on our communities in Fiji and across the world," he said.
Dr Prasad that he and his government were grateful to the Australian and New Zealand governments which had provided aid to Fiji during times of need including the pandemic years and the aftermath of devastating cyclones.
"We want to re-engage with our traditional partners, including New Zealand, Australia, India, the USA, the UK and Japan (as a member of Quad)," he said.
Dr Prasad said that while both Australia and New Zealand had had long ties with Fiji, he had always been drawn towards New Zealand.
He said that his wife had completed her PhD at the University of Otago and that his children received their entire education, including postgraduate qualifications, in this country.
Dr Prasad is in New Zealand to meet the Fiji diaspora, including the business community.
He addressed a meeting of the New Zealand Fiji Business Council at the Ellerslie Convention Centre in Auckland today.
Republished with permission from Indian Newslink.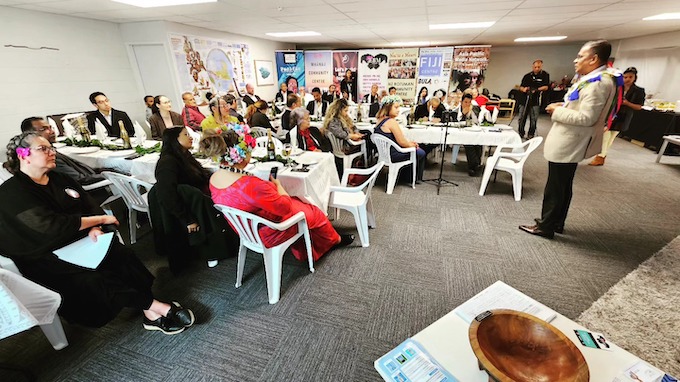 Article by AsiaPacificReport.nz