By Cretilda Alokaka in Port Moresby
Six hired gunmen in Enga were shot dead by men from the Ambulin tribe on Friday in what Papua New Guinea Prime Minister James Marape has described as "jungle justice".
Police alleged that on Friday around 5am, the six men sneaked into Ambulin tribal territory to ambush them but were caught. The Ambulins surrounded them in a culvert and shot five men.
Security force members intervened and rescued the sixth man, but he died later in hospital.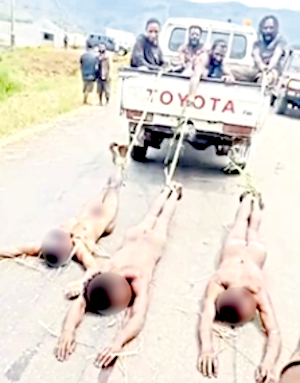 Police said the gunmen were from the Silin and Kaekin tribes.
Provincial police commander Acting Superintendent George Kakas said one was from Sirunki in Laiagam, one was from Kompiam and four from Wapenamanda.
"According to the Ambulin tribe, these six men were hired to go into their territory and ambush them," he said.
"They [Ambulins] said the killing of the six men was a warning to other tribes, especially from Kompiam, Laiagam or Wapenamanda not to get involved in their tribal warfare."
Bodies dragged
Commander Kakas said the bodies of the five men were dragged out of the culvert and had their hands and legs tied to the back of a vehicle.
"Their bodies were then thrown on the road as a message to other tribes sending gunmen not to get involved in another tribe's warfare."
He said investigations were underway, with 70 policemen being deployed at the site.
Meanwhile, Commander Kakas warned businessmen, educated elites and other people funding activities to hire gunmen, buy guns and bullets to stop the practice.
He said that operational plans were being drawn up to focus on the "manipulators" of the bloodshed "while we are increasing the number of security force personnel deployed to hotspots to minimise killings and property damage".
"Through their respective commanders, security force personnel have been instructed to use all means necessary to detain gunmen and to use lethal force when warranted," he said.
Police Commissioner David Manning has advised Prime Minister Marape and Internal Security Minister Peter Tsiamalili of additional measures being taken to strengthen security in Enga.
Engan hot spots
He said Assistant Commissioner, Operations, Samson Kua would lead the operation.
"It is important that ramping up personnel in hot spots in Enga does not undermine security presence in other areas," Commissioner Manning said.
"As such, I have appointed Assistant Commissioner Anthony Wagambie Jr to focus on enhancing security operations to support the reopening of the Porgera mine, while force strength in areas such as Hela and the Southern Highlands will be maintained."
Commissioner Manning said the approach being taken in Enga was "a break from the colonial methods of the past".
"While we bring the full weight of the state to bear on those who perpetrate these heinous acts, we must be honest and acknowledge that security forces cannot arrest or kill our way out of tribal fighting in Enga.
"We have to deal with the cause of these conflicts at the root and stop this senseless violence where it starts."
Cretilda Alokaka is a reporter with PNG's National newspaper. Republished with permission.
Article by AsiaPacificReport.nz