By David Robie
New Zealand-adopted Fiji journalist, sports writer, national news agency reporter, anti-coup activist, media freedom advocate, storyteller and mentor Sri Krishnamurthi has died. He was just two weeks shy of his 60th birthday.
Fiji-born on 15 August 1963, just after his elder twin brother Murali, Sri grew up in the port city of Lautoka, Fiji's second largest in the west of Viti Levu island. His family were originally Girmitya, indentured Indian plantation workers shipped out to Fiji under under harsh conditions by the British colonial rulers.
"My grandmother, Bonamma, came from India with my grandfather and came to work in the sugar cane fields under the indentured system," Sri recalled in a recent RNZ interview with Blessen Tom.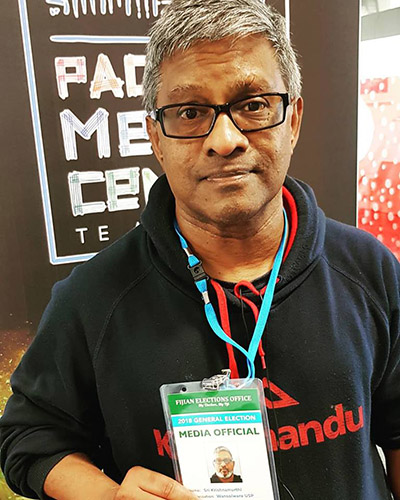 "They lived in 'lines' — a row of one-room houses. They worked the cane fields from 6am to 6pm largely without a break. It was basically slavery in all but name."
However, the Krishnamurthi family became one of the driving forces in building up Fiji's largest NGO, TISI Sangam.
He made his initial mark as a journalist with The Fiji Times, Fiji's most influential daily newspaper. However, along with many of his peers, he became disillusioned and affected with the trauma and displacement as a result of Sitiveni Rabuka's two military coups in 1987 at the start of what became known as the country's devastating "coup culture".
Sri migrated to New Zealand to make a new life, as did most of his family members, and he was active for the Coalition for Democracy (CDF) in the post-coup years. He worked as a journalist for many organisations, including the NZ Press Association, the civil service, Parliament and more recently with RNZ Pacific.
Tana's 'sleepless nights'
His last story for RNZ Pacific was about Tana Umaga "expecting sleepless nights" as the new coach of Moana Pasifika.
"A friend to many, he is best known in the journalism industry for his long-time stint at NZPA covering sport, and more recently for his work with the Pacific Media Centre," said New Zealand Herald editor-at-large Shayne Currie in his Media Insider column.
"During his NZPA career, he covered various international rugby tours of New Zealand, America's Cups, cricket tours, the Warriors in the NRL and was also among a handful of reporters who travelled to Mexico in 1999 for the All Whites' first-ever appearance at Fifa's Confederations Cup."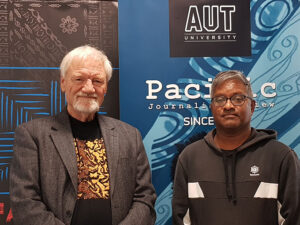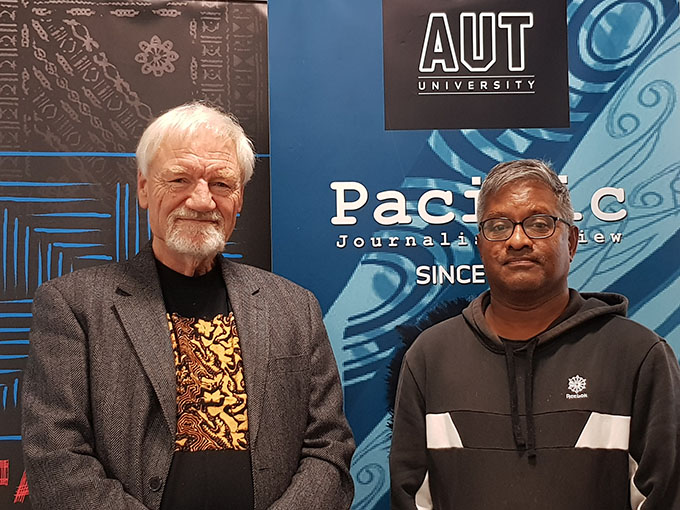 His mates remember him as a generous friend and dedicated journalist.
"He enjoyed being a New Zealander, a true Kiwi if we can call someone that," recalled Nik Naidu, an activist businessman, former journalist and trustee of the Whanau Community Centre and Hub, when speaking about his lifelong family friend at the funeral on Friday.
"Sri was one of the few Fijians and migrants over 30 years ago who embraced Māoridom and the first nation people of our land. It is only now in New Zealand that the 1840 Treaty of Waitangi is becoming better understood by the mainstream.
"Sri lived Te Tiriti all those years ago, and advocated for Māori and indigenous rights for so long."
Postgraduate studies
I first got to know Sri in 2017 when he rolled up at AUT University and said he wanted to study journalism. I was floored by this idea. Although I hadn't really known him personally before this, I knew him by reputation as being a talented sports journalist from Fiji who had made his mark at NZPA.
I remember asking Sri why did he want to do journalism — albeit at postgraduate level — when he could easily teach the course standing on his head. And then as we chatted I realised that he was rebuilding his life after a stroke that he had suffered travelling from Chennai to Bangalore, India, back in 2016.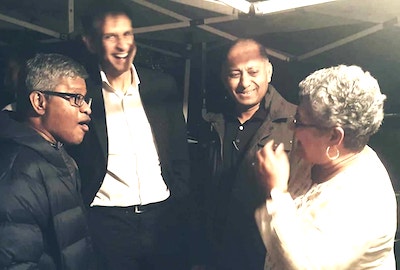 Well, I persuaded him to branch out in his planned Postgraduate Diploma in Communication Studies and tackle a range of challenging new skills and knowledge, such as digital media. And I was honoured too that he wanted to take my Asia Pacific Journalism studies postgraduate course.
He wanted to build on his Fiji origins and expand his Pacific reporting skills, and he mentored many of his fellow postgraduates, people with life experience and qualifications but often new to journalism, especially Pacific journalism.
I realised he was somebody rather special who had a remarkable range of skills and an extraordinary range of contacts, even for a journalist. He seemed to know everybody under the sun. And he had a friendly manner and an insatiable curiosity.
From then he gravitated around Asia Pacific Journalism and the Pacific Media Centre. Next thing he was recruited as editor/writer of Pacific Media Watch, a media freedom project that we had been running in the centre since 2007 in collaboration with the Paris-based global watchdog Reporters Without Borders.
In spite of his post-stroke blues, he was one of the best project editors that we ever had. He had a tremendous zeal and enthusiasm no matter what handicap was in his way. He was willing to try anything — so keen to give it a go.
95bFM radio presenter
Sri became the presenter of our weekly Pacific radio programme Southern Cross on 95bFM, not an easy task with his voice issues, but he gained a popular following. He interviewed people from all around the Pacific.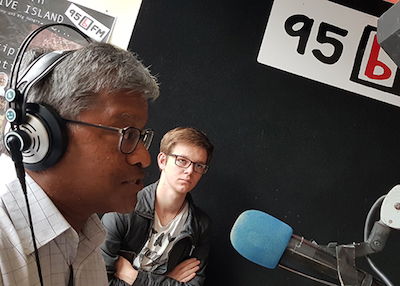 Next challenge was when we sent him to the University of the South Pacific to join the journalism school team over there covering the 2018 Fiji General Election. We had hoped 2006 coup leader Voreqe Bainimarama would be ousted then, but he wasn't – that came four years later last December.
However, Sri scored an exclusive interview with the original coup leader, Sitiveni Rabuka, the man responsible for Sri fleeing Fiji and who is now Prime Minister of Fiji. Sri got the repentent former Fiji strongman to admit that he was "coerced" by the defeated Alliance party into carrying out the first coup.
He graduated from AUT with a Postgraduate Diploma in Communication Studies (Digital Media) in 2019 to add to his earlier MBA at Massey University. Several times he expressed to me that his ambition was to gain a PhD and join the USP journalism programme to mentor future Fiji journalists.
At AUT, he won the 2018 RNZ Pacific Prize for his Fiji coup coverage and in 2019 he was awarded the Storyboard Award for his outstanding contribution to diversity journalism. RNZ Pacific manager Moera Tuilaepa-Taylor tells a story about how he had declared to her at the time:  "I'm going to work for RNZ Pacific." And he did.
However, the following year, our world changed forever with the COVID-19 pandemic and many plans crashed. Sri and I teamed up again, this time on a Pacific Covid and Climate crisis project, writing for Asia Pacific Report.  He recalled about this venture: "The fact that we kept the Pacific Media Watch project going when other news media around us — such as Bauer — were failing showed a tenacity that was unique and a true commitment to the Pacific."
'Virtual kava bar'
It was a privilege to work with Sri and to share his enthusiasm and friendship. He was an extraordinarily generous person, especially to fellow journalists. I was really touched when he and Blessen Tom, now also with RNZ, made a video dedicated to the Pacific Media Watch and my work.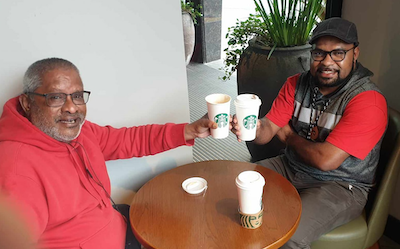 Nik Naidu shares a tale of Sri's generosity with a group of West Papuan students last year when their Indonesian government suddenly pulled their scholarships and left them in dire straits. AUT postgraduate communications Laurens Ikinia was their advocate, trying to get their visas extended and fundraising for them to complete their studies.
"Many people don't know this, but Lauren's rent was late by a year — more than $3000 — and Sri organised money and paid for this. That was Sri, deep down the kindest of souls."
During his Pacific Media Watch stint, Sri wrote several generous profiles of regional colleagues, including The Pacific Newsroom, the "virtual kava bar" news success founded by Pacific media veterans Sue Ahearn and Michael Field, and also of the expanding RNZ Pacific newsroom team with Koroi Hawkins appointed as the first Melanesian news editor.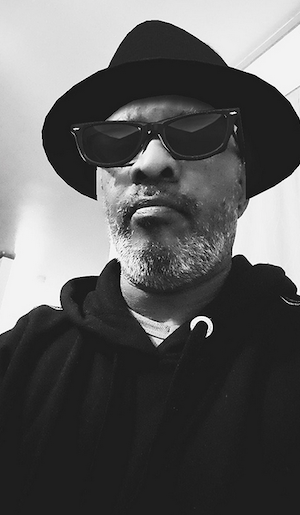 But he struggled at times with depression and his journalism piece that really stands out for me is an article that he wrote about living with a stroke for three years. It was scary but inspirational and it took huge courage to write. As he wrote at the time:
"You learn new tricks when you have a stroke – words associated with images, or words through the process of elimination worked for me. And then there was the trusted old Google when you couldn't be bothered.
"You learn to use bungee shoelaces or Velcro shoes because tying shoelaces just won't happen. The right arm is bung and you are back to typing with two fingers – as I'm doing now. At the same time, technology is your biggest ally."
Sri Krishnamurthi died last week on August 2 — way too early. He was a great survivor against the odds. Moce, Sri, your friends and colleagues will fondly remember your generous spirit and legacy.
Dr David Robie is a retired journalism professor and founding director of the AUT Pacific Media Centre. He worked with Sri Krishnamurthi for six years as an academic mentor, friend and journalism colleague. This was article is published under a community partnership with RNZ.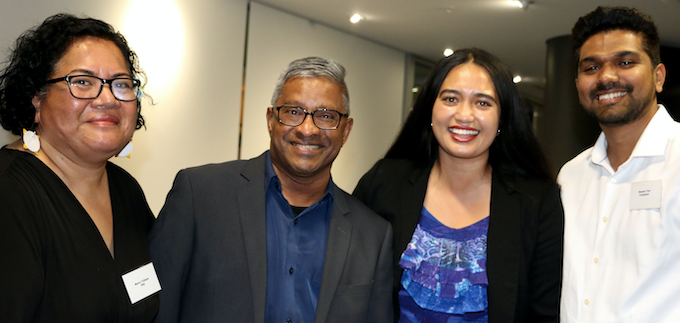 Article by AsiaPacificReport.nz