By Mackenzie Smith and Toby Mann of ABC Pacific Beat
Concerns have been raised about foreign influence in Pacific media after it was revealed Solomon Islands' longest-running newspaper received funding from China in return for favourable coverage.
Earlier this week the Organised Crime and Corruption Reporting Project (OCCRP) revealed how China has been attempting to gain influence in media outlets in Palau and Solomon Islands.
In Palau, a failed media deal pushed by China has revealed how Beijing was seeking to exert its influence in the Pacific region by using political pressure and funding to capture local elites, including in the media.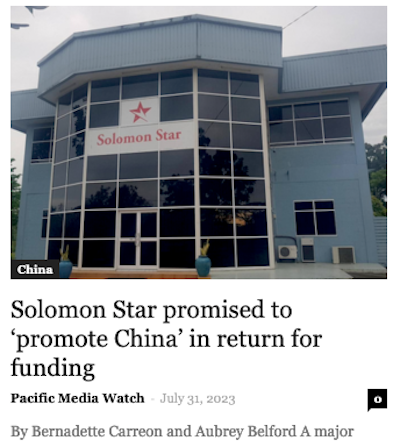 The OCCRP said at least one front page story had been supplied by an initiative that was backed by investors with ties to China's police and military.
China had even more success gaining favour in Solomon Islands, where it has steadily been increasing its presence and influence since the Pacific nation switched diplomatic recognition from Taiwan to China in 2019.
There, according to the OCCRP,  the Solomon Star newspaper received Chinese money after giving assurances it would push messages favourable to Beijing.
Desperate for funding, editors at the Solomon Star wrote up a proposal to China's embassy in Honiara in July last year.
Paper struggling to keep up
The paper was struggling to keep up and needed assistance — its printing machines were deteriorating and papers were often hitting the streets a day late, according to the proposal the Solomon Star sent to China.
Its radio station, Paoa FM, was having difficulty broadcasting into remote provinces.
"Reporters obtained a July 2022 draft funding proposal from the Solomon Star to China's embassy in Honiara in which the paper requested 1,150,000 Solomon Islands dollars ($206,300) for equipment including a replacement for its ageing newspaper printer and a broadcast tower for its radio station, PAOA FM," OCCRP said.
"The Solomon Star said in the proposal that decrepit equipment was causing editions to come out late and 'curtailing news flow about China's generous and lightning economic and infrastructure development in Solomon Islands'."
According to the proposal, seen by the ABC's Pacific Beat programme, China stood to gain "enormously".
"The intended outcome of this project . . .  is that Solomon Star newspaper will be produced on time for the benefits of its readers, subscribers and the advertising community," it said.
"China's timely intervention in Solomon Islands' infrastructure and economic development will also benefit enormously as news about this new-found partnership is published."
OCCRP has confirmed the printing equipment the Solomon Star wanted was delivered earlier this year.
Alfred Sasako, Solomon Star's editor, said the newspaper maintained its independence.
He told the OCCRP that any suggestion it had a pro-Beijing bias was "a figment of the imagination of anyone who is trying to demonise China".
Sasako told the OCCRP the paper had tried unsuccessfully for more than a decade to get funding from Australia.
Financial desperation drives ailing paper to Chinese backers
Ofani Eremae, a journalist and co-founder at In-depth Solomons who used to work at the Solomon Star, said it has been struggling financially since COVID, and the majority of staff have left.
"They are really in a very, very bad financial situation, so they are desperate," he told the ABC.
"I think this is what's prompting them to look for finances elsewhere to keep the operation going.
"It just so happens that China is here and they [Solomon Star] found someone who's willing to give them a lot of money."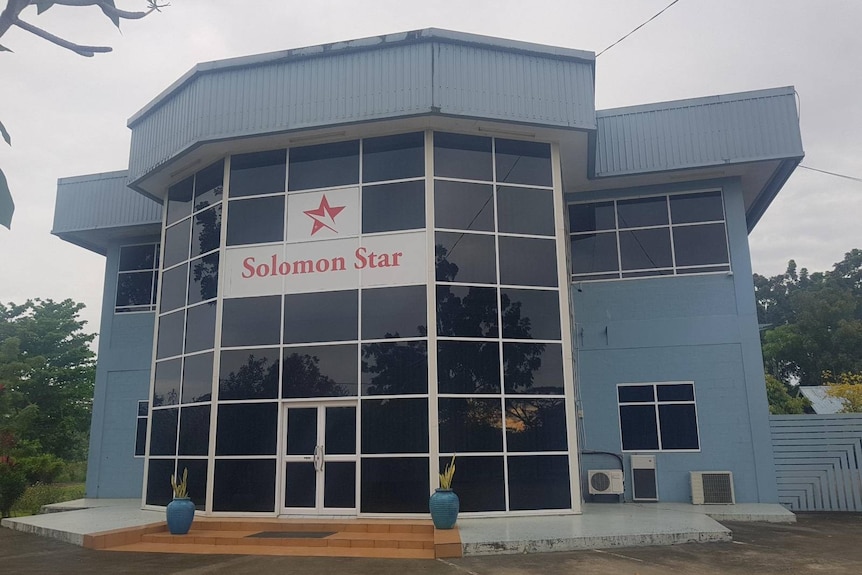 Taking the assistance from China has raised questions about the paper's independence, he said.
"It's a paper with the reputation people trust but in situations like that, you lose your credibility, you lose your independence and of course you become some kind of organisation that's been controlled by outsiders," Eremae told the ABC.
Government spending on advertisements in the paper could help it somewhat, but Eremae said "democratic countries, especially the US" should step in and help.
'Have to defend democracy'
"They have to defend democracy, they have to defend freedom of the press in this country," he told the ABC.
"Otherwise China, which seems to have a lot of money, they could just easily come in and take control of things here."
University of South Pacific associate professor of journalism Shailendra Singh said "the Chinese offer hit the right spot" with the paper facing financial challenges due to covid and advertising revenues going to social media.
"If you look across the region, governments are shaking hands with China, making all kinds of deals and also receiving huge amounts of funds," he told the ABC.
Dr Singh said media outlets had become part of the competition between large countries vying for influence in the region and warned other struggling Pacific media companies could be tempted by similar offers.
"They would seriously consider surrendering some of their editorial independence for a new printing press, just to keep them in business," he said.
"Let's just hope that this does not become a trend."
The concerns these kind of deals bring was clear.
'Risk of compromising editorial independence'
"This is simply because of the risk of compromising editorial independence," Dr Singh told the ABC.
"There is concern the country's major newspaper is turning into a Chinese state party propaganda rag."
If China managed to sway both the Solomon Islands government and its main newspaper, that would create an "unholy alliance", Dr Singh said.
"The people would be at the mercy of a cabal, with very little — if not zero — public dissent," he said.
Despite the concerns, Dr Singh said there were some sound reasons for the Solomon Star to enter the deal.
"If they don't sign the deal they will continue to struggle financially and it might even mean the end of the Solomon Star," he told the ABC.
Only the Solomon Star publisher and editor had a full grasp of the situation and the financial challenges the paper faced, he said.
'Makes business sense'
"From our lofty perch we have all these grand ideas about media independence in theory, but does anyone consider the business realities?"
"It may not make sense to the Americans or the Australians, but makes perfect sense to the Solomon Star from a business survival point of view."
Solomon Islands and Pacific outlets have been funded for media development by Australia and other governments.
Third party organisations such as the ABC International Development supports the media community across the Pacific to promote public interest journalism and hold businesses, governments and other institutions to account.
But Solomon Islands opposition MP Peter Kenilorea Junior said he was concerned by direct support given to the Solomon Star by a foreign government.
"It's totally inappropriate for any government — let alone the Chinese government — to be involved in our newspaper publications, because that is supposed to be independent," he told the ABC.
"I don't think standards are kept when there is this, according to the report, involvement by the Chinese to try and perhaps reward the paper for saying or passing on stories that are positive about a particular country."
Georgina Kekea, president of the Media Association of Solomon Islands, said the financial support did not come as a surprise as most businesses were struggling.
"It's quite difficult for us to ensure that the media industry thrives when they are really floundering, where companies are finding it hard to pay their staff salary," she told the ABC.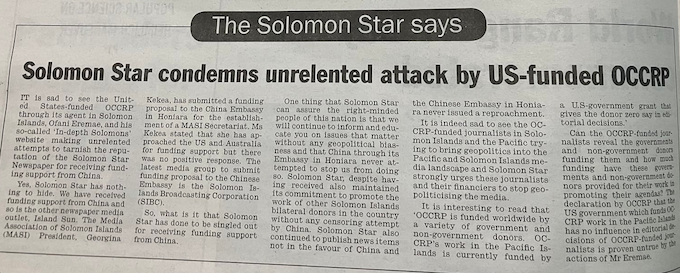 Solomon Star says 'stop geo-politicising' media
Following the OCCRP report, the Solomon Star on Tuesday published an response on page six headlined "Solomon Star condemns unrelated attack by US-funded OCCRP".
"It is sad to see the US-funded OCCRP through its agent in Solomon Islands, Ofani Eremae, and his so-called 'In-depth Solomons' website making unrelented attempts to tarnish the reputation of the Solomon Star Newspaper for receiving funding support from China," the paper said.
"One thing that Solomon Star can assure the right-minded people of this nation is that we will continue to inform and educate you on issues that matter without any geopolitical bias and that China through its Embassy in Honiara never attempted to stop us from doing so . . .  Solomon Star also continued to publish news items not in the favour of China and the Chinese Embassy in Honiara never issued a reproachment.
"It is indeed sad to see the OCCRP-funded journalists in Solomon Islands and the Pacific trying to bring geopolitics into the Pacific and Solomon Islands media landscape and Solomon Star strongly urges these journalists and their financiers to stop geo-politicising the media."
OCCRP said it "is funded worldwide by a variety of government and non-government donors".
"OCCRP's work in the Pacific Islands is currently funded by a US-government grant that gives the donor zero say in editorial decisions," it said.
Dr Singh said whether aid came from China, the US or Australia: "There's no such thing as a free lunch."
The ABC has sought comment from the Solomon Star and the Chinese Embassy in Solomon Islands.
Republished from ABC Pacific Beat with permission.

Article by AsiaPacificReport.nz