By Kelvin Anthony, RNZ Pacific lead digital and social media journalist
The media sector in the Pacific should be supported with an enabling environment to report "without fear" in the face of ongoing challenges brought about since the covid-19 pandemic, according to a new study.
The paper, titled Pacific media freedom since the pandemic, is published in the latest edition of the Pacific Journalism Review.
As part of the research, the authors hosted an online panel discussion with senior Pacific journalists and news editors from Palau, Solomon Islands, Tonga and Fiji in December 2021 and held a follow-up discussion with those journalists in March 2023.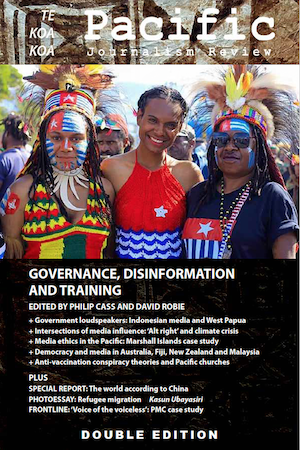 Researchers from the Australian National University and the University of the South Pacific said there was a need for "ongoing vigilance with regards to media freedom in the Pacific Island countries" post-pandemic.
ANU's Dr Amanda Watson and USP's Dr Shailendra Singh, who are the paper's co-authors, said covid-19 exposed the difficulties faced by media organisations and journalists in the region.
"Covid-19 has been a stark reminder about the link between media freedom and the financial viability of media organisations", they said, adding "especially in the Pacific, where the advertising markets are relatively small and profit margins correspondingly limited".
They said media companies "faced challenges during the height of the pandemic due to revenue downturns".
'Strives for impartial reporting'
However, the industry "continues to strive to conduct impartial reporting, for the benefit of citizens and the societies in which they live," they said.
"Media professionals and businesses face various challenges and thus it is important to support their work and ensure that they are able to operate without fear of violence or any other forms of reprisal," the researchers concluded.
A media study from 2021 found that Pacific journalists were among the youngest, most inexperienced and least qualified in the world.
Dr Singh has told RNZ Pacific in the past that capacity building of local journalists must become a priority for mainstream media to improve its standards and Pacific governments must also play a key role in investing in the industry's development.
This article is republished under a community partnership agreement with RNZ.
Article by AsiaPacificReport.nz