External experts are poring over the "inappropriate editing" of international news published online by RNZ. It has already tightened editorial checks and stood down an online journalist. Will this dent trust in RNZ — or news in general? Were campaigns propagating national propaganda a factor? Mediawatch asks two experts with international experience.
MEDIAWATCH: By Colin Peacock, RNZ Mediawatch presenter
The comedians on 7 Days had a few laughs at RNZ's expense against a backdrop of the Kremlin on TV Three this week.
"A Radio New Zealand digital journalist has been stood down after it emerged they'd been editing news stories on the broadcaster's website to give them a pro-Russian slant, which is kind of disgusting," host Jeremy Corbett said.
"You'd never get infiltration like that on 7 Days. Our security is too strong. Strong like a bear. Strong like the glorious Russian state and its leader Putin," he said.
"I love this Russian strategy: 'First, we take New Zealand's fourth best and fourth most popular news site — then the world!" said Melanie Bracewell, who said she had not kept up with the news.
Just a joke, obviously, but this week some people have been asking if Kremlin campaigns played a role in the inappropriate editing of online world news.
It was on June 9 that the revelation of it kicked off a media frenzy about propaganda, misinformation, Russia, Ukraine, truth, trust and editorial standards that has been no laughing matter at RNZ.
The story went up a notch last weekend when TVNZ's Thomas Mead revealed Ukrainian New Zealander Michael Lidski — along with 20 others — had complained about a story written by the journalist in May 2022, which RNZ had re-edited on the day to add alternative perspectives after prompting from an RNZ journalist who considered it sub-standard.
The next day on RNZ's Checkpoint, presenter Lisa Owen said the suspended RNZ web journalist had told her he edited reports "in that way for five years" — and nobody had ever queried it or told him to stop.
RNZ chief executive Paul Thompson, who is also editor-in-chief, then told Checkpoint he did not consider what he had called "pro-Kremlin garbage" a resignation-worthy issue.
"I think this is a time for us actually working together to fix the problem," he said.
RNZ had already begun taking out the trash in public by listing the corrupted (and now corrected) stories on the RNZ.co.nz homepage as they are discovered.
Thompson said the problem was "confined to a small area of what RNZ does" but by the following day,  RNZ found six more stories — supplied originally by the reputable news agency Reuters — had also been edited in terms more favourable to the ruling regimes.
"RNZ has come out with a statement that said: 'In our defence, we didn't actually realise anyone was reading our stories'," said 7 Days' Jeremy Corbett.
That was just a gag — but it did actually explain just how it took so long for the dodgy edits to come to light and become newsworthy.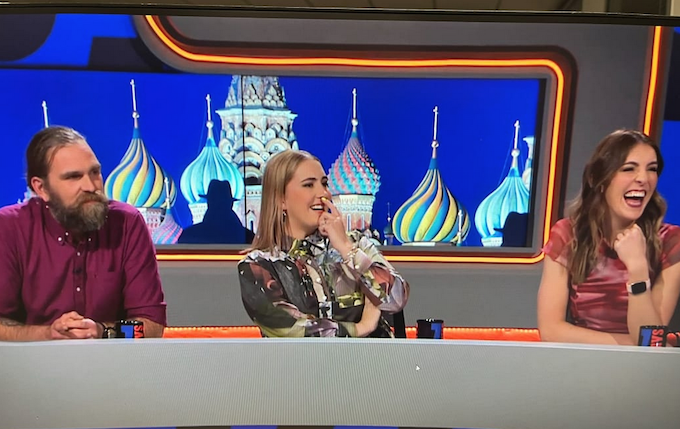 Where the problem lay
Last Wednesday's cartoon in the Stuff papers — featuring an RNZ radio newsreader with a Pinocchio-length nose didn't raise any laughs there either — because none of the slanted stories in question ever went out in the news on the air.
They were only to be found online — and this was a significant distinction as it turned out, because the checks and balances are not quite the same or made by the same staff.
"In radio, a reporter writes a story and sends it to a sub-editor who will then check it. And then a news reader has to read it so there's a couple of stages. Maybe even a chief reporter would have checked it as well," Corin Dann told RNZ Morning Report listeners last Monday.
"What I'm trying to establish is what sort of checks and balances were there to ensure that that world story was properly vetted," he said.
That question — and others — will now be asked by the external experts appointed this week to run the rule of RNZ's online publishing procedures for a review that will be made public.
On Thursday a former RNZer Brent Edwards made a similar point in the National Business Review where he' is now the political editor.
"For a couple of years, I was the director of news gathering. I had a large responsibility for RNZ's news coverage but technically I had no responsibility whatsoever for what went on the web," he said.
"Done properly the RNZ review panel could do all news media a favour by providing a template for how online news should be curated. It should reinforce the importance of quality, ethical journalism," Edwards added.
His NBR colleague Dita di Boni said "there but for the grace of God go other outlets" which have "gone digital" in news.
"I worked at TVNZ and there was a rush to digital as well with lots of resources going in but little oversight from the main newsroom."
Calls for political action
Prime Minister Chris Hipkins has made it clear he doesn't want the government involved in RNZ's editorial affairs.
David Seymour of the ACT party wanted an inquiry — and NZ First leader Winston Peters called for a Royal Commission into the media bias and manipulation.
Former National MP Nathan Guy told Newshub Nation this weekend "heads need to roll" at RNZ.
"If I was the broadcasting minister, I would want the chair in my office and to hold RNZ to account. I want timeframes. I want accountability because we just can't afford to have our public broadcaster tell unfortunate mistruths to the public," he said.
In the same discussion, Newsroom's co-editor Mark Jennings reminded Guy that RNZ's low-budget digital news transition happened under his National-led government which froze RNZ's funding for almost a decade.
"This is what happens when you underfund an organisation for so long," he said.
Jennings also said "trust in RNZ has been hammered by this" — and criticised RNZ chairman Dr Jim Mather for declining to be interviewed on Newshub Nation.
Earlier — under the headline Media shooting itself in the foot — Jennings said surveys have picked up a decline and trust and news media here.
"And the road back for the media just had a major speed bump," he concluded.
How deep is the damage to trust?
While the breach of editorial standards is clear, has there been an over-reaction to what may be the actions of just one employee, which took years to come to light?
Last week the think-tank Koi Tū: The Centre for Informed Futures at Auckland University hosted a timely "disinformation and media manipulation" workshop attended by executives and editors from most major media outlets.
It was arranged long before RNZs problems arose — but those ended up dominating discussion on this theme.
Among the participants was media consultant and commentator Peter Bale, who has previously worked overseas for Reuters, as well as The Financial Times and CNN.
"I really feel for RNZ in this, for the chief executive and everybody else there who does generally a great job. The issue of trust here is in this person's relationship with their employer and their relationship with the facts."
Bale is also the newsroom initiative leader at the International News Media Association, which promotes best practice in news and journalism publishing.
The exposure of the "inappropriate editing" undetected for so long has created the impression a lot of content is published online with no checking. That is sometimes the case when speed is a priority, but the vast majority of stuff does go past at least two eyes before publication.
"I think it is true also that editing has been diminished as a skill. But I don't think it's necessarily a failure of editing here but a failure of this person's understanding of what their job is," Bale told Mediawatch.
"You shouldn't necessarily need to have a second or third pair of eyes when processing a Reuters story that's already gone through multiple editors. The critical issue for RNZ is whether they took the initial complaints seriously enough," he said.
'Pro-Kremlin garbage'?
There have been many reports in recent years about Russia seeding misinformation and disinformation abroad.
Last Tuesday, security and technology consultant Paul Buchanan told Morning Report that RNZ should be better prepared for authoritarian states seeking to mess with its news.
"This incident that prompted this investigation may or may not be just one individual who has certain opinions about the war between Russia and Ukraine. But it is possible that . . . stories were manipulated from abroad," he said.
Back in March the acting Director-General of the SIS told Parliament: "States are trying, in a coercive disruptive and a covert way, to influence the behaviors of people in New Zealand and influencing their decision making".
John Mackey named no nations at the time, but his GCSB counterpart Andrew Hampton told MPs research had shown Russia was the source of misinformation many Kiwis were consuming.
Is it really likely the Kremlin or its proxies are pushing propaganda into the news here? And if so, to what end?
"I think there's been a little bit of 'too florid' language used about this. This person has inserted what are in some people's views genuine talking points from those who . . . want to have expressed what the Russian view is. But it was very ham-fisted," said Bale.
"There are ways to do this. You could have inserted the Russian perspective to highlight the fact that there is a different view about things like the Orange Revolution when the pro-Kremlin leader in Kyiv was overthrown," he said.
Not necessarily 'propaganda'
"I don't think it is necessarily 'Kremlin propaganda' as it's been described. It was just a misguided attempt to bring another perspective, I suspect, but it still represents a tremendous breach of trust," he said.
"I write a weekly newsletter for The Spinoff about international news, and I try sometimes to show . . . there are other perspectives on these stories. Those things are legitimate to address — but not just surreptitiously squeeze into a story in some sort of perceived balance.
"I don't think in this particular case that it is to do with the spread of disinformation or misinformation by Russia. I think this is a different set of problems. But I agree (there's a) threat from the kind of chaos-driving techniques that Russia is particularly brilliant at. They're very skilled at twisting stories . . . and I think we need to be ready for it," he said.
The guest speaker at that Koi Tū event last Wednesday was Dr Joan Donovan, the research director of the Shorenstein center on Media and Politics at Harvard University in the US, where she researches and tracks the sources of misrepresentation and misinformation in the media, and the impact they have on public trust in media — and also how media can prepare for it.
At the point where 15 supplied news stories had been found to be "inappropriately edited" by RNZ, she took to Twitter to say: "This is wild. Fake news has reached new heights."
Set against what we've seen in US politics — and about Russia and Ukraine — is it really that bad?
"Usually what you see is the spoofing of a website or a URL in order to look like you're a certain outlet and distribute disinformation that way. It's very unlikely that someone would go in and work a job and be editing articles without proper oversight," said Donovan  — who is also the co-author of recently published book, Meme Wars, The Untold Story of the Online Battles Upending Democracy. 
"I think when it comes to one country, wanting to insert their views into another country — even though New Zealand is very small — it does track that this would be a way to influence a large group of people.
"But I don't think if any of us know the degree to which this could be an international operation or not," she told Mediawatch.
"What you learn is that their pattern is that they happen over and over and over again until a news agency or platform company figures out a mitigation tactic, whether it's removing that link from search or writing critical press or debunking those stories.
"When I think about the fallout of it . . . using the legitimacy of RNZ in a parasitical kind of way and that legitimacy to spread propaganda is one of the most important pieces of this puzzle that we would need to explore more," she said.
This article is republished under a community partnership agreement with RNZ.
Article by AsiaPacificReport.nz