Source: The Conversation (Au and NZ) – By Christopher Arnott, PhD Candidate, Griffith University
The Australian Electoral Commission has launched a website aimed at rebutting disinformation.
This is a timely change, as we are seeing an increase of both disinformation and misinformation being spread about the First Nations Voice to Parliament.
Disinformation and misinformation are similar concepts. Both refer to the spread of political information that is false and misleading. The difference is disinformation is spread with the intention to deceive the recipient.
Misinformation is often spread with a genuine belief in the truth of the information. It is often difficult to determine whether someone intends to deceive, or whether they are misinformed in their beliefs.
In parliament last Thursday, Prime Minister Anthony Albanese accused Opposition Leader Peter Dutton of "amplifying misinformation" by increasing the circulation of false and misleading statements regarding the referendum.
As we wait for the government to announce the date of the referendum, both "yes" and "no" campaigns are actively seeking to persuade the Australian public. Unfortunately, this has resulted in some people spreading misinformation.
But how does one tell the difference between facts, and false and misleading statements?
---


Read more:
The Voice isn't apartheid or a veto over parliament – this misinformation is undermining democratic debate


---
What misinformation have we been hearing so far?
Last week, "no" campaigner Warren Mundine claimed the Australian Electoral Commission was biased in its campaign to recruit Indigenous Australians to enrol on the electoral roll. He claimed the advertisement "Our Vote, Our Future" had "crossed the line" and leans in favour of the "yes" campaign.
This is an example of misinformation. This exact slogan has been used by the electoral commission to encourage Indigenous people to enrol to vote in previous elections over the years. In fact, the commision has used a very similar variation of the slogan dating as far back as 1962.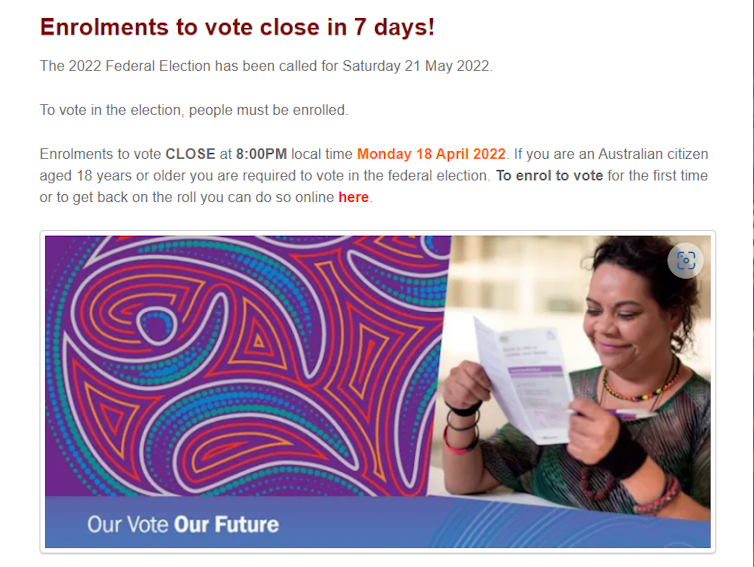 Politicians and lobbying groups such as the Institute of Public Affairs have also been busy making claims, including statements that the Voice is a form of apartheid, or has the capacity to veto parliamentary decisions. These claims are likewise false and misleading.
Claims of insufficient detail surrounding the Voice are also misleading, as Senator Malarndirri McCarthy pointed out on ABC's Q+A in January.
The report had been discussed with and presented to the former Morrison government's cabinet in its entirety in July 2021. So, when Dutton claims there is not enough detail, it would seem he is being disingenuous.
---


Read more:
House of Representatives passes Voice referendum legislation, which is assured of Senate passage


---
The dangers of misinformation and how to identify it
During the COVID pandemic, we saw misinformation spread from the United States to Australia. This resulted in a significant growth in followers of the American-based conspiracy theory group QAnon. Groups such as QAnon are deeply rooted in distrust of institutions. Distrust and scepticism are healthy to a degree, but extreme distrust can fuel harmful conspiracy theories.
These conspiracies have placed lives at risk, as shown throughout the COVID pandemic, whereby unfounded medical treatments and fear of vaccines took centre stage in many misinformation campaigns.
Identifying misinformation in politics can be complex because it is a space where regular debates occur. In addition, the bombardment of "facts" presented through social media makes it difficult to distinguish between true and false information. However, in any debate, it is crucial that truth and facts are never abandoned.
Identifying who does or does not hold expertise on a topic can be difficult, particularly as some might try to discredit the expertise of particular groups for political reasons. However, in her recent book, political scientist Pippa Norris proposes there are three criteria for judging expertise: competence, benevolence and integrity.
Competence is the degree of technical knowledge acquired through developing skills and education. This is one of the easiest to judge. Benevolence is the degree to which self-interest is set aside. And integrity relates to a person's honesty, fairness and overall ethical reputation.
An example of competence is law expert and professor Greg Craven, who initially expressed concerns about the wording of the Voice. He disagreed on some aspects, but the debate was within the framework of established facts. He now supports the Voice and the wording.
Indeed, neither of the two examples presented earlier regarding misinformation in the Trump campaign and in the treatment of COVID were backed by formal authorities or experts in the matter. Many of those who peddled Trump's election lies stood to be promoted, or had electoral self-interest in pursuing the line.
How can you protect yourself against misinformation?
Humans tend to accept new information if they have no reason to doubt it. When you hear commentary around the Voice, be on the lookout for language that may be used to elicit strong emotional responses, instead of encouraging logical thinking.
Words such as "apartheid", "divided" or even "racist" may be used intentionally to elicit strong emotions.
Emotional appeals when used in arguments have been shown to significantly influence our reasoning abilities. If we're aware that certain comments are being used to persuade or manipulate us, we can equip ourselves with a healthy level of scepticism and apply critical thinking when assessing the information presented.
Additionally, it's good to be cautious of new or surprising information.
For instance, Mundine and Country Liberal Senator Jacinta Nampijinpa Price recently used a quote for their "no" campaign from a Northern Territory man named Stewart Lingiari. Mundine and Price claimed Stewart was a descendant of renowned Aboriginal rights activist Vincent Lingiari.
Stewart later revealed this was not true, and the cameraman had instructed him what to say. Stewart also claimed he had not given permission for his image to be used in their campaign.
Unfortunately, Australia does not have federal laws that enforce truth in political advertising. So in the next few months, misinformation will likely continue to plague social media platforms and media.
However, there are resources available that can help with navigating this referendum and making an informed choice:
As the referendum date approaches, and each of the campaigns seek to persuade you, remember some claims may evoke emotions, or surprise, and their motivations may not always be truthful. A healthy dose of scepticism, and a search for the truth, will help you to find your own voice in this important referendum.

Christopher Arnott is a member of the Australian Labor Party
– ref. How we can avoid political misinformation in the lead-up to the Voice referendum – https://theconversation.com/how-we-can-avoid-political-misinformation-in-the-lead-up-to-the-voice-referendum-206500