By Joeli Bili in Suva
A partnership forged between the Indian government and the University of the South Pacific (USP) will see the establishment of a new Fiji-based centre for climate change, coastal and ocean management in the region.
The Sustainable Coastal and Ocean Research Institute (SCORI) at USP's Suva campus was launched on May 22 by India's High Commissioner to Fiji, Palaniswamy Subramanyan Karthigeyan, who described the initiative as a "celebration of the future".
"This is a meeting of the best minds from both sides in the scientific, technology world and possibly being on the frontline of climate action," Karthigeyan said.
He added that the institute would have India's unstinted support and the way forward was going to be more critical.
"Unfortunately, due to the [covid] pandemic, we have lost quite a bit of time in taking this initiative forward and we have the momentum to make sure that this is not lost sight of and we make it a benchmark project not just for the region but the entire world," he said.
"The onus of responsibility is on all of us to make sure that we do justice to that. The best way to do that is to make it a benchmark project in the shortest possible time, and to make it a sustainable model of excellence."
Karthigeyan echoed similar sentiments made earlier in the day by Indian Prime Minister Narendra Modi at the 3rd India-Pacific Islands Cooperation (FIPIC) Summit in Papua New Guinea.
Focused on Global South problems
Modi focused on the problems faced by the Global South, including the issues of climate change, natural disasters, hunger, poverty, and various health-related challenges among others.
"I am glad to hear that the Sustainable Coastal and Ocean Research Institute has been established at the University of the South Pacific in Fiji. This institute connects India's experiences in sustainable development with the vision of Pacific Island countries," he told the summit.
"In addition to research and development, it will be valuable in addressing the challenges of climate change. I am pleased that SCORI is dedicated to the well-being, progress, and prosperity of citizens from 14 countries," Modi added, drawing attention to India's desire to partner the region in tackling issues that regional countries have placed priority on.
Prime Minister Modi said Pacific Island countries were not Small Island States, but rather, "large ocean countries". He noted it was this vast ocean that connected India with the Pacific region.
"The Indian philosophy has always viewed the world as one family. Climate change, natural disasters, hunger, poverty, and various health-related challenges were already prevalent.
"Now, new issues are emerging. Barriers are arising in the supply chains of food, fuel, fertiliser, and pharmaceuticals," Modi said.
India, he said, stood with its Pacific Island friends during challenging times, whether it was vaccines or essential medicines, wheat or sugar.
'Unwavering' support for SCORI
USP's vice-chancellor and president, Professor Pal Ahluwalia, said the "unwavering support" and endorsement of SCORI by PM Modi and the Fiji government underscored the significance of the institute in advancing climate change and oceans management in our region.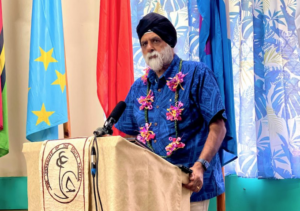 "With the establishment of SCORI, we embark on a new chapter of cooperation between India, Fiji, and the University of the South Pacific," he said.
"This institute will serve as a hub for the exchange of knowledge, ideas, and cutting-edge technologies, ensuring that our work in climate change and oceans management remains at the forefront of global research."
Through the collaboration of esteemed scholars from India and Fiji, Professor Ahluwalia said the university aimed to publish ground-breaking research and set new agendas in the field of coastal and ocean studies.
"This institute will greatly enhance our research activities and capacity building, contributing to the sustainability of the Pacific Ocean and aligning with the Blue Pacific 2050 Strategy launched by our Pacific leaders," he said.
USP deputy vice-chancellor and vice-president (education) Professor Jito Vanualailai said that SCORI would serve as a hub for research and development to meet the needs of Pacific Island countries.
"SCORI will spearhead research and development initiatives that address pressing issues in the region," he said.
"Together, we strive to develop policies for sustainable management and protection of marine and coastal ecosystems while effectively tackling coastal hazards and vulnerabilities stemming from global warming, ocean acidification and climate change."
'Remarkable individuals'
USP's director of research, Professor Sushil Kumar, said the project was a reality due to the integral role played by some "remarkable individuals and organisations".
Professor Kumar thanked the governments of Fiji and India for their support to foster collaboration and partnership under SCORI.
He said apart from the Ministry of Earth Sciences, Indian government, several Institutes such as the National Center for Coastal Research are part of the collaborations.
The center will have a dedicated focus on areas of common interests such as coastal vulnerability, coastal erosion and coastal protection, monitoring and mapping of marine biodiversity, ocean observation systems, sea water quality monitoring and capacity building.
SCORI will be funded and maintained by the Indian government for five years until it is handed over to USP.
Joeli Bili is a final-year student journalist at the University of the South Pacific's Suva campus. He is a senior reporter for Wansolwara, USP Journalism's training newspaper and online publication. This article is republished through a partnership between Asia Pacific Report and IDN-InDepthNews and Wansolwara.
Article by AsiaPacificReport.nz