Jubi News in Jayapura
Captured pilot Philip Mehrtens has called on the Indonesian government to stop military operations in the Nduga highlands in a bid to rescue him while his West Papuan rebel captors have condemned New Zealand for alleged "collusion" with Jakarta.
According to Mehrtens, last weekend the Indonesian military (TNI) dropped bombs on an area where he was being held along with other Nduga residents.
"Indonesia dropped bombs on this [Nduga] area last weekend, and it was unnecessary because it was dangerous for me and the people here," Mehrtens said via a video recording made on Monday and received by Jubi yesterday.
In the 1min 38sec video, Mehrtens was seen wearing a black t-shirt and shorts. He was sitting flanked by two men, allegedly West Papuan National Liberation Army (TPNPB) members. He also said he was in good health.
"Today, April 24, 2023, it has been almost three months since the TPNPB captured me in Paro.
"I am alive and well. I live with the people here, sit together, walk together, rest together, there is no problem with me," Mehrtens said in the poor quality video, alternating between two languages, Bahasa Indonesian and English.
In a written statement, TPNPB spokesperson Sebby Sambom urged President Joko Widodo to immediately stop military operations in Nduga and asked Indonesia to open negotiations.
'Negotiations, not military operations'
i"We emphasise that the release of Philip Mark Mehrtens must be through negotiations, not through military operations. Therefore, Indonesian President Joko Widodo must stop military operations in Nduga immediately, otherwise they only jeopardise the pilot's life," Sambom said.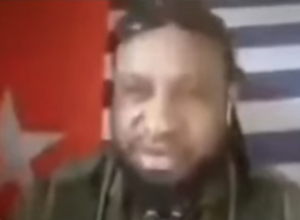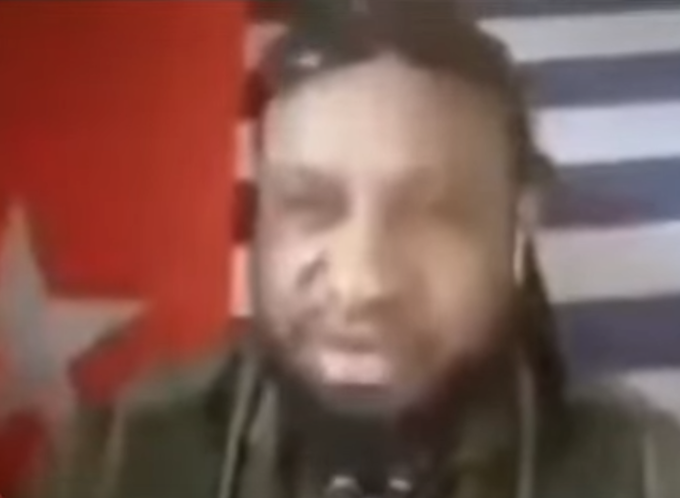 In a separate statement received today by Asia Pacific Report from the Free Papua Movement (OPM) leader, Jeffrey Bomanak, the pro-independence fighters called on New Zealand Prime Minister Chris Hipkins to "resign" over a failure to press the Indonesian government for a negotiated solution.
In the statement dated April 28 and addressed to the New Zealand and Australian parliaments, Bomanak said:
"My people have been in a war of liberation from Indonesia's illegal invasion and annexation for six decades. Our fallen number hundreds of thousands of men, women, and children.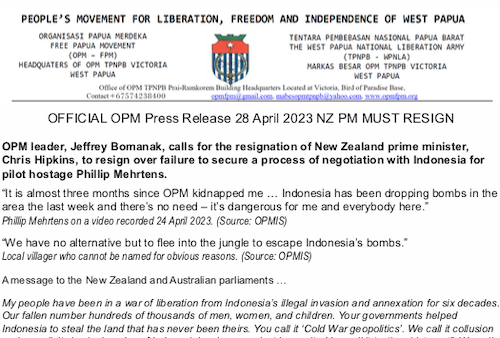 "Your governments helped Indonesia to steal the land that has never been theirs. You call it 'Cold War geopolitics'. We call it collusion and complicity in six decades of Indonesia's crimes against humanity.
"You call it 'national interest". We call it being a wilful accessory to allow you to plunder a vulnerable people … an accessory in the manipulation of events for the economic rape of our ancestral lands.
"You call it 'foreign policy'. We call it treachery and deceit of the same people who were your friends and allies during the Second World War.
'Why are you afraid of Indonesia?'
"Our rights to freedom and nation-state sovereignty are no different to yours … no different to the valiant Ukrainian people, whom you have no problem supporting.
"Why are you so afraid of Indonesia? Why can East Timor be liberated and not West Papua?"
Earlier, Sambom said the video containing the Mehrtens testimony was also addressed to the New Zealand government and Mehrtens' family.
"We initially made a video showing Mehrtens in good health for the New Zealand government and the pilot's family in New Zealand. However, because Indonesia is bombing the Nduga Region, we want the people to know," he said.
Mehrtens has been held hostage by the TPNPB for 79 days since he was arrested on February 7.
The Indonesian government so far has increased the status of military operations.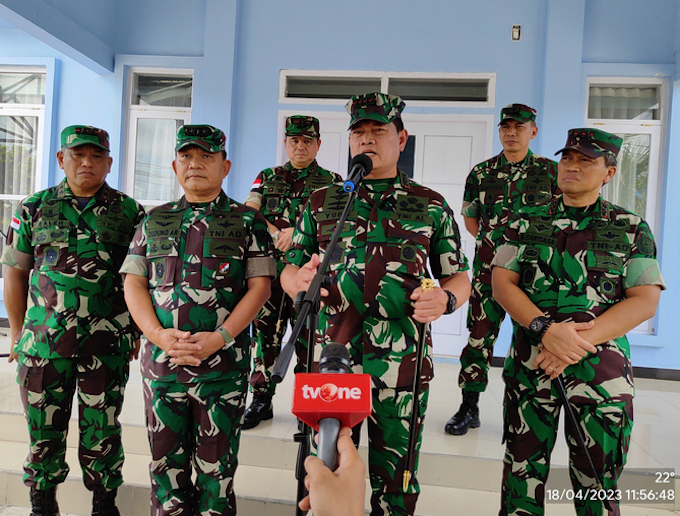 'Land combat alert'
On April 18 in Timika, TNI commander Admiral Yudo Margono upgraded operations in Papua to a "land combat alert".
Admiral Margono said the operation was upgraded after the TPNPB attacked TNI troops on April 15.The casualties were unconfirmed as the military admitted one soldier had been killed while the rebels claimed up to 13 dead and several captured.
He said the increase in the status of this operation aimed to awaken the combat instincts of TNI soldiers.
"The land combat alert means the operation is increased," Admiral Margono said at the time at Yohanis Kapiyau Air Base in Central Papua's Timika.
A military observer from the Institute For Security and Strategic Studies (ISSES), Khairul Fahmi, said the combat alert in Papua meant that all troops were ready to fire.
"'Combat alert' is the term for the condition of the troops ready for battle. This means that soldiers are allowed to shoot their weapons at any time whenever the threat is present," Fahmi said.
"The troops no longer need to hesitate to open fire if there is an obstacle or attack."
Republished from Jubi News with permission.
'I'm #alive, #healthy . . . stop the #bombs,' says #kidnapped #NZ #pilot in new West Papua #video @AsiaPacificReport #nzpilot #hostage #westpapua #independence #humanrights @westpapuamedia @westpapuanews #philipmehrtens #survival @PNGAttitude @shrek45 https://t.co/KnGwUAx6Su pic.twitter.com/2JasgwPCW0

— David Robie (@DavidRobie) April 26, 2023
Article by AsiaPacificReport.nz