The Papua New Guinea government's top legal adviser, Dr Eric Kwa, has been arrested and charged on allegations of dangerous driving causing death.
Dr Kwa, the Secretary for the Department of Justice and Attorney-General, was allegedly involved in a fatal road accident that caused a death on October 17, 2022, and was the subject of a police investigation for the past three months.
He was eventually charged under the Criminal Code Act (Section 328) for dangerous driving causing death yesterday.
Police were not allowed to release him on bail yesterday because of the severity of the offence.
In a media briefing yesterday, National Capital District (NCD) Metropolitan Superintendent Silva Sika said the severity of the offence committed under the Act did not allow him to be released on police bail.
He said Kwa's lawyers were advised to apply for a bail application at the National Court for him to be released.
'No one above law'
"No one is above the law, and therefore, due process must be followed," Sika said.
He said all processes had been followed and Dr Kwa had been very co-operative with the police.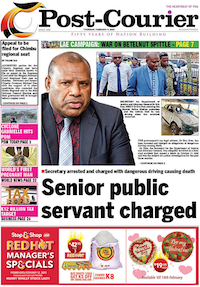 "He understands the process very well since he is an intellect [sic] and that he will have to bear with the circumstances," Sika said.
It was alleged that on October 17 Dr Kwa and his officers were travelling along the Hiritano Highway on their way to attend an official engagement with the Constitutional and Law Reform Commission at Bereina when the accident happened.
He was in the second vehicle with three of his officers, when the accident allegedly happened.
A female passenger who was part of his entourage died at the Port Moresby General Hospital from severe injuries sustained in the accident.
Others treated, discharged
The others were treated and discharged.
The matter was immediately reported to police where a complaint was lodged with several investigations undertaken.
On Tuesday, January 24, 2023, Dr Kwa received a request from Police Commissioner David Manning for a record of interview at the Police Headquarters.
On Friday, January 27, he presented himself before the police hierarchy where an initial interview took place.
Late last night, Kwa's lawyers managed to have him bailed out.
Republished with permission.
Article by AsiaPacificReport.nz