By Ian Chute in Suva
Fijian Broadcasting Corporation (FBC) board chairman Ajay Bhai Amrit says he has receipts to prove former FBC chief executive officer Riyaz Sayed-Khaiyum received an annual package of $387,790 including benefits and entitlements.
He said this worked out to $32,315 a month and that the board had evidence in the form of payslips and Sayed-Khaiyum's contract.
Sayed-Khaiyum had denied the amount disclosed was what he received in salary.
In response to media queries about going public with Sayed-Khaiyum's salary, Amrit said the people owned FBC as the public broadcaster and they had every right to know where and how their money was being spent.
He also said the $93 million that FBC received over the past 14 years would be closely scrutinised to see where the money went — a process which he said could take weeks.
Responding to a question from the media on claims made by Sayed-Khaiyum that the government left FBC "short changed", Amrit said the corporation could not continue without government funding.
Government funding was about $11.2 million a year — almost $1 million per month.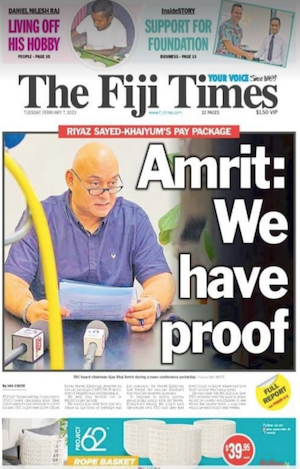 Amrit said since the ex chief executive had taken the reins at FBC, it had received about $93 million in public service broadcasting funds, but it would not be known for some time whether the funds were used for public service broadcasting or for other things.
"It takes quite a long time to work out where that money is going, how it came in, what it was used for, and 100 percent we need to work on this but it will take weeks," he said.
"It's not a simple situation where I can sit down and say hold on, this money went yeah there, everywhere.
"It was used for various means so we've got to find out."
Amrit said some of FBC best customers were government departments.
Ian Chute is a Fiji Times reporter. Republished with permission.
Article by AsiaPacificReport.nz