Source: The Conversation (Au and NZ) – By Brianna Chesser, Senior Lecturer in Criminology and Justice, RMIT University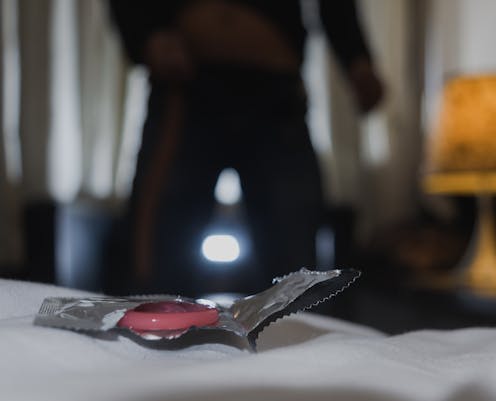 Shutterstock
The Australian Capital Territory has set a legal precedent by becoming the first jurisdiction in Australia – and one of just a few in the world – to outlaw the act of "stealthing", or the non-consensual removal of a condom during sex.
The ACT's amended Crimes Act now makes it illegal to remove a condom during sex or to not use a condom at all, in circumstances when condom use was previously agreed on.
The legislation was introduced by Liberals' leader Elizabeth Lee, who said it was aimed at providing clarity in the law before someone became a victim.
We cannot wait for cases to come before courts before stealthing is specifically outlawed – we need to act proactively and send a clear message to the community that this behaviour is unacceptable and a crime.
How prevalent is stealthing?
Stealthing is not a new issue in the community, but it has only recently come to the attention of lawmakers in many countries.
In 2015, journalist and author Monica Tan described stealthing as "sort-of" rape after she was stealthed by her then-partner.
In 2017, American civil rights lawyer Alexandra Brodsky described the act as being "rape-adjacent", inspiring a bill in California that just became law.
In the same year, Triple J's Hack program in Australia shared stories from both stealthing survivors and perpetrators. Stealthing has also been depicted recently on the screen, in Michaela Coel's television series I May Destroy You.
In specifically changing the law to criminalise stealthing, the ACT has recognised the inherent harm caused by the action to the physical and psychological well-being of survivors.
Recent studies suggest stealthing affects more members of our community than we might think. A 2018 study by Monash University and the Melbourne Sexual Health Centre surveyed 2,000 people and found one in three women, and almost one in five men who have sex with men, had experienced stealthing.
A 2019 paper published in the National Library of Medicine in the US found 12% of women aged 21 to 30 reported an experience with stealthing.
Another American study of men between the ages of 21 and 30 found that 10% had non-consensually removed a condom during sex. Those men admitted having done so, on average, three to four times in their lives.
---


Read more:
Rape, sexual assault and sexual harassment: what's the difference?


---
Stealthing cases before the courts
Courts in numerous countries, including New Zealand, Germany, Switzerland and the United Kingdom, have deemed stealthing to be sexual assault.
These countries, however, have fallen short of specifically outlawing stealthing in legislation.
In Australia, there has been much debate over whether stealthing is already included under existing sex crimes laws, or if it needs to be specifically written into the law.
Some argue stealthing already falls under the existing law that states a person does not consent to sex if he or she is mistaken about the "nature of the act".
However, legal experts argue that in cases where stealthing occurs, the sexual nature of the act is understood, but the condition placed on the consent – condom use – is what is not agreed on.
There is a case involving stealthing currently before the courts in Victoria, but it has been significantly delayed by COVID-19 and will not be heard until 2022.
It was hoped this case would set a legal precedent and ultimately lead to a change to the state's sex crimes law. However, parliament is unlikely to look at changing any laws until the case is adjudicated.
---


Read more:
Case in Victoria could set new legal precedent for stealthing, or removing condom during sex


---
California takes a different approach
California's new law, which also passed last week, is the first in the US to specifically outlaw stealthing. This law also provides a persuasive precedent for other states and countries to follow.
California has taken a different approach to the ACT. The new law adds stealthing to the state's civil definition of sexual battery, allowing victims to sue perpetrators for damages.
It would not, however, make stealthing a crime that could result in jail time. Assemblywoman Cristina Garcia has failed on two previous occasions to pass a law criminalising the act.
The difficulty in passing stealthing laws reflects a general reluctance to make the act a criminal offence. US legal commentators said stealthing could already be considered "misdemeanor sexual battery" in California, even though it isn't explicitly mentioned in the state's criminal code.
The reluctance appears to come from the potential difficulties of legally proving an intentional act of stealthing. Importantly, though, legal analysts acknowledged that stealthing was rarely prosecuted in California under the state's old misdemeanor laws – indicating the need for further legislative clarity.
Both the ACT and Californian laws are a step in the right direction, demonstrating the need for a new legal approach. As Brodsky, the civil rights lawyer, put it,
I think law, at its best, can express a community norm and how we should treat each other. I do think a lot of survivors would find affirmation in the fact that this state legislature agreed what happened to them was wrong.

Brianna Chesser does not work for, consult, own shares in or receive funding from any company or organisation that would benefit from this article, and has disclosed no relevant affiliations beyond their academic appointment.
– ref. In an Australian first, stealthing is now illegal in the ACT. Could this set a precedent for the country? – https://theconversation.com/in-an-australian-first-stealthing-is-now-illegal-in-the-act-could-this-set-a-precedent-for-the-country-169629