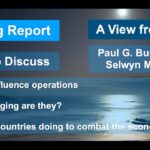 A View from Afar: Selwyn Manning and Paul Buchanan present this week's podcast where they analyse the crisis, the tragedy, unfolding in Afghanistan, including an apparent intelligence failure.
Unanswered questions considered, include:
Why were United States intelligence unable to predict how poised and ready the Taliban were?

How did the Taliban prepare to take every province, every city in Afghanistan, and keep their readiness a secret while they waited for the final phase of the US-led withdrawal to begin?

What should we make of the Taliban leadership? Should we be reassured or concerned at the Taliban's words of transition?

And, has United States president Joe Biden damaged his reputation beyond repair, in justifying the method of the US's withdrawal in a speech laced with a cold indifference toward the human carnage that unfolded at Kabul airport?
You can comment on this debate by clicking on one of these social media channels and interacting in the social media's comment area. Here are the links:
EveningReport.nz 
or, subscribe to the 
Evening Report podcast here
.
The MIL Network's podcast A View from Afar was Nominated as a Top  Defence Security Podcast by Threat.Technology – a London-based cyber security news publication.
Threat.Technology placed A View from Afar at 9th in its 20 Best Defence Security Podcasts of 2021 category. You can follow A View from Afar via our affiliate syndicators.