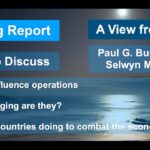 A View from Afar: Selwyn Manning and Paul Buchanan present this week's podcast, A View from Afar, where they analyse:
Revelations that the People's Republic of China has further developed missile silos in its north-west desert. How does this fit with proliferation of nuclear silos in the west?
How do great powers enforce their nuclear deterrence dogma and strategy in 2021 compared to when the first Cold War was chilling the world's expectations of longevity?
And what of new nuclear powers like Israel, North Korea and others – with their lack of ability to sustain a total annihilation attack, do they pose a real first-strike threat? And, if so, is nuclear deterrence rendered an obsolete strategy?
And what of Aotearoa New Zealand, does its nuclear-free position, placing it independent of so-called 'protections' of the United States' nuclear umbrella keep us safe from becoming a target? Or has the weaponising of space, the practice where RocketLab sends payloads of US military-tech into orbit, bring New Zealand into scope?
WE INVITE YOU TO PARTICIPATE WHILE WE ARE LIVE WITH COMMENTS AND QUESTIONS IN THE RECORDING OF THIS PODCAST:
You can comment on this debate by clicking on one of these social media channels and interacting in the social media's comment area. Here are the links:
If you miss the LIVE Episode, you can see it as video-on-demand, and earlier episodes too, by checking out EveningReport.nz or, subscribe to the Evening Report podcast here.
The MIL Network's podcast A View from Afar was Nominated as a Top  Defence Security Podcast by Threat.Technology – a London-based cyber security news publication.
Threat.Technology placed A View from Afar at 9th in its 20 Best Defence Security Podcasts of 2021 category. You can follow A View from Afar via our affiliate syndicators.