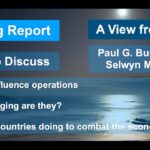 A View from Afar – Selwyn Manning and Paul Buchanan debate: how in the last two weeks, China and the United States have been advancing distinct and separate defence alliances – positioning that is akin to the old Cold War.
On one hand, the US has been building up a coalition of allies that is designed to contain China's presence in the South China Sea.
On the other hand, China has been cementing its defence and trade ties with adversaries of the United States. The pacts include formal cooperative agreements with Iran, and the Russian Federation.
So what makes the last two weeks different from the last four years?
Are we witnessing an emergence of a Cold War II styled stand-off in a post-Trump world?
If so, where does that leave small powers like New Zealand, and a host of other nations that make up the economies of the Asia Pacific region?
We invite you to subscribe to this podcast and to add your views to this discussion:
We invite you to follow and subscribe to this podcast via the podcast platforms and you can also follow up via social media. Here are the links:
Also, if you missed earlier episodes, you can see them as video-on-demand by checking out EveningReport.nz or, subscribe to the Evening Report podcast here.