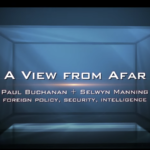 A View from Afar – Paul G. Buchanan and host Selwyn Manning discuss whether the Five Eyes spy agencies are adequately monitoring white supremacist activity, and discuss, what can be done. Plus Ollie Neas joins the panel to discuss whether the New Zealand Government is aware of what Rocket Lab is sending into space?
This episode's topics:
* Terrorism and the Dark Web: White supremacists are back online and making threats. Who is keeping track of these practitioners of hate? Has the US-led Five Eyes spy network let us down?
* Rocket Lab follow-up:
What did the New Zealand Government know, and not know, at the point it gave RocketLab's March mission (with a payload of US military tracking systems) a green-light?
Follow Paul G. Buchanan and Selwyn Manning's podcast and keep ahead of security intelligence and foreign policy trends and issues.
If you miss the LIVE Episode, you can see it as video-on-demand, and earlier episodes too, by checking out EveningReport.nz or, subscribe to the Evening Report podcast here.