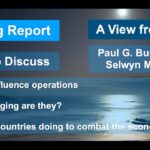 A View from Afar: Thursday March 4 @ midday (NZDST / Wednesday, 6pm USEST) Paul G. Buchanan and Selwyn Manning conduct a deep dive into the largely covert role of private enterprise in the intelligence, conflict, and war markets.
Most recently, New Zealanders discovered that its national airline had been in business with Saudi Arabia's military. After the revelations, Air New Zealand then announced it had cancelled the Saudi contract. Air New Zealand also admitted that it does business with the military wings of five to six other countries.
The Prime Minister Jacinda Ardern has instructed New Zealand's Ministry of Foreign Affairs and Trade to investigate the issue.
Then there's RocketLab – once celebrated as a great Kiwi initiative. Now it is owned and controlled by United States interests, and, from its New Zealand base near Mahia, RocketLab sends satellites into orbit that are designed to provide advantage to US military forces and fighters in global conflicts.
* How does this fit with New Zealand's independent culture and foreign policy?
* If New Zealand Government is transitioning toward a more ethics-based trade and service regime, should it tighten up on its compliance/approval regimes?
* And should private enterprise read the tea-leaves and back out of the foreign military and conflict market?
COMMENT ON THIS DISCUSSION:
You can comment on this programme by clicking on one of these social media channels. Here are the links:
If you miss the LIVE Episode, you can see it as video-on-demand, and earlier episodes too, by checking out EveningReport.nz or, subscribe to the Evening Report podcast here.