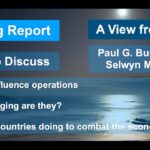 Paul G. Buchanan and Selwyn Manning present A View from Afar and in this episode they discuss:
The US Electoral College Vote confirms Joe Biden as president-elect
What does this mean for the South-Pacific?
China + US are global powers operating in the SOPAC. But how does France fit into this mix?