Editor's Note: Here below is a list of the main issues currently under discussion in New Zealand and links to media coverage.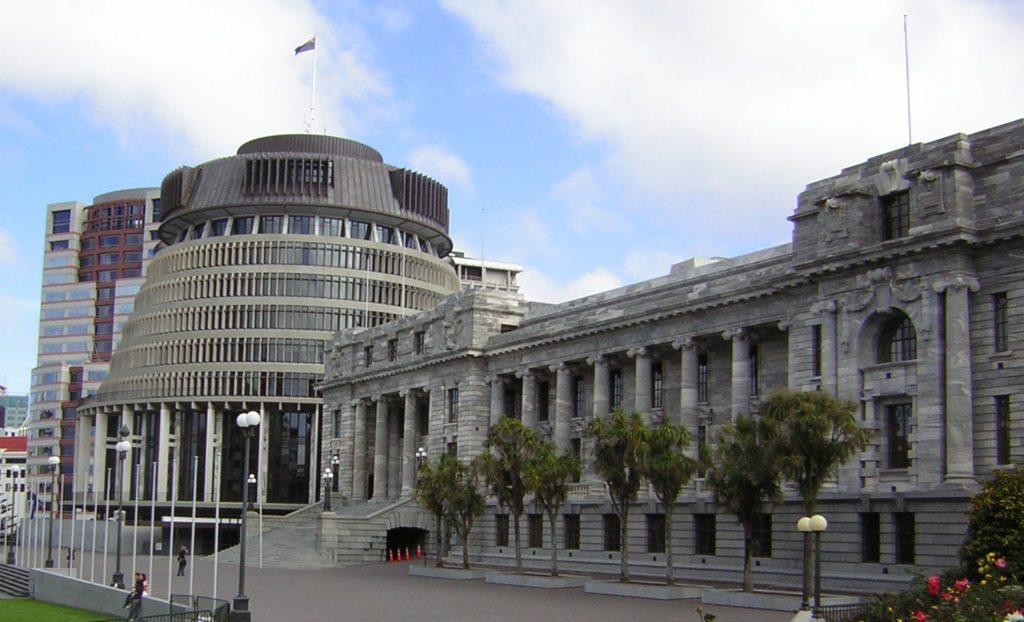 Today's content
National Party response to lockdown extension, Simon Bridges' leadership
Jamie Ensor (Newshub): Simon Bridges fends off leadership coup rumours, says focus is on COVID-19
RNZ: Morning Report: Bridges defends criticism of lockdown extension
Claire Trevett (Herald): Covid 19 was bad for Simon Bridges, he just made it worse (paywalled)
Alan Kenyon (1News): Bridges defends his stance on alert levels after being 'obliterated' in online post that has 23,000 comments
Zane Small (Newshub): National supporters threaten to abandon Simon Bridges after Facebook post criticising COVID-19 lockdown extension
Stuff: Simon Bridges receives huge backlash to Facebook post criticising lockdown extension
Herald: Simon Bridges' Facebook post criticising lockdown extension slammed
Martyn Bradbury (Daily Blog): Simon Bridges horrifically misreads the mood of the Nation
Lockdown extension
Gordon Campbell: On living with the extension, and with Edward Hopper
Jane Patterson (RNZ): A war footing from Ardern and misstep from Bridges
RNZ: Health inequalities among Māori, Pasifika factor in lockdown extension – PM
Thomas Coughlan (Stuff): Jacinda Ardern: region-specific lockdowns challenging but not ruled out
1News: 'It's an ongoing effort' – Dr Ashley Bloomfield urges Kiwis to stay vigilant as NZ shifts from Level 4 to 3
Jamie Ensor (Newshub): Keeping New Zealand from returning to lockdown task for all Kiwis – Prime Minister Jacinda Ardern
Rachel Sadler (Newshub): Dr Siouxsie Wiles asks Kiwis not to expand bubbles unless it's necessary
Leigh-Marama McLachlan (RNZ): Māori leaders back extension of level 4 lockdown
Meriana Johnsen (RNZ): North Island iwi urges whānau to stick to level 4
RNZ: Far North iwi want region to stay at alert level 4
Katie Scotcher (RNZ): NZ cannot afford to wait for Covid-19 vaccine, scientists say
1News: Lockdown extension hopefully better in long run for businesses, says former Business NZ exec
Rowan Quinn (RNZ): Doctors and nurses relieved at govt's cautious approach
RNZ: Epidemic Response Committee question ministers over lockdown extension
Zane Small (Newshub): Small Business Minister criticised for lacking impact analysis of COVID-19 lockdown on 'sacrificial lamb' small businesses
Julie Iles (NBR): Ministers accused of making small businesses 'sacrificial lambs' (paywalled)
Anna Whyte (1News): Wage subsidy 'doesn't cut it' for struggling small businesses – Simon Bridges
Government
Bryce Edwards (Democracy Project): Political Roundup: How healthy is our democracy under the Coronavirus crisis?
Ripu Bhatia (Stuff): Kiwi patriotism, trust in institutions rise amid pandemic, major study finds
Thomas Coughlan (Stuff): We need to learn to be critical of Ashley Bloomfield
Steve Maharey (Pundit): Churchill Beat Hitler, But Attlee Won The Election: Election Strategies In A Post-Crisis World
Fran O'Sullivan (Herald): Government piles pressure on crown chairs to cut pay (paywalled)
New York Times: New Zealand's Lockdown Contained Coronavirus. Now Comes the Hard Part
Nick Perry (AP): How New Zealand could pull off bold goal of eliminating Covid-19
Morgan Godfery (Guardian): A strict Covid-19 lockdown gave New Zealand a key ingredient to recover – solidarity
Scott Palmer (Newshub): Government extends New Zealand's state of national emergency for fourth time
Lana Andelane (Newshub): Jacinda Ardern answers your COVID-19 questions
1News: Watch: Shane Jones and family keep busy in lockdown with planter box building
Golriz Ghahraman (Newsroom): In lockdown with Golriz Ghahraman (& cat)
Parliament
Henry Cooke (Stuff): Parliament returning next week, but will likely have drastically reduced numbers
Jane Patterson (RNZ)): Parliament to resume: 'Zoom ain't gonna cut it'
Zane Small (Newshub): Leader of the House Chris Hipkins reveals when Parliament will return in New Zealand
Contact tracing, asymptomatic transmission
RNZ: 'Digital solution' still missing in contact tracing efforts – expert
RNZ: Scientists need 'to do better' to find ways to trace contacts
1News: Covid-19 contact tracing needs to be 'totally ready' before move to Alert Level 2, infectious diseases expert warns
Michael Dally (Stuff): Asymptomatic Covid-19 cases ring alarm bells overseas but is it a problem in New Zealand?
Auditor General to review PPE
Michael Morrah (Newshub): Top-level investigation into Health Ministry launched as health workers say they still don't have enough PPE
Thomas Manch (Stuff): Auditor-General launches review into distribution of PPE amid Covid-19 pandemic
1News: Auditor-General to look into New Zealand's PPE supply and distribution amid pandemic
RNZ: Government PPE management to be reviewed by Auditor-General
Health system
Sarah Dalton (Newsroom): NZ's dirty public health secret out of the bag
Melissa NIghtingale (Herald): Former WHO worker hopes pandemic response will bring more healthcare workers to New Zealand
1News: Over 50 at-risk staff working for Canterbury DHB speak out after being forced to take leave – 'People die from it'
Katarina Williams & Georgia-May Gilbertson (Stuff): Hutt Valley DHB backs down after weeks, giving 93yo coronavirus test against government advice
Michael Hayward (Stuff): 11 testing centres in Canterbury among almost 140 across NZ
Hannah Martin (Stuff): Rates of flu-like illness drop to 'almost zero' during lockdown
Ira Lee (1News): Some success with messages urging public to seek necessary medical help during Covid-19 pandemic
Amelia Wade (Herald): GPs have funding pulled just as they're bracing for the 'tsunami' after the lockdown
RNZ: GPs say promised government funding not received
Jenna Lynch (Newshub): GPs fighting Government to deliver on $22 million they believe was promised
Anna Bracewelll-Worrall (Newshub): 'Baffled' midwives pulling extra hours for same pay plea for help
Lockdown compliance
Jamie Ensor and Lydia Lewis (Newshub): Four weeks into lockdown, leading expert couldn't be prouder of Kiwis
Kate Newton (RNZ): Traffic data shows New Zealanders staying put
Emma Cropper (Newshub): More than 2000 Kiwis caught flouting lockdown rules as alert level 3 draws closer
Education
Newstalk ZB/Herald: Keep kids at home at alert level 3, professor says
Simon Collins (Herald): Reopening schools and daycare 'a calculated risk' – expert
Simon Collins (Herald): Govt 'won't be heavy-handed' if daycares refuse to reopen
Simon Collins (Herald): Childcare centres refuse to reopen on April 29
Simon Collins (Herald): New report shows reasoning behind opening schools
Derek Cheng (Herald): Jacinda Ardern's former school Morrinsville College warns parents to keep kids at home
Ben Leahy (Herald): Early learning centres face a minefield of challenges to reopen
Carmen Parahi (Stuff): Māori educators to determine their own fate in Level 3
John Gerritsen (RNZ): Government reassures teachers, parents over school reopening
Scott Palmer (Newshub): Distance learning to continue 'at least another three weeks' – Education Minister Chris Hipkins
Anna Whyte (1News): Petition urging schools and ECEs to remain closed at Level 3 reaches 35,000
John Gerritsen (RNZ): ECE services wary of level 3 reopening
Hannah Martin (Stuff): What will a return to school under alert level 3 look like?
1News: Playgrounds in schools, ECEs 'out of bounds' during Covid-19 Alert Level 3
Collette Devlin (Stuff): Education Minister 'encourages' working parents to ask aunties and uncles to help teach kids at home
Hannah Kronast and Tom McRae (Newshub): Parents pressured to keep kids away from school during alert level 3
Katy Jones (Stuff): Parents weigh up need to send children back to school
Vita Molyneux (Newshub): Special needs children advised to stay home under alert level 3 – Ministry of Education
Heather du Plessis-Allan (Newstalk ZB): Teachers need to accept schools are re-opening
Luke Kirkness (Herald): Decision to reopen should lie with school leaders, Teaching Council says
1News: Teachers 'up for the challenge' with schools set to reopen under Level 3 restrictions – Principals' Federation
Amelia Wade (Herald): Ashley Bloomfield and the Secretary of Education answer Facebook Live questions
Aaron Leaman (Stuff): Lessons for children to learn from Covid-19 lockdown
Rest, care homes
James Fyfe and Ella Prendergast (Newshub): Human Rights Commission advice on aged care facilities criticised for coming 'too late'
1News: Nine residents from Auckland rest home transferred to hospital due to staff shortage brought on by Covid-19
Jordan Oppert (1News): Dunedin rest home staff who moved in during lockdown to stay on when NZ moves to Alert Level 3
1News: Meet the loving Auckland care home workers helping those who don't understand the Covid-19 lockdown
Economy
Brian Easton (Pundit): How Much Unemployment?
Infometrics: Government can't afford a go-slow on recovery
Tom Pullar-Strecker (Stuff): Business and Government will need to join hands to steer clear of 'dark places'
Roger Partridge (Herald): Getting out of this mess will need more than good intentions (paywalled)
Susan Edmunds (Stuff): New Zealand families 'need cash payouts' to force economy back to life
Tadhg Ryan-Charleton (RNZ): Wealth of opportunities for NZ entrepreneurs after lockdown
1News: Banks lend more than $6.3 billion to businesses to help them survive lockdown
Wage subsidy
Martin van Beynen (Stuff): Wage subsidy biggest money scramble NZ has seen
1News: MBIE receives more than 1000 complaints about employers' potential wage subsidy breaches
Emily van Velthooven (1News): Employees won't need to give back wage subsidy if employer goes into liquidation
Jason Walls (Herald): The Government has approved 80 per cent of all wage subsidy applications
Employment, migrant workers
Anuja Nadkarni (Stuff): SkyCity worker feels 'dumped' after staff invited to donate salary
Gill Bonnett (RNZ): New Zealand migrant worker market may face tough new policies – academic
RNZ: Migrant workers in Queenstown without jobs, food
Peter Cullen (Stuff): Can flouting lockdown cost you your job?
Esther Taunton (Stuff): Waikato's Matangi Berry Farm and director fined $120k for breaching labour law
Local government
Georgina Campbell (Herald): Council pay cuts – who's taking them, who's not
Felix Desmarais: Nationwide rates freezes, deferrals petition launched by councillor
Felix Desmarais: Rotorua councillor wants 'reinstatement of local democracy'
Christina Persico (Taranaki Daily News): New Plymouth district councillors approve rates relief plan
Dominic Harris (Stuff): Selwyn considers rates freeze amid efforts to reduce Covid-19 fallout
Lois Williams: Buller gets 'creative' over public feedback on annual plan
Marcus Anselm: Masterton Town Hall debate moves online
Marcus Anselm: Covid-19 rent cuts on the cards for Masterton trust
Harry Lock (RNZ): Wellington hospitality sector looks to rev back into gear
1News: Hamilton City Council opens applications for extended rates rebate as part of Covid-19 support package
Community roadblocks
Steven Walton (Stuff): Illegal checkpoints being dealt with, but ones with support OK – minister
Jason Walls (Herald): 'Ratbags and renegades:' Police Minister Stuart Nash slams Mongrel Mob's illegal roadblocks
Anna Whyte (1News): Police will deal with 'ratbags and renegades' setting up roadblocks and checks
Mark Quinlivan (Newshub): 'Certainly not appropriate': Police Minister Stuart Nash addresses lockdown community roadblocks
Inequality
Sarah Robson (RNZ):'It's Christmas on steroids' – foodbanks in huge demand across NZ
RNZ: Checkpoint: Foodbanks running dry under Covid-19 lockdown
Environment
Joel MacManus (Stuff): Why climate scientists will study Covid-19 lockdown for years
Marty Sharpe (Stuff): Councils tackling sea-level rise want central government direction
University of Otago: Wellington flooding a Covid recovery reminder
Amanda Cropp (Stuff): Department of Conservation budget set to take a hit from coronavirus
Transport
RNZ: Checkpooint: Air NZ silent about Covid-19 cases as staff fears grow over quarantine exemption
Susan Edmunds (Stuff): Lockdown announcement gives Air New Zealand a bookings bounce
Todd Niall (Stuff): Auckland Transport readies more buses and roadworks for Alert Level 3
Reserve Bank to remove LVR restrictions
David Hargreaves (Interest): Removal of LVRs – it's a bombshell and may be a very bad call
Ashley Church (Herald): The best thing to happen to NZ housing market in 7 years
Tom Pullar-Strecker and Susan Edmunds (Stuff): Reserve Bank prepares to axe loan-to-value restrictions for home-buyer
Bernard Hickey (Newsroom): Reserve Bank to remove LVR rule
RNZ: Reserve Bank may relax banks' limits on mortgage lending
1News: Reserve Bank considering removing mortgage LVR restrictions to help boost economy
Rebecca Howard (BusinessDesk): Reserve Bank proposes to axe loan-to-value ratios
Banks
Dileepa Fonseka (Newsroom): NZ First mulls Covid clampdown on banks
Rebecca Fairbrother (Newsroom): Paywave fees waived, but for how long?
Primary industries
RNZ: Forestry contractors urged to make worker safety their priority
1News: Moving Day for dairy farmers given green light
Fuel
Garth Bray (1News): Government could lose $250 million in taxes as fuel sales plummet
Catherine Harris (Stuff): Falling oil prices could be a tonic for motorists and industry alike
Jamie Gray (Herald): Why negative oil prices will not mean cheaper petrol at NZ pumps (paywalled)
1News: Z Energy selling fuel back to world market
Repatriation
Amber-Leigh Woolf (Stuff): 1600 New Zealanders in India could fly home this week
RNZ: More repatriation flights on the way
Media
Peter Thompson (Newsroom): Should the public subsidise media companies?
Chris Keall (Herald): Sky Network Television boss Martin Stewart's half-million dollar haircut (paywalled)
Foreign affairs and trade
Don McKinnon (Herald): A time to reveal our nation's spirit (paywalled)
Liam Schwarz (Newsroom): NZ facing a smaller, disjointed world post Covid-19
Winston Peters' privacy breach
Barry Soper (Newstalk ZB): Winston Peters' trustee the subject of SFO raid
Guyon Espiner (RNZ): SFO decision over NZ First Foundation will come before election
Thomas Coughlan (Stuff): SFO will complete NZ First Foundation investigation before election
1News: Winston Peters urged to reimburse taxpayers the $1.2 million spent on his legal fees for failed privacy lawsuit
Jo Moir (RNZ): Paula Bennett 'vindicated' by Winston Peters' privacy court case failure
Derek Cheng (Herald): Paula Bennett says Winston Peters should stump up for Crown's legal costs over failed court action
Other
Ellen O'Dwyer and Kirsty Lawrence (Stuff):'He was a son that taught us so much' – parents mourn Kiwi who died in Peru
1News: New Zealand man dies in Peru from Covid-19
1News: Covid-19 prompts talk of bringing back Ministry of Works, which was scrapped in the 1980s
Matt Burrows (Newshub): Shane Jones promises new jobs, economic activity in regions within 100 days
Cat MacLennan (Newsroom): Covid-19 an opportunity to tackle our housing crisis
Andrea Black (Newsroom): We still need a fair income tax system
Marta Steeman (Stuff): Government tells landlords to step up with rent relief for commercial property tenants
Matt Burrows (Newshub): Inland Revenue changes wording on website after uproar over student loans, tax refunds
Chris Keall (Herald): Govt introduces stop-gap measure for wills, power of attorney (paywalled)
Daniela Maoate-Cox (RNZ): Final days for submissions on prisoner voting
Blair Ensor (Stuff): Cafe at Police National Headquarters can re-open after misunderstanding
1News: Watch: Meet the dancing supermarket security guard bringing joy during coronavirus lockdown
RNZ: Decision on Mataura hazardous waste due next week
Fiona Connor (Newshub): Mark Lundy's lawyer on NZ justice system and why even the guilty need good defence
RNZ: Confidence logistics and supply chains to operate smoothly during level 3
David Williams (Newsroom): Royal Commission gets another extension
Holly Carran (Newshub): Building and construction industry planning for return to work
Amanda Cropp (Stuff): Desperate moteliers house the homeless to avoid losing their businesses