Editor's Note: Here below is a list of the main issues currently under discussion in New Zealand and links to media coverage.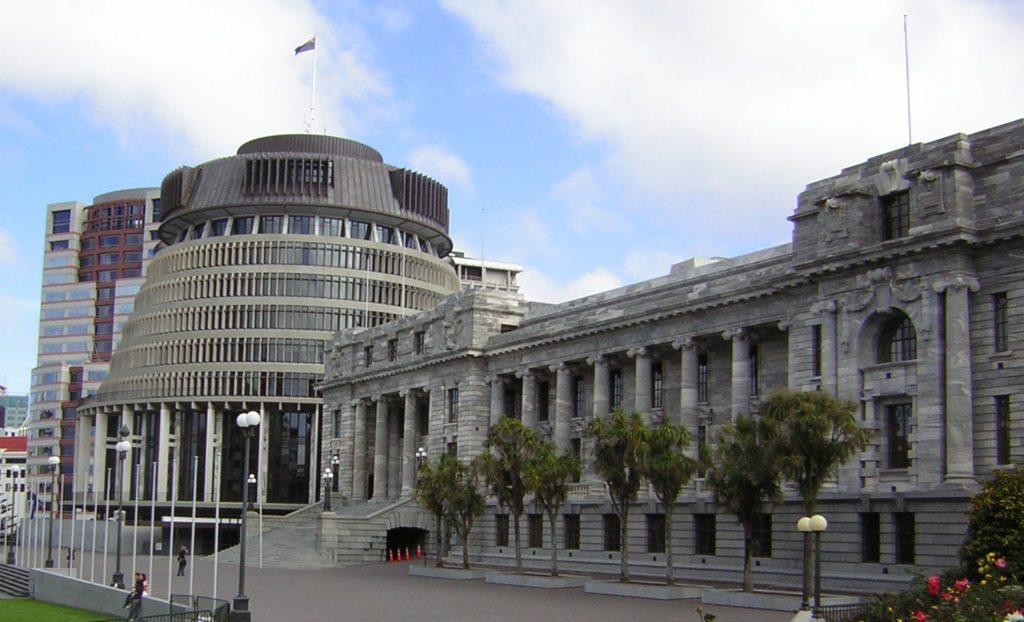 Today's content
Government, parliament
1News: Poll: 88% of Kiwis trust Government's coronavirus response, vastly higher than other nations
Henry Cooke (Stuff): Public surge in trust of Government during Covid-19 crisis
Toby Manhire (Spinoff): Almost 90% of New Zealanders back Ardern government on Covid-19 – poll
Chris Trotter (Daily Blog): "Lord, give us Democratic Socialism – but not yet!"
Peter Dunne (Newsroom): Don't derail Ardern as we take the next steps
Jo Moir (RNZ): An election in lockdown? Politicians, officials weigh options
John Armstrong (1News): Never mind David Clark, PM has been calling the health shots anyway
Richard Harman (Politik): How the lockdown end may be a false dawn
Barry Soper (Newstalk ZB): David Clark has become this pandemic's Covidiot
Press Editorial: Driving to political distractions
RNZ: Simon Bridges will continue commute to chair Epidemic Response Committee
Thomas Owen (The Dig): Emancipatory Catastrophism In Times Of COVID-19
Alistair Campbell (Herald): Tony Blair's right hand man praises Jacinda Ardern's leadership (paywalled)
Thomas Coughlan (Stuff): Controversial Kiwi ad men Topham Guerin return for Covid-19 campaign
1News: 'I miss people' – PM reveals what she's found the hardest about lockdown
Sarah Templeton (Newshub): Prime Minister Jacinda Ardern reveals Easter plans with Neve, gives toilet training update
Public health response, exiting lockdown
Derek Cheng (Herald): Where Jacinda Ardern's handling of the crisis has been weak and how she has responded (paywalled)
Michael Morrah (Newshub): Is the Ashley Bloomfield show as transparent as Kiwis think?
Kate Newton (RNZ): How New Zealand's level 4 lockdown might end
John Gibb (ODT): Academic discourages hasty exit
Grant Schofield (Newsroom): Why we need a Plan B
Simon Wilson (Herald): Pandemic diary: Jacinda's right, stay the course (paywalled)
Gordon Campbell: On the rationing of PPE gear, masks and everything else
RNZ: Nine to Noon: Chief Science advisor: How and when we exit alert level four
Jamie Morton (Herald): NZ's current case rates 'what we want to see'
Mark Thomas (The Big Q): How can New Zealand control the course of the COVID-19 epidemic?
1News: Why New Zealand's Covid-19 death rate remains low compared to other countries
Matt Burrows (Newshub): Grant Robertson on why New Zealand's done better than other nations in COVID-19 fight
Border measures, quarantine, testing
Tova O'Brien (Newshub): Jacinda Ardern expected to announce mandatory quarantining of all arrivals to New Zealand tomorrow
Collette Devlin (Stuff): Prime Minister says mandatory quarantine on cards as pressure mounts to tighten border
Audrey Young (Herald): PM Jacinda Ardern hints at compulsory quarantining at the border
1News: Simon Bridges' petition demanding mandatory quarantine at NZ's borders gains over 20,000 signatures in first day
Jamie Ensor (Newshub): National's petition for mandatory quarantining received unprecedented response – Simon Bridges
RNZ: Traveller says controls weak after experience at Auckland Airport
Taroi Black (Māori TV): Government screening policy puts Māori rural areas at risk
—————
Jason Walls (Herald): Government promises 60,000 complete Covid-19 tests by week's end
Michael Morrah (Newshub): Symptomatic Kiwis denied COVID-19 tests despite widening of criteria
Phil Pennington (RNZ): Auckland woman 'frustrated' after nine-day wait for Covid-19 test
Te Aniwa Hurihanganui (RNZ): Woman claims she was denied Covid-19 check despite amendments to testing criteria
Marc Daalder (Newsroom): Anxiety at ongoing delays to testing
—————
Andy Fyers and Felippe Rodrigues (Stuff): Where are New Zealand's Covid-19 cases?
Chris McDowall (Spinoff): Covid-19: New Zealand cases mapped and charted, April 8
Isaac Davison (Herald): Ministry of Health says more information coming on mystery clusters in Auckland
Kirsty Johnston (Herald): Massive spread of Marist, wedding cluster infections revealed
Hamish McNeilly (Stuff): How 'beautiful' Bluff wedding became major Covid-19 cluster
Health system
Peter Davis (Stuff): Coronavirus – a stimulus to healthcare innovation
1News: 'When a crisis occurs, we see the holes' – Pandemic spurs calls for more investment in healthcare system
Leigh-Marama McLachlan (RNZ): Māori doctor accuses John Tamihere of telling staff to lie for Covid-19 test
Nicholas Jones (Herald): Backlog of postponed elective surgeries and procedures 'to be cleared within 18 months' (paywalled)
Janine Rankin (Manawatū Standard): Bowel, breast and cervical cancer cancer screening programmes on hold during Covid-19 crisis
RNZ: Health workers facing protective gear shortages call for urgency
Georgina Campbell (Herald): Wellington DHBs find 100,000 masks in deteriorated state
Matthew Tso (Stuff): Hospital staff issued crumbling decade-old face masks
Natalie Akoorie (Herald): Healthcare workers infected with Covid-19 should be recorded – union
Rachel Sadler (Newshub): 17 nurses, 7 doctors have contracted COVID-19
Emma Cropper (Newshub): Concern for Southland Hospital if coronavirus cases increase
Ben Leahy (Herald): Healthline helps 170,000 Kiwis in a month
RNZ: Checkpoint: Countdown gives DHB masks, but loses flu jab priority
Thomas Coughlan (Stuff): Elderly, vulnerable groups have extra time to get flu vaccination
Emma Russell (Herald): Flu vaccine extension for 'high-risk' groups after earlier shortages
1News: Pregnancy in a global pandemic: Experts answer expectant mums' questions
Aimee Shaw (Herald): Pharmacy sector calls for more support from Government (paywalled)
Education
Simon Collins (Herald): Suzy Cato fronts at-home school lessons, learning packs and computers on way
Simon Collins (Herald): Education TV channels and free computers to boost home learning
Zane Small (Newshub): Education material and devices being sent to students in COVID-19 lockdown as part of $87 million package
RNZ: Ministry of Education reveals support plans for distance learning
1News: Beloved kids TV star Suzy Cato involved in new education channel for students learning from home during lockdown
Natalie Akoorie (Hearld): Suzy Cato's back – mother of children's telly fronts distance learning TV
Te Aniwa Hurihanganui (RNZ): Māori educational resources included in government support package
Māori TV: Māori TV, TVNZ to support distance learning – 4.30pm Newsbreak
RNZ: Kōhanga reo livestreaming lessons for tamariki
Louise Starkey (Newsroom): How ready is NZ for online education
Tom Pullar-Strecker (RNZ): Private education firm says staff who stay will be paid 20% less and do whatever's needed
1News: International students call for tuition refunds due to 'decrease in quality' of online learning
Lee Kenny (Stuff): Rent rebates and hardship fund set up to help university students
Economy
Brian Fallow (Interest): When will things get back to normal? In many respects the answer is never.
Bryan Bruce: Interview with BERL economist Dr Ganesh Nana
Kate MacNamara (Stuff): Coronavirus calculus: putting a value on lives and the economy
Jamie Ensor (Newshub): Shane Jones eager to help regions from COVID-19 onslaught
Joshua Hitchcock (Spinoff): The effects of the Covid-19 recession will hit Māori hardest
Jessica Tyson (Māori TV): 'A lot of us won't have mahi to go back to' – COVID-19 impact on Māori economy
Richard Prebble (NBR): We are heading for the rocks (paywalled)
Greg Ninness (Interest): Survey shows 90% of New Zealanders expect to delay major purchase decisions
Lana Andelane (Newshub): More than half of New Zealanders insecure about their financial stability during COVID-19 crisis
Rob Stock (Stuff): Young people optimistic about their finances just as Covid-19 poised to strike
Jamie Gray (Herald): NZ-North Asia shipping severely curtailed (paywalled)
Business
Pattrick Smellie (BusinessDesk): Unlocking NZ: Business leaders on preparing for the end of lockdown
Thomas Manch (Stuff): Businesses lack confidence about leaving Covid-19 lockdown, prime minister warns many doors will stay shut
Zane Small (Newshub): Business leader urges 'rethink' of essential services, wants 'more generous' wage scheme
1News: Jacinda Ardern encourages businesses to prepare for 'new normal' outside of Level 4
RNZ: Epidemic Response Committee faces more focus on essential business
Sam Sachdeva (Newsroom): Businesses urge clarity on lockdown lift plans
Anna Whyte (1News): Business leader calls for clarity over 'confusing' essential service rules
Kim Moodie (Herald): 'Hospitality is in crisis,' Restaurant Association says
Eva Corlett (RNZ): One in five hospitality businesses expects to close permanently
Any Robens (Herald): Half of New Zealand's hotels now closed (paywalled)
RNZ: Epidemic Response Committee hears from industry leaders
RNZ: Business conference drops to record lows, survey shows
David Hargreaves (Interest): ANZ Business Outlook preliminary April reading shows record lows across the board
Brent Edwards (NBR): Govt agencies told to help struggling firms (paywalled)
Andrea Fox (Herald): Have company directors been caught napping by the pandemic? (paywalled)
Marta Steeman (Stuff): Almost 200 construction projects impacted by Covid-19, new report says
Anuja Nadkarni (Stuff): Businesses face abuse for operating during Covid-19 lockdown
Wage subsidy, employment
Susan Edmunds (Stuff): Eerie (and profitable) shopping
Thomas Coughlan (Stuff): Under-fire Quinovic takes $260k wage subsidy, foreseeing dire revenue
Conan Young (RNZ): Employees say worker subsidy not being paid in full
Newstalk ZB: Former Business NZ head asks Govt to expand wage subsidy scheme
Gulnara Nolan (TVHE): How many New Zealand jobs can be done from home?
Fletchers
Anuja Nadkarni (Stuff): Fletcher employees feel 'stabbed in the back' by pay cuts
Jenny Ruth (BusinessDesk): Fletcher tells workers, take up to 70% pay cuts or no wage subsidy
Anne Gibson (Herald): How CEOs are coping – Fletcher Building's Ross Taylor (paywalled)
Transport, freight
Melanie Carroll (Stuff): Air NZ employee says airline's not releasing Covid-19 results
Grant Bradley (Herald): The Air New Zealand flights that are going places (paywalled)
Māori TV: Māori business leader replaces Sir John Key on AirNZ board
Tom Pullar-Strecker (Stuff): Wellington Airport runway extension will be 'back on agenda' once Covid-19 fog clears
Brad Flahive (Stuff): Auckland's Northern Pathway: Northcote MP wants project paused for Covid-19 lockdown
—————
Maria Slade (NBR): Mainfreight bosses take 50% pay cut (paywalled)
Catherine Harris (Stuff): Mainfreight volumes plunge after lockdown, warns of shipping container crunch
Dan Brunskill (BusinessDesk): Mainfreight revenue falls as world goes into lockdown
Primary and extractive industries
Guy Trafford (Interest): Our largest export earner is hanging in there
Herald Editorial: Agriculture must again lead us to recovery (paywalled)
Brent Edwards (NBR): Are dairy prices likely to drop from Covid-19 impact? (paywalled)
Rebecca Howard (BusinessDesk): Two Fonterra Edendale workers test positive for covid-19 (paywalled)
Rebecca Howard (BusinessDesk): Meat Industry Association wants 2-metre rule adjusted (paywalled)
Gavin Evans (BusinessDesk): Govt to consider levy on log exports to ensure home supply
Eric Frykberg (RNZ): Horticulture gains employees as urban jobs dry up
1News: Some kiwifruit-growing businesses report huge uptake in Kiwis joining workforce during lockdown
Robin Martin and Gill Bonnett (RNZ): Oil firm must clean up before leaving Taranaki, says High Court
Gavin Evans (BusinessDesk): Seabed mining and the clash of science, law and politics (paywalled)
Tourism
Amanda Cropp (Stuff): Government plans major shake up for the tourism industry post-coronavirus
Daniel Rutledge (Newshub): Government announces planning for 'future of tourism'
Tess Brunton (RNZ): Tourism industry welcomes sector reboot plans amid Covid-19 disruptions
Matthew Mckew (ODT): Tourism plan prompts plea from mayor
Brent Melville (BusinessDesk): Tourism losses of $3.5b in covid-19 crisis (paywalled)
Melanie Carroll (Stuff): Flight Centre to close 58 New Zealand stores, 300 jobs to go
1News: Flight Centre shuts 58 stores indefinitely, stands down more than 300 employees during Covid-19 crisis
Banks
Gareth Vaughan (Interest): S&P sees 'one-in-three likelihood' of downgrading big 4 Aussie banks within 2 years
Gareth Vaughan (Interest): Fitch downgrades big four banks' credit ratings
Jenny Ruth (BusinessDesk): Fitch downgrades big four Australian, NZ banks to 'A+'
Gareth Vaughan (Interest): Visa, Mastercard, banks & NZ's retail payment systems, Part 4; Could COVID-19 kill EFTPOS?
Enforcing lockdown, police
Jason Walls (Herald): Policing Easter lockdown to include checkpoints
1News: Kiwis travelling for non-essential reasons over Easter weekend could face arrest
Annabelle Tukia (Newshub): Police to arrest Easter holidaymakers who don't comply with coronavirus lockdown rules
Scott Palmer (Newshub): Top cop's warning to lockdown breachers as prosecutions spike
RNZ: NZers breaching lockdown 'more likely to be flouting the rules' – police
1News: Excuses wearing thin as police crack down on coronavirus lockdown breachers
RNZ: Q and A: How to investigate a crime during a pandemic
Local government
Damian George (Stuff): Opposition to plan to hold $8m for Wellington events despite forecast coronavirus restriction
Stuff: Wellington councillors, mayor, executives donate 10pc of salary
Alice Wilkins (Newshub): Councils under pressure to drop rates increase
Todd Niall (Stuff): Why Auckland's rates still need to rise despite Covid-19 outbreak
Lois Williams (Stuff): West Coast in Covid-19 lockdown – but rates are not
Skara Bohny (Nelson Mail): Nelson City Council considers zero rates rise
Debbie Jamieson (Stuff): Queenstown Lakes seeks to drop rates increase amid Covid-19 crisis
Aaron van Delden (RNZ): Covid-19 spurs Gisborne rates rise rethink
Charlotte Jones (RNZ): Staff layoffs, rates holiday not options for Ōpōtiki
Felix Desmarais (RNZ): 'Security reasons' behind Rotorua public meeting footage gaps
Felix Desmarais (RNZ): 'Rotorua's 'emergency operations centre' explained
Susan Botting (RNZ): Kaipara District Council holds first public online meeting
Chloe Ranford (RNZ): 'Colonial' names get Marlborough council backing
Logan Savory (Stuff): Invercargill City Councillor wants to hit up Government for CBD investment
Marcus Anselm (RNZ): Waterworks go on in South Wairarapa
Environment and conservation
Marc Daalder (Newsroom): Covid-19 stimulus is climate's 'Last Chance Saloon'
Brian Fallow (Herald): Facing up to the other big issue, climate change (paywalled)
Bernard Orsman (Herald): Jobs versus climate change. The debate raging at Auckland Council
Olivia Wannan (Stuff): Climate change: Northland's marine species to feel the heat from the 2030s
Harry Lock (RNZ): New Zealanders urged to continue recycling glass
RNZ: First tuatara hatchlings discovered at South Island sanctuary
Community checkpoints
Aaron van Dalden (RNZ): Mahia holidaymakers to be turned away at checkpoint during Easter weekend
Tom Kitchin (Stuff): Roadblocks to halt Covid-19 spread on West Coast not going ahead
1News: Local iwi set up checkpoints to protect Māori, want police to help them – 'We're at an elevated level of risk'
Charlotte Jones (RNZ): Ngāti Manawa set up checkpoints due to lockdown rule breakers
Housing
Liam Dann (Herald): New numbers show Kiwis rushing to banks for mortgage relief (paywalled)
Anne Russell (Overland): The case for a rent strike in New Zealand under COVID-19
RNZ: 'Emergency' rental payments clause helping tenants and landlords – ADLS
Brent Melville (BusinessDesk): Airbnb 'transition' to long term would hurt rental investors (paywalled)
Harold Marshall and Linda Holdaway (Herald): Cause for concern with Urban Development Bill (paywalled)
Pacific communities
RNZ: Social media misinformation putting Pacific communities at risk – government
Sela Jane Hopgood (RNZ): Pasifika youth bring calm to their community online
Pacific
Jamie Tahana (RNZ): Pictures of devastation emerge from cyclone-ravaged Vanuatu and Fiji
RNZ: NZ ready to assist as Cyclone Harold moves through Fiji
Johnny Blades (RNZ): Crisis management the priority amid Vanuatu govt negotiations
RNZ: Call for NZ police help in probing West Papua killing
Barbara Dreaver (1News): Pacific update: Confirmed cases in Guam grow as US sailors quarantine around the nation
Repatriation, Kiwis stuck overseas
Tom Dillane (Herald): Kiwis stuck in Germany refused access to Air NZ chartered flights
RNZ: Kiwis stranded on cruise ship in Uruguay to be evacuated
Kimberlee Downs (1News): Kiwis aboard coronavirus-stricken cruise ship to return home with Australian assistance
Catrin Owen (Stuff): 16 Kiwis stranded on Coral Princess cruise ship with sick passengers
Kate Nicol-Williams (1News): Kiwi mother and daughter stuck in Iran plead for help from NZ Government – 'unable to afford warmth, food'
Justice, corrections
Guyon Espiner (RNZ): NZ prisoners kept in solitary during Covid-19 outbreak, says prison reform group
Rob Kidd (ODT): 'ConAir' flight for prisoners
Herald: Jury trials suspension pushed out to July 31 amid alert-level uncertainty
Media
Dita De Boni (NBR): Why was Bauer allowed to buy up all our mags? (paywalled)
Tim Murphy (Newsroom): Throw out the lifeline
Welfare
Robert Reid (Stuff): Surprise, you're married: Relationship rules will catch people out, union warns
Herald: South Auckland marae launches drive-through food bank
Alcohol harm
Lisette Reymer (Newshub): Alcohol Healthwatch worried lockdown drinking will increase family violence
Harry Lock (RNZ): Whanganui iwi fear online alcohol sales will spike family harm
Leigh-Marama McLachlan (RNZ): Iwi fear online alcohol sales will spike family harm
Funerals, tangihanga
Jessica Tyson (Māori TV): Whānau still disheartened with the new guidelines for tangihanga
Melanie Early (Stuff): Lockdown leaves family waiting at least a month for dad's funeral
Other
Steve Braunias (Herald): Lockdown a game of two halves, but we're getting there (paywalled)
Martyn Bradbury (Daily Blog): Week 2 NZ Pandemic Lockdown – TDB Winners & Losers
1News: Wellington streets desolate as NZ passes lockdown halfway point (video)
Jamie Morton (Herald): NZ research community's 'unprecedented' response
Regan Paranihi (Māori TV): Pandemic forces Kiwis in Australia to move home
Isabella Durant (Newshub): Salvation Army stores left as dumping grounds during COVID-19 lockdown
Golriz Ghahraman (Newshub): Care for each other will get us through COVID-19 but make sure it includes our most vulnerable
Lorna Thornber (Stuff): New Zealand rises in passport power ranking, but coronavirus pandemic renders results 'meaningless'
Kristin Edge (Northern Advocate): Women's Refuge deal with influx of women in crisis during lockdown (paywalled)
Glen Scanlon (RNZ): Pets in the lockdown: Your Covid-19 questions answered
Val Hooper (Newsroom): A guide to cyber security in lockdown
Steve Hepburn (ODT): McKenzie: racing industry must 'embed' costs-saving culture