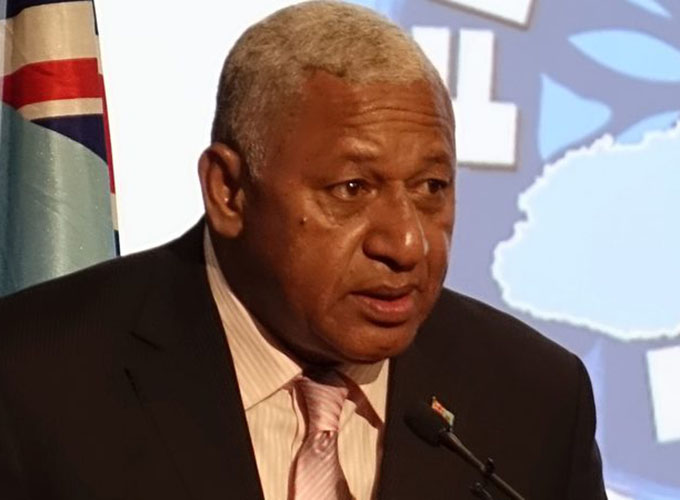 Pacific Media Watch Newsdesk
A video of Fiji's Prime Minister Voreqe Bainimarama grabbing and shoving an opposition MP has gone viral.
The video surfaced last week and shows Bainimarama seizing the coat of National Federation Party member Pio Tikoduadua and giving him a light shove in a car park outside the parliamentary building in Suva.
About six of the Prime Minister's body guards looked on during the incident but made no attempt to intervene, reports RNZ Pacific.
READ MORE: Opposition MP alleges Bainimarama assaulted him but PM denies claim
WATCH: Bainimarama grabs the shirt of MP
The video, which has been viewed on Facebook over 250,000 times, contradicts the governing party's denial of the accusations Tikoduadua made in parliament on August 9.
The government called the claims a "blatant lie", with Bainimarama insisting he only spoke sternly with the opposition MP, who he accused of personally insulting him in parliament.
According to RNZ, the video is consistent with Tikoduadua's claim that he was assaulted and his glasses were broken; the video shows the glasses failing to the ground after Bainimarama grabbed him.
Tikoduadua also claimed that Bainarmarma personally insulted him. The video shows the two men arguing but the words cannot be heard.
After the incident, Tikoduadua spoke to media saying: "An assault on any member of this house is an assault on the sanctity of parliament and consequentially an assault on democracy."
He has filed a complaint with police and said that he hopes the video will speed up the investigation, although he has not yet received a response, reports the ABC.
"I am waiting in earnest for them to do their job and I keep waiting," Tikoduadua said.
According to The Fijj Times, Tikoduadua does not resent the Prime Minster for his actions.
"I have no hard feelings towards Prime Minister Voreqe Bainimarama because carrying a grudge has no value," he said.
The Prime Minister has made no statement since the video emerged and the Police Commissioner Sitiveni Qiliho has said he will not discuss the matter publicly until the investigation concludes, reports Fiji Village.
Article by AsiaPacificReport.nz