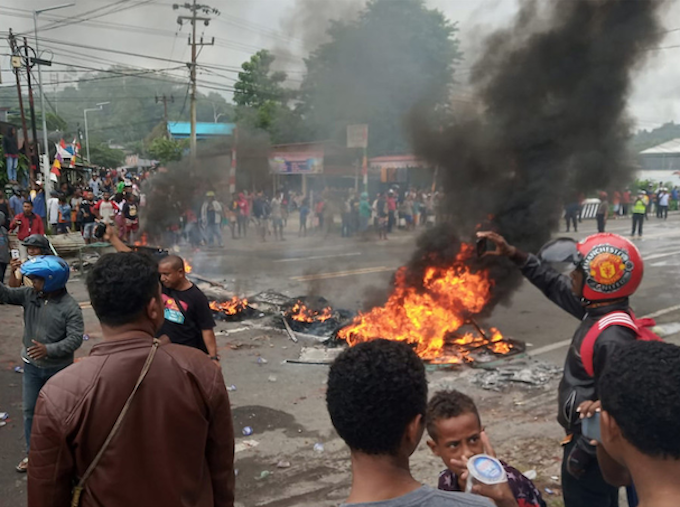 Pacific Media Watch Newsdesk
Rioting broke out in Manokwari, West Papua, today as local people – mostly university students – protested against racial abuse of Papuan students in East Java, reports The Jakarta Post.
The protesters blocked a number of major streets in the city this morning, cutting down trees to be used as barricades.
The West Papua Regional Legislative Council (DPRD) building in the city was set on fire and tyres were burned on the roads, Kompas TV reported.
READ MORE: Indonesian police raid Papuan dormitory with tear gas, arrest 43
"Most of them were provoked by content circulating in social media about the racial abuse of Papuan students in Surabaya," National Police spokesman Brigadier-General Dedi Prasetyo said.
Three cars and two motorcycles were reportedly burned, while a number of buildings — including the DPRD building — were damaged during the protests, he said.
Brigadier Prasetyo said police and Indonesian Military (TNI) personnel had conducted negotiations and called for the protest to be peaceful.
Authorities have questioned a number of the protesters but have not made any arrests, he said.
Attack on Papuans
The protests came after security personnel and members of mass organisations reportedly launched physical and verbal attacks on Papuan students living in a dormitory in Surabaya, East Java, on Sunday, accusing the Papuans of refusing to celebrate Indonesia's 74th Independence Day over the weekend.
Kompas reports the police had arrested 43 Papuan students.
The angry mob arrived at the dormitory after they found a discarded Indonesian flag near the building.
During the incident, they reportedly threw stones at the dormitory while shouting racial abuse and chanting "Kick out the Papuans!" and "Slaughter the Papuans!" for hours.
Deputy West Papua governor Mohamad Lakotani said on Monday that he, together with West Papua Police chief Brigadier-General Herry Rudolf Nahak and Kasuari Military Command (Kodam) commander Maj. Gen. Joppye Onesimus Wayangkau, had met with protest representatives.
Initially peaceful, the meeting turned violent as a number of protesters threw stones and lumps of wood at the three officials, he said.
However, Lakotani promised that the officials and authorities would listen to the people's demands.
"Furthermore, if it's realistic, we will try our best to meet their requests," he said.
Article by AsiaPacificReport.nz