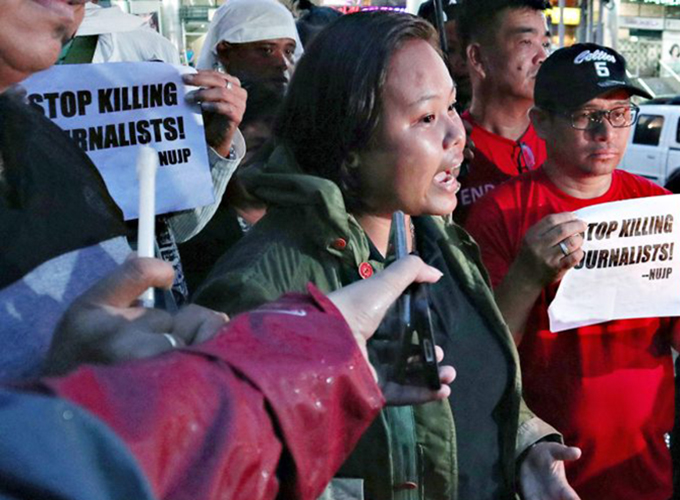 By Jigger J. Jerusalem in Cagayan De Oro, Mindanao, Philippines
In the wake of an attack against a hard-hitting Filipino broadcaster in Kidapawan City – the 14th media practitioner to be killed during the administration of President Rodrigo Duterte – the National Union of Journalists of the Philippines (NUJP) is holding a forum in Cagayan De Oro this weekend to discuss the safety of journalists in Mindanao.
Pamela Jay Orias, chair of NUJP's Cagayan de Oro chapter, said the forum gathered the union's key officers throughout Mindanao to discuss the current state of media safety and security in the region.
Orias described the present situation as "alarming and the atmosphere no longer secure for journalists working in Mindanao".
READ MORE: 13 journalists killed under Duterte admininistration
On Wednesday night, Kidapawan City broadcaster Eduardo Dizon was gunned down while driving home.
Prior to the shooting, Dizon had received threats to his life.
The continuing attack against journalists in the country since the end of the Marcos dictatorship in 1986 has left a bad mark on its democratic credentials.
Most dangerous
The Paris-based media freedom organisation Reporters Without Borders listed the Philippines as among the most dangerous countries – 134th – for media workers in the Asia-Pacific region.
Adding to the muddled scene is the continued imposition of martial law throughout Mindanao, Orias explained.
The forum, Orias said, hoped to provide "a much-needed venue for journalists to bring these issues and discuss them with colleagues" in the spirit of sharing approaches and techniques in handling similar situations.
The NUJP, according to Orias, has kept reminding journalists of the utmost importance of safety "in doing coverage, especially in conflict areas, or when tackling sensitive topics".
"As they say, 'no story is worth dying for,'" Orias said.
Article by AsiaPacificReport.nz