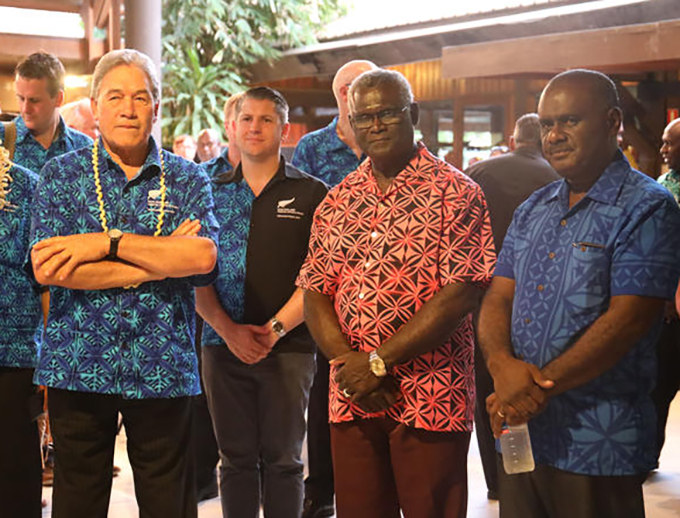 Pacific Media Centre Newsdesk
Both the Australian and New Zealand governments have pledged to continue and increase financial aid to the Solomon Islands.
Australian Prime Minister Scott Morrison announced that Australia will pledge A$250 million in aid.
He made the announcement in Honiara during his first post-election overseas trip.
READ MORE: Chinese influence in the Pacific prompts high-level meetings
The money will finance a range of projects over 10 years and will complement the A$2 billion infrastructure fund Morrison has established for the Pacific, reports the Solomon Times.
The funding will also be used to develop new government buildings including the Prime Minister's office and the Ministry of Foreign Affairs.
The Australian government will provide loans worth almost A$3 million to temporary workers from Solomon Islands who want to come to Australia under labour mobility schemes, reports ABC News.
New Zealand's Deputy Prime Minister Winston Peters has renewed his government's continuous aid to the Solomon Islands.
New Zealand aid
During a visit to meet with Prime Minister Manasseh Sogavare, Winston Peters reiterated the New Zealand government's support to the country's economy in sectors like aviation, tourism, fisheries, agriculture and labour mobility, reports RNZ Pacific.
However, there have been suggestions that the moves from both Australia and New Zealand are motivated by China's increasing influence in the region.
Last week the Solomon Times reported that China was attempting to persuade the Solomon Islands government to cuts ties to traditional ally Taiwan and sign up to China's multibillion-dollar Belt and Road Initiative.
However, according to SBS news, Scott Morrison has downplayed China as a reason for closer ties with the Solomon Islands.
"We have got to be careful not to see what are ongoing and upgrading relationships here for Australia and the Pacific through those binary terms of the United States and China," Morrison said.
"They have their interests in the region, as do others.
"Our relationship with the Solomon Islands, our relationship with the Pacific, transcends all of that."
Diplomatic relations
This was echoed by Winston Peters who said it was up to the Solomon Islands to decide on its foreign diplomatic relations.
He hoped that any decision would reflect the long term interests of the Solomon Islands' values and Pacific values, reports RNZ Pacific.
Solomon Islands Prime Minister Manasseh Sogavare made similar comments.
"Diplomatic relations are a sovereign decision," Sogavare said.
"Solomon Islands foreign policy has always been premised on the principle of 'friend to all and enemy to none."
Solomon Islands Minister of Foreign Affairs and Trade Jeremiah Manele said that his government felt no pressure to switch allegiances and would make a "comprehensive assessment of the issue," reports RNZ Pacific.
Manele said a decision would be made in the next 100 days.
Article by AsiaPacificReport.nz