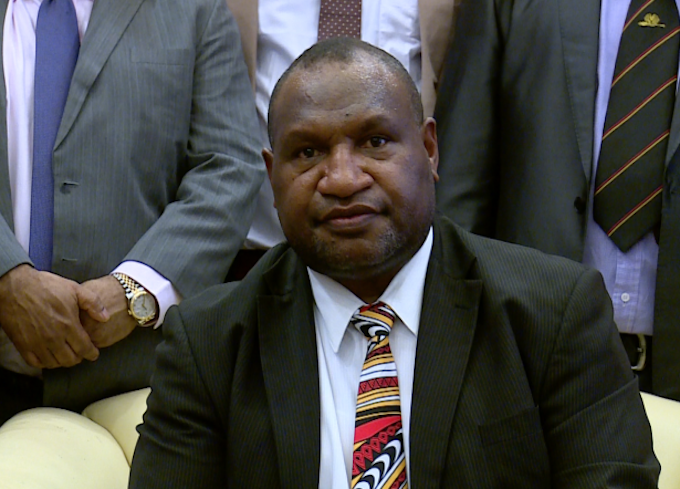 ANALYSIS: By EMTV News

James Marape, Papua New Guinea's former Finance Minister and the man who led the defections that brought down the Peter O'Neill government, was today elected the country's eighth prime minister.
Another Highlands leader as member for Tari-Pori, Marape was the power-broker in the moves to shake up the government.
The 48-year-old politician, first elected to Parliament in 2007 beginning his portfolio as Secretary for Works under Prime Minister Sir Michael Somare, eventually moving to become Education Minister and then Finance Minister under Peter O'Neill – until last month when he led the breakaway.
READ MORE: Bryan Kramer – Watch for 'The deceit, the backstabbing and the clowns'
Continual disagreement's with O'Neill saw Marape leave his position, resigning as Finance Minister, the first crack in the once solid government dam.
The month that followed, was an arena of intense politicking, punctuated by widespread public dissatisfaction on the leadership of now ex-Prime Minister Peter O'Neill.
Verbal sparring on the one hand, and divisive beliefs on the other, all played out for the country to see.
O'Neill had been a major influence on the state of affairs in a nation teeming with natural resources, and who had been accused on multiple occasions of corruption amid a failing economy.
Camly sidestepping
Earlier this month, O'Neill had appeared unperturbed, calmly sidestepping his opponents in suave fashion before speaker Job Pomat adjourned Parliament.
That three-week hiatus, however, creating a snowball effect that would see Marape build up his own coalition of alliances, with some of the country's most influential leaders, all answering the calls to his banner.
He adopted Oro Governor Gary Juffa's slogan "Take back PNG" to maximum effect, using multiple media platforms to get that message across.
It worked.
Marape was the darling of the media, captivating audiences.
With statistical evidence yet to be presented, public reactions so far show Marape as being the most popular leader in the nation.
For observers, Marape comes as a breath of fresh air, bringing with him the vibrancy of youth, against the backdrop of a maturing democracy in Papua New Guinea.
Leadership confidence
The confidence in his leadership was evident, with an overwhelming 101 – 8 votes in Parliament today, ahead of other prime ministerial nominee, another former PM, Sir Mekere Morauta.
Morauta had been Prime Minister under similar circumstances after a political crisis that saw 1999 Prime Minister late Sir William (Bill) Skate deposed.
Moving forward for Marape, the feeling of euphoria will undoubtedly be shortlived.
Papua New Guinea's current failing economy, a loss of investor confidence and on-going public service issues, will be a major hurdle to be overcome.
Hurdles that have both been inherited from the previous administration in power, and that he had had a contributing hand in, something that he himself admitted to when queried three weeks ago about the controversial Swiss bank UBS dealings regarding Oil Search share acquisitions which were subsequently released by the PNG Ombudsman Commission.
And with these issues only a fraction of what needs to be addressed, a looming 2022 election gives Marape little time to make any serious changes.
And while there is the aura of euphoria, scepticism still remains, with Morauta declaring "we have a new prime minister but the same government".
Barrage of criticism
Prime Minister Marape knows the level of accountability that he will be held to, with Papua New Guinea's 8 million citizens, and outspoken parliamentarians all watching – one of whom is the firebrand Bryan Kramer whose constant barrage of criticism over the past two years has seen the public now more politics-savvy than ever before.
Marape is quite attuned to what the nation is saying.
In his inaugural speech, Prime Minister Marape paid heed to the collective influences that will shape his time in office.
"I am encouraged and strengthened and comforted by the fact that I have energy, youth and strength and stamina in many first-timers and second-timers who are in this house on both sides of the floor."
This formed the crux of one of his arguments in the lead up to today, that it was time for a new generation of leaders to hold the reins of government.
It is no revelation that the old guard of PNG politics is fading into folklore: Sir Mekere, Sir Julius and Paius Wingti, are among the only elder statesmen – Grand Chief Sir Michael Somare and Sir Rabbie Namaliu the only absentees – from PNG's post-independence era.
More decisions and discussions will follow over the course of Parliament, Papua New Guinea and the international community are watching intensely, Marape's opportunity has come, and with it, the burden of an office that saw his predecessor relegated.
Article by AsiaPacificReport.nz