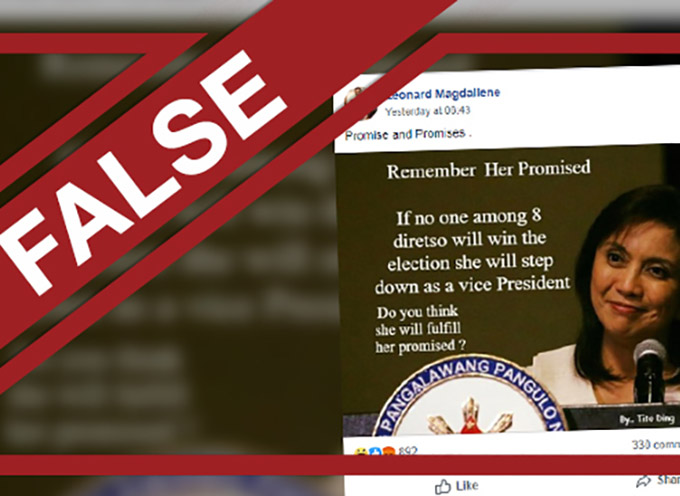 By Pauline Macaraeg in Manila
Another "fake news" row has broken in the Philippines in the wake of the mid-term elections this week with Vice-President Leni Robredo rejecting false reports that she had promised to resign if no member of the opposition Otso Directso bloc wins a Senate seat.
The claim originated from a website that is known for spreading misleading information.
Robredo is regarded as a critic of President Rodrigo Duterte.
READ MORE: Robredo: No matter the election results, Otso Diretso's fight continues
Claim: Vice-President Leni Robredo made a promise to step down from her position if no member of the Otso Diretso slate won a Senate seat.
The claim has been circulating on Facebook, with one post featuring an image of Robredo, along with the text: "Remember her promise. If no one among 8 diretso will win the election she will step down as vice president. Do you think she will fulfill her promise?"
Various groups and pages on the social network, particularly those expressing support for President Rodrigo Duterte and his allies, have called on Robredo to fulfill the "promise" and resign.
One of the most shared posts can be found in "Atty Glenn Chong Supporters Group". It had 3,000 shares, 892 reactions, and 330 comments as of writing.
The claim seems to have originated from an article published by The Adobo Chronicles on May 7, 2019. Since then, the story has been shared by 44 Facebook groups and pages and had drawn 6,945 total interactions from 1,546,053 combined followers, according to CrowdTangle.
The facts: The Vice-President had already denied the claim in a tweet on May 15.
She attached a screenshot of a version of the claim and captioned it on her official Twitter account: "Not true. Let's continue fighting disinformation. Report peddlers of fake news."
Though Adobo Chronicles' article was dated May 7, the claim began circulating on Facebook the day after the 2019 midterm elections, May 14.
Robredo actively endorsed members of the Otso Diretso slate during the campaign period. She expressed support for the team both on social media and on the ground up until the elections results started to come out.
But while the opposition slate managed to get some wins in Bicol, Robredo's home region, not a single member was able to enter the top 12 lineup on the national level.
As of writing, 96.3 percent of total votes have already been transmitted.
Adobo Chronicles claims to be a satirical website, but it has been known to spread misleading information.
Article by AsiaPacificReport.nz