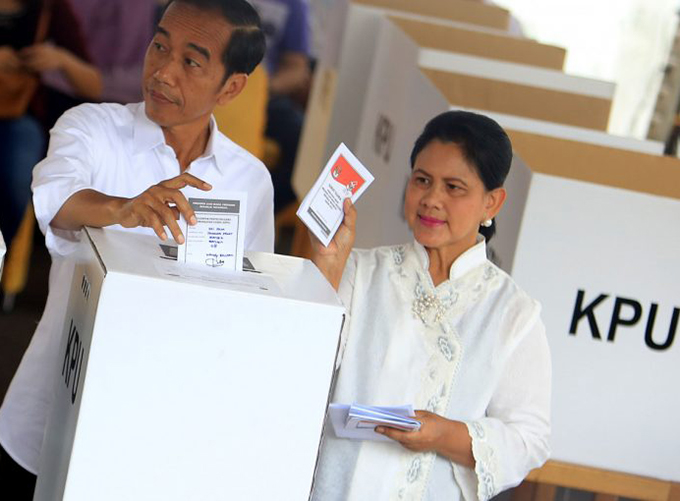 Incumbent President Joko "Jokowi" Widodo and First Lady Iriana cast their ballots at a polling station during the presidential and legislative elections in Jakarta. Image: Seto Wardhana/Jakarta Post
By Karina M. Tehusijarana in Jakarta
A quick count conducted by the Centre for Strategic and International Studies and Cyrus Network indicates that President Joko "Jokowi" Widodo has been reelected to the presidency in Indonesia, with the Jokowi-Ma'ruf Amin ticket winning 55.8 percent of the vote against Prabowo Subianto-Sandiaga Uno's 44.2 percent.
"Today we can conclude that Pak Jokowi and Pak Ma'ruf Amin is ahead of Prabowo Subianto-Sandiaga Uno based on our quick count results," CSIS executive director Philips Vermonte said.
"The position will not change."
READ MORE: A thousand Indonesias at stake in one election
In contrast, challenging retired general
Prabowo Subianto claimed he had "already won
".
Prabowo claimed victory hours before quick-count surveys officially ended, in a repeat of a similar declaration he made in the 2014 presidential race – which he lost.
He claimed a "real count" from more than 320 polling stations had placed him in the lead with 62 percent of votes.
He added that he had consulted statistics experts who said the figure would "not differ much" from the final count.
'We have already won'
"We will avoid taking any unconstitutional actions because we have already won," Prabowo told the media at his residence in South Jakarta.
Melanesian leaders of the two easternmost provinces of Papua and West Papua had called for a boycott of the election and demanded independence.
For the quick count, the pollsters surveyed 2002 polling stations across the country's 34 provinces.
As at 5:03 pm last evening, local time, data from 86.7 percent of the polling stations surveyed had been received. The margin of error from the quick count is 1 percent.
A quick count conducted by Jakarta-based pollster Charta Politika also shows similar results with Jokowi-Ma'ruf winning 54.3 percent against Prabowo-Sandiaga's 45.7 percent, with 83.8 percent of 2000 polling stations surveyed.
The results were in line with the most recent polls, which showed Jokowi holding a comfortable double-digit lead over the Gerindra Party chairman.
Karina M. Tehusijarana is a Jakarta Post journalist.

Article by AsiaPacificReport.nz