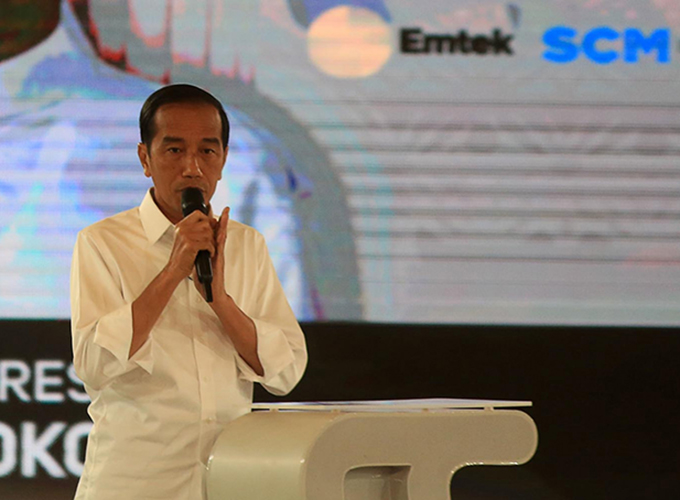 Incumbent President Joko "Jokowi" Widodo speaks during the fourth presidential candidate debate held at Shangri-La Hotel, Jakarta, at the weekend, which discussed ideology, governance, security and foreign affairs. Image: Seto Wardhana/Jakarta Post
Pacific Media Centre Newsdesk
Presidential candidate Joko "Jokowi" Widodo has shrugged off a concern expressed by challenger Prabowo Subianto, who questioned the capability of the Indonesian Military (TNI) to protect the country.
The retired army general said "Indonesia's defence is too weak" because the budget allocated for defence was too small, claiming that "all of our money is flowing overseas".
"I think Pak Prabowo does not have faith in our military. As a civilian, I have great faith in our military," the incumbent President Jokowi said.
READ MORE: Pacific value of 'one family' lost on Indonesia
Jokowi went on to mention that command centers in Natuna regency, in Riau Islands as well as in Sorong, West Papua, showed how Indonesia was ready to anticipate a foreign threat.
Instead, the former businessman said Indonesia should be concerned about possible internal conflict.
"According to information from defence strategists, there is no threat of foreign invasion in the next 20 years. What is more important is domestic conflict, which will be amplified by technology," Jokowi said.
"Our defence budget is Rp 107 trillion [NZ$11 billion], the second-biggest after the Public Works and Housing Ministry. This is not a joke, even though some improvement is needed," he added.
Prabowo was quick to question the claim, saying that the budget allocated for the military was no more than 1.5 percent of the state budget.
The Indonesian presidential elections are on April 17.

Article by AsiaPacificReport.nz